Excellent Dressage Sales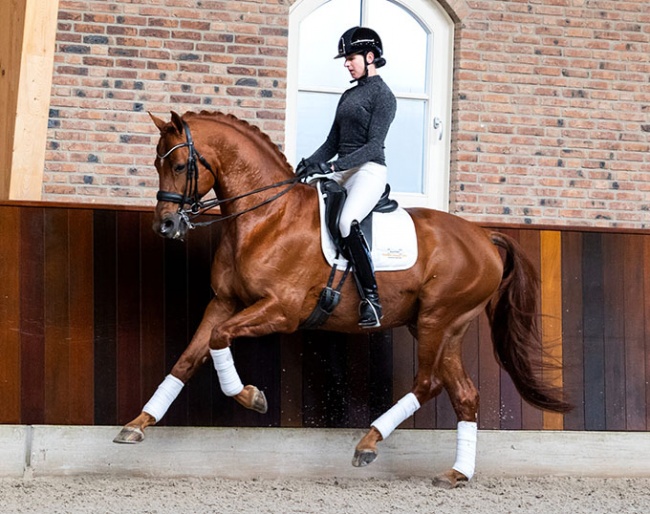 The chestnut Grand Prix level trained Express became the price highlight of the 2023 Excellent Dressage Sales of which the online bidding concluded on 25 March 2023.
A collection of 43 horses, from untrained youngsters to Grand Prix level horses, was offered for sale. It was the 9th edition of the Excellent Dressage Sales.
Different Strategy
"Compared to previous years there were a lot more clients for the horses leading up to the auction, but overall the budgets of the bidders was lower which means there were no real price highlights and a couple of horses were bought back the owners," EDS stated. 
This year the organizers of the auction seemingly decided to focus their advertisement more on social media to find a buyers' audience instead of using the more traditional equestrian press channels. 
Express
Express turned out to be the most coveted horse. The stallion by Vivaldi x Sir Sinclair sold for 131,000 euro and moves to Germany. He was previously competed at Inter II level in The Netherlands by Laura Zwart under the name Lumen Express. Young rider Emma Lienert has taken over the ride.
Horses that sold, but of whom the prices were not released, are Imax (Wynton x Flemmingh), Newton's Law (In Style x Johnson), Flynstone (Feedback x Florestan I) and Cadanza (Zhivago x Aljano); as well as youngsters Paradise IMP ST-J (Jameson RS2 x Gaudi) , Patrick U.S. (Lord Europe x Cadans M), Pirate Veluw (Johnny Depp x Lester) and Pax P (Escolar x Florencio I).
The licensed stallion First Date (by Furstenball x Dancier) did not meet the reserve price. 
Related Links
Must-See: Complete Collection of the 2023 Excellent Dressage Sales
Ivoli-E, Best Seller of the 2022 Excellent Dressage Sales
Dancer Again and Dutch Dandy, Top Sellers of the 2021 Excellent Dressage Sales
Excellent Black, Top Seller of the 2020 Excellent Dressage Sales
Our Totilas M, Best Seller at 2019 Excellent Dressage Sale Foal Auction
Charming Lady, Price Highlight of the 2019 Excellent Dressage Sales
Kapralis, Price Highlight of the 2018 Excellent Dressage Sales
San Diamantino, Top Seller of the 2017 Excellent Dressage Sales
Hannelinde TC, Price Highlight of the 2016 Excellent Dressage Sales
Ulysses La Haya, Price Highlight of the 2015 Excellent Dressage Sales
First Edition of Excellent Dressage Sales a Great Success