Danish Warmblood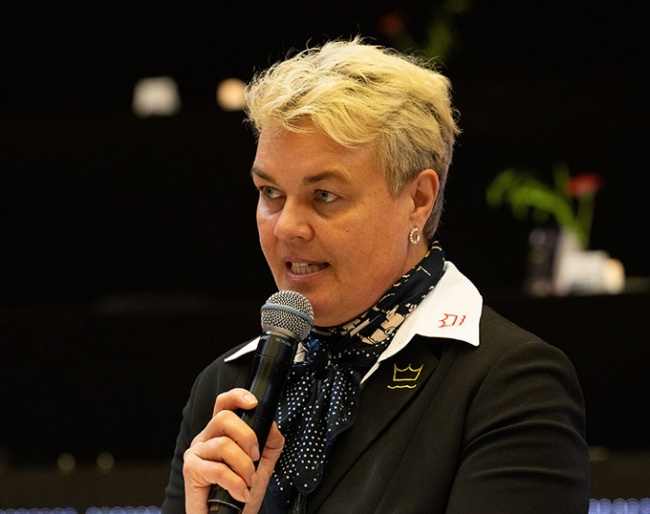 After more than 23 years of collaboration, the Danish warmblood society (DWB) has parted ways with its breeding consultant and stallion licensing committee member, Karina Christiansen.
In a press release DWB stated that Christiansen "is leaving". An alternate version of the news is circulating, however, i.e; that Christiansen was let go because of irreconcilable differences with a board member. 
Jan Pedersen, president of the Danish Warmblood society, stated, "Karina has been a dedicated, disciplined and professionally highly competent employee who always focused on optimizing breeding work. She has been a champion for the introduction of the most modern selection tools and testing systems, which have made Denmark a leading country in many areas. We can largely attribute a large part of the international success that Dansk Varmblod has experienced for almost many years to Karina's efforts."
Karina was member of the stallion licensing committee and spoke at many seminars, clinics and meetings across Denmark about DWB breeding. She is a highly respected expert in the field of breeding and was known for her very structured, ethical approach, closely following the rules and directives of the studbook.
Eurodressage inquired for further details about this sudden decision, but the press officier replied there was "no further comment on this subject as it is personnel matter."
Photo © Ridehesten
Related Links
Dream Catcher A and Terpling's Tiffany Win the 2022 Danish Warmblood Foal Championship
Galaxy Win T, Champion of the 2014 Danish Warmblood Stallion Licensing
Hojgaardens Miss Magnifique Named 2013 Danish Warmblood 2-Year Old Mare Champion
L'Espoir, Champion of the 2009 Danish Warmblood Stallion Licensing