The Netherlands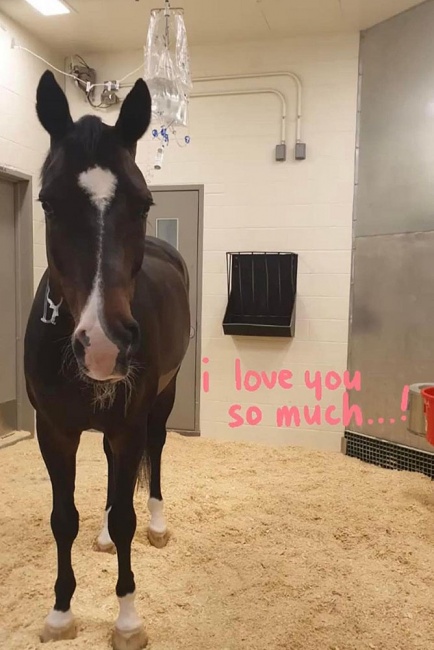 Marieke van der Putten's  number one Grand Prix horse, Tørveslettens Titanium, has undergone colic surgery at Iowa State University Large Animal Hospital and is hopefully on the road to recovery. 
The 11-year old Danish warmblood Torveslettens Titanium (by Totilas x Stedinger) had to be withdrawn from the Freestyle finals at the 2023 World Cup Finals in Omaha because he showed colic signs. His condition did not improve and the horse was transported to the Iowa State University Large Animal Hospital, where he was operated on. 
"We tried to do everything to make him comfortable but sadly nothing works out for him and we had to bring him to a clinic," owner RS 2 Dressage reported. "Luckily really everyone helped us amazing at the show ground and was everything arranged in a split second so we could bring him to Iowa. (..) Finally at the clinic it didn't get any better and it ended up in a surgery. Most important thing is that he is doing fine now"
Marieke van der Putten, Dutch team veterinarian Edwin Enzerink, and his groom Sanne Vondel have stayed with "Tito" throughout the process. 
"Nothing is more important than for him being healthy and happy. Of course he has a long way to go but Tito is the biggest little pretty fighter on this planet so I am sure he will be back strong and healthy as ever," RS2 added "A big thank you to Edwin Enzerink who is our team vet and stayed with him the whole time and did an amazing job. And Sanne Vondel you are the best. During his stay in Iowa to recover from surgery Sanne gives him a lot of cuddles and all the love he needs and more."
Van der Putten spent day and night with Tito, never leaving his side. She is now returning to The Netherlands, while groom Sanne will stay with Titanium until he can be flown home.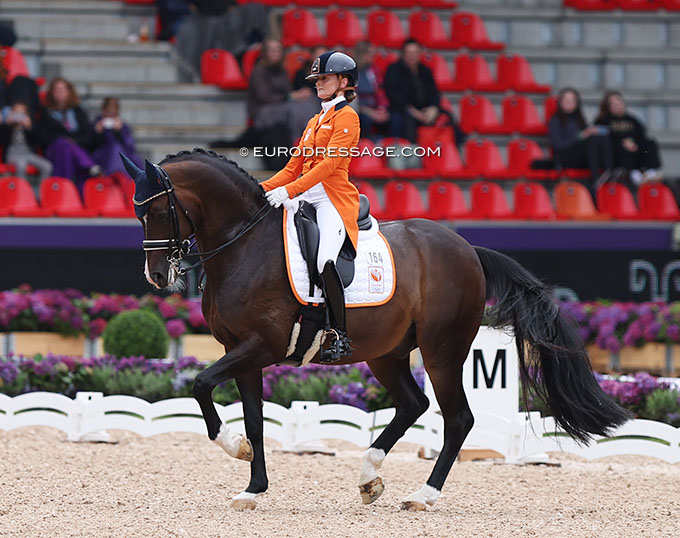 RS2 concluded their post with, "let's pray for a fast recover so we can bring him back home soon so he can be in his own stable with all the people around him who loves him most. It is heartbreaking to all of us not being with him."
The bay gelding Titanium is owned by Saskia and Jacques Lemmens and was bought in Denmark for Van der Putten to ride. Bred by Andreas Helgstrand, Paul Schockemohle and Stutteri Torvesletten, the gelding is out of Helgstrand's former Grand Prix ride, Torveslettens Stamina.  Titanium only competed once in Denmark in 2017 under Anne-marie Hosbond before his move to Holland. Marieke made her CDI debut on Tito in 2021. She won bronze at the 2022 Dutch Championships and represented The Netherlands at the 2022 World Championships in Herning, where they were 31st in the Grand Prix (71.118%).
Photos © RS2 Dressage - Astrid Appels
Related Links
Marieke van der Putten Withdraws Torveslettens Titanium from the 2023 World Cup Finals
Marieke van der Putten Knows How to Win with Titanium at 2022 CDI-W Mechelen
Dinja van Liere and Hermes Win 2022 Dutch Grand Prix Championships with All Girl Podium