2022 Dutch Dressage Championships
Dinja van Liere completed her whirlwind year at international Grand Prix level with her first national title of Dutch Grand Prix Champion. At the 2022 Dutch Championships in Ermelo on 7 - 8 May she captured the highest step pof the podium with an almost 10% point advantage. 
The massive lead in the final ranking might seem that Van Liere and the 10-year old KWPN stallion Hermes (by Easy Game x Flemmingh) ran unopposed, but she was in fact bested in the Grand Prix by Emmelie Scholtens on Desperado, who unfortunately were forced to withdraw from round 2 the freestyle, as the horse suddenly turned unfit. 
It was an all female podium this time at the Nationals in the absence of Edward Gal (on a sabbatical) and Hans Peter Minderhoud. Minderhoud's Dream Boy is not fit and his rising GP horse Invictus was not shown. Hans Peter has two more experienced GP horses in the barn, 15-year old Casper and 18-year old Zanardi, but they did their last CDI two years ago in 2020.
So it was girl power in Ermelo this time with the silver medal going to Thamar Zweistra on Hexagon's Ich Weiss and the bronze to Marieke van der Putten on Torveslettens Titanium.
Van Liere
Dinja van Liere rode Joop van Uyter and Jan Anker's Hermes to a 77.956% score in the Grand Prix, staying behind Scholtens and the 14-year old KWPN stallion Desperado (by Vivaldi x Havidoff)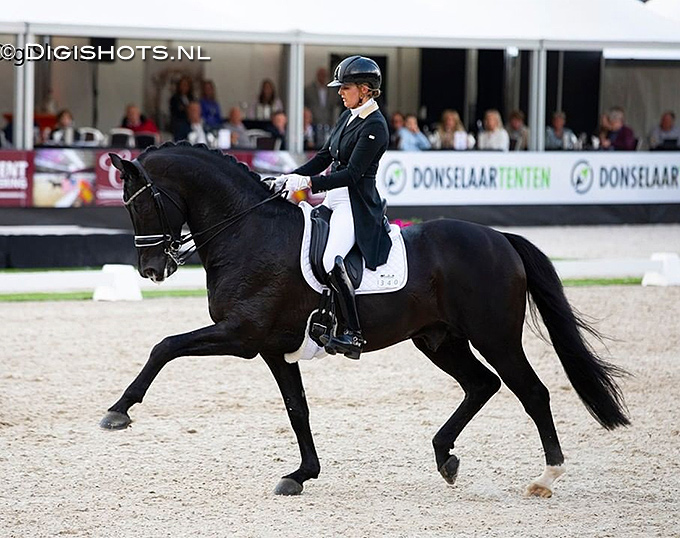 Exactly one year ago Scholtens pulled Desperado from Olympic team contention due to an injury and the Dutch Championship was Desperado's big come back. And he returned with a bang, receiving 79.304% from the all Dutch judges' panel for his Grand Prix. Unfortunately an hour before his start in the freestyle, he was withdrawn as the horse turned out not fit.  Scholtens could also have ridden Indian Rock (by Apache x Vivaldi) in the Kur finals, her second GP horse with which she placed third in the Grand Prix (76.500%), but saddled him for the consolation finals as Desperado was only withdrawn past the declaration deadline. 
After scoring a double international victory at the CDI Hagen last month, Van Liere and Hermes returned to a winning form in the freestyle finals and posted 83.155% for first place, the gold medal and title with an overall total of 161.111 points. 
"I'm super happy with the title," van Liere commented. "This is my second Championship as a senior and to go home with gold is fantastic. I was so bummed when Emmelie withdrew for the freestyle. It's such a shame for the championship and a bummer for Emmelie. It could really have been a battle after Emmelie showed how well in shape she was. I wanted to be champion because I'm the best, but now it was made easier for me."
Zweistra on the Rise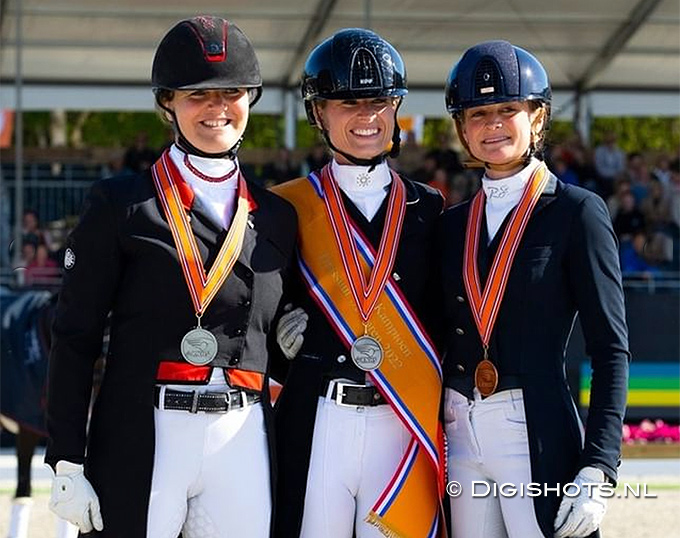 Thamar Zweistra has always been this quiet force in The Netherlands, riding many international shows with consistent results but never really making that long coveted break through at the top echelon. 
Aboard Leunis van Lieren's 9-year old KWPN stallion Hexagon's Ich Weiss (by Rubiquil) she might have finally got the horse to enable that break through. The pair already competed at the 2022 World Cup Finals in Leipzig in April and now at the Nationals grabbed an amazing silver medal. She was 7th in the Grand Prix with 73.304% but surged to a second place in the freestyle, riding to Laurens van Lieren's Queen kur. They pair posted 78.670% and totalled 151.974 points for silver
"I was super happy with Ich Weiss. He really did his best and was very relaxed. This freestyle was in fact Hexagon's Ollright's, the first offspring of Rubiquil who reached the highest level. Ich Weiss is his last offspring so the circle is complete. It's fun that the music fits Ich Weiss so well."
Van der Putten Gets Bronze
Marieke van der Putten finished on the third step of the podium for the bronze medal with a total of 151.928 points. 
The 39-year old Van der Putten garnered her greatest success as a young horse rider and has been knocking at the door of Grand Prix sport for years. The previous two hot-headed horses (Zingaro Apple, Her Majesty) failed to give her the break through she was craving, but Saskia and Jacques Lemmens' 10-year old Danish warmblood Torveslettens Titanium (by Totilas x Stedinger) finally seems to make the magic happen. With solid 70+ scores at CDI's most recently, the dark bay gelding is making his mark for The Netherlands.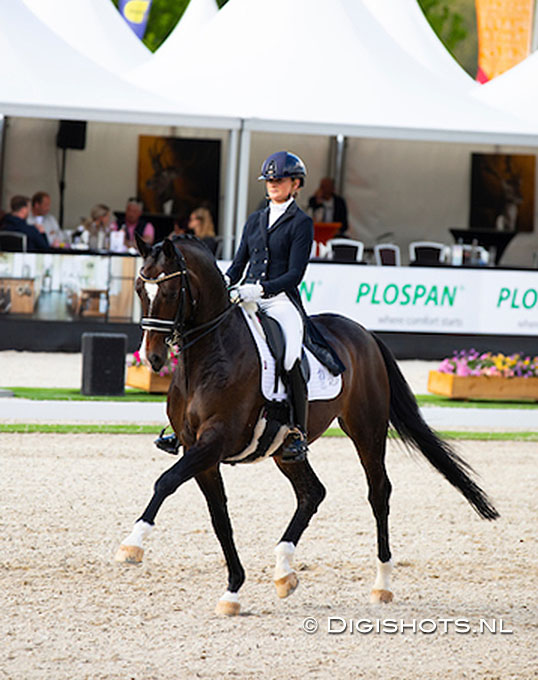 Van der Putten and Titanium were fourth in the Grand Prix with 73.978% and third in the freestyle with 77.95%.
"Awsome," said Van der Putten. "I never expected this and thought it would be possible. I'm do my very best to keep on improving, but it's nice to notice that I'm coming closer in the vicinity of the top."
Top Five
Just missing out on a podium place was Adelinde Cornelissen who brought two horses to Ermelo, but not her number one in the barn Governor (by Totilas).  For the championships she rode Fleau de Baian (by Jazz x Ulft), Parzival's full brother, and placed fourth overall with 149.585 points after posting 73.630 and 75.955%.  Her second ride Aqiedo won the consolation round with 75.213%.
Tokyo team reserve Marlies van Baalen and 11-year old KWPN gelding Go Legend (by Totilas x Ferro) were eight in the Grand Prix with 72.261% and fourth in the freestyle (76.905%) to land fifth place overall with 149,166 points. 
"It's a pity (referring to Desperado's withdrawal) but despite it being a dressed down Championship, there were some beautiful performances," said Dutch team trainer Alex van Silfhout. "There was strong riding at the top. The upcoming weeks we'll see who will have the final form for a potential team spot. At this moment the shape of a team is not yet visible."
Photos © Digishots
Related Links
Scores: 2022 Dutch Dressage Championships
Jonkers, Van Rooij, Luiten, De Koeyer and Gal Win 2021 Dutch Dressage Championships
Raaijmakers, Heiden, Van Peperstraten, Nieuwenhuis, Gal Win 2020 Dutch Dressage Championships
Gal and Toto Jr Take Comfortable Lead in 2020 Dutch Dressage Championships
Van Nek, Luiten, Rockx, Van Silfhout, Nieuwenhuis, Gal Win 2019 Dutch Dressage Championships
Buijs, Van Peperstraten, Rockx, Nieuwenhuis, Gal Win 2018 Dutch Dressage Championships
Van Peperstraten, Donkers, Maas, Meulendijks, Gal Win 2017 Dutch Dressage Championships
Oudhof, Nieuwenhuis, Gal, Meulendijks, Van Silfhout Crowned 2016 Dutch Champions 
Scores: 2015 Dutch Dressage Championships
Scores: 2014 Dutch Dressage Championships
Scores: 2013 Dutch Dressage Championships
Edward Gal and Undercover Win 2012 Dutch Dressage Championships
Minderhoud, Witte-Vrees, Krooswijk and Te Riele Proclaimed 2011 Dutch Dressage Champions
Gal Prolongs Grand Prix Champion's Title at 2010 Dutch Championships
Edward Gal and Totilas Conquer 2009 Dutch Championships
Adelinde Cornelissen, 2008 Dutch Dressage Champion
2005 Dutch Championships: Van Grunsven Star of Holland for 12th Time