United Arabic Emirates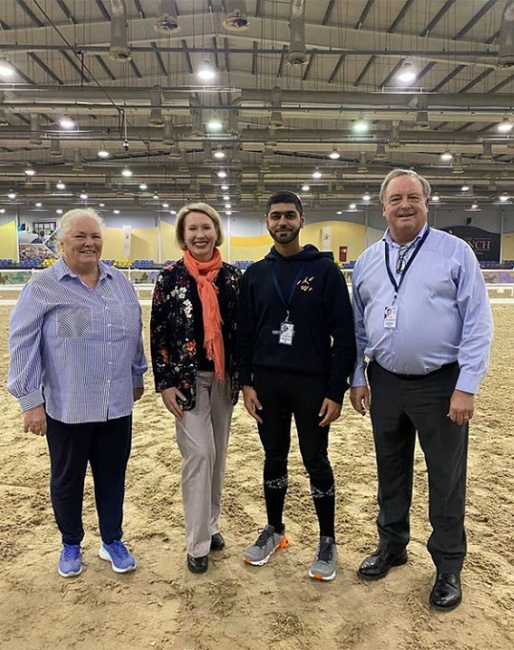 Upon recommendation of the FEI Group 7 committee and help of the dressage department of the UAE Equestrian and Racing Federation, the UAE held a national Judges Maintenance Course in Abu Dhabi directed by Irina Maknami, FEI 5* dressage judge from Russia.
Over 40 participants attended the course, many GCC countries joined as well like Kuwait, Saudi Arabia, Bahrain and Qatar, while others attended through zoom. 
The two-day course consisted of two days, filled with presentations and talks about the general principle of dressage, dressage movements from elementary to small tour level, guidelines for judging fundamental mistakes in dressage movements, as well as shadow judging and review. The Judges' course took place at the same time that the UAE National Dressage Championships were held. 
Irina Maknami is an FEI 5* dressage judge since 2017, while her career in judging started much before that in Moscow, in 2009. After being a successful national Grand Prix judge, she passed the FEI 3* Dressage judge exam. In 2013 she became a 4* judge as well as a Judge for Young horse classes. She has officiated at shows such as the European Dressage Championships, two World Cup Finals, two European Under 25 Championships, World Breeding championships for Young Horses, etc.
"I am happy to see the initiative from national equestrian federations to organize clinics. Big thanks to UAE equestrian federation for not only organizing the clinic but also inviting people from other group 7 countries. This is a great step to create dressage community, exchange of knowledge and cooperation," FEI Group 7 Chairman Diana al Shaer noted.
"It was an informative, valuable and fun course. Irina made me look at what we do differently. She also advocated for positive judging and working together to make the sport more inclusive, I feel this will forever change my perspective on what I do when I ride," said FEI group 7 committee member Mohamed Al Serkal, who attended the course.
Related Links
Middle East and North African Riders Unite to Develop Dressage in FEI Regional Group 7