Japan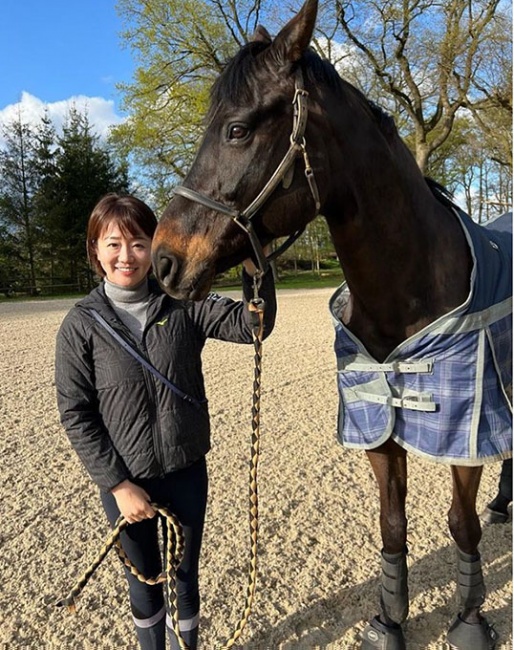 Akane Kuroki, a former Japanese team rider, has acquired L'Esperado as her 2023 Asian Games hopeful. 
L'Esperado is a 13-year old Oldenburg gelding by L'Espoir out of Luise (by Lauries Crusador xx x Wendekreis). He is bred by Heinrich Giesselmann.
The gelding was first competed by Jan-Dirk Giesselmann in 2016 who took him to small tour level by 2019. In 2021 Liza Lüdders campaigned him at M-level followed by Merle Marie Könke. Inga von Helldorff also rode him at small tour level the same year through the spring of 2022. The rest of 2022 he was competed by Melanie Klein. His last local shows were with Lea-Sophie Klein and Finja Boeck.
Sold to Japan
L'Esperado has been sold to Yoko Matsuda's German horse sales company Shinohara GmbH. 
The ride on the bay gelding has been allocated to Akane Kuroki, who will try to qualify him for the Japanese team for the 2023 Asian Games in Hangzhou (CHN). 
"I'm very happy with Lessy," Kuroki said. "Thank you Ms. Matsuda for giving me the opportunity to ride this amazing horse."
Akane Kuroki
In the past decade Kuroki represented Japan on Imke Schellekens-Bartels' former Grand Prix horse Toots. She rode at the 2016 Olympic Games in Rio and won team gold at the 2018 Asian Games in Jakarta.
The Bartels-Kuroki collaboration went awry when Akane bought Batuta for the Tokyo Olympics but the horse went lame after one day and died four weeks later. Kuroki moved to Jessica and Benjamin Werndl's yard in Aubenhausen, Germany, and had two contenders for Tokyo: Elastico and Zuidenwind. She was mainly helped by assistant Amelie von Harsdorf at competitions.
The corona pandemic disrupted travel and Elastico went on to become the ride for Werndl's assistant Raphael Netz who won gold at the 2021 European Under 25 Championships. Akane won the Japanese selection trials for the 2022 Asian Games on Elastico, but the Games were postponed by a year due to a corona outbreak in Shangai and zero tolerance in China.  The strong Elastico got sold to Austrian Paul Jöbstl. Kuroki was selected for the senior team for the 2022 World Championships in Herning with Elastico but withdrew because of a covid infection.
Japanese Selection Trials for 2023 Asian Games
Akane recently switched trainers and is now working with Jonny Hilberath as he'll guide her towards the Japanese team selection trials for the 2023 Asian Games. 
"The owner and Jonny have known each other for a long time, so I am training with him," Akane explained.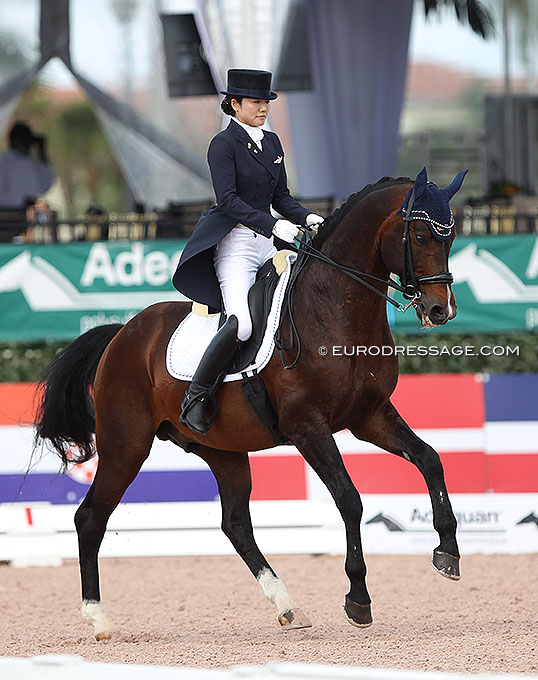 These trials are held in Belgium on 10-11 May for the European based riders and in Japan a week later for the Japanese based riders. To be eligible to participate in the trials, a combination must have achieved and proven at least one appropriate result in a CDN or CDI between April 2022 and the closing date for trial entries (PSG 67%, Inter1 67%, GP 65%). The national team member in 2022, 2023 and riders who competed in last year's Asian Games trials, do not need to prove this on any horse. 
The Japanese team is decided based on the scores at this trial.
Photos © private - Astrid Appels
Related Links
Akane Kuroki Wins Appeal - Sale Batuta Annulled
Akane Kuroki, High Scorer at Japanese Team Selection Trial for 2022-2023 Asian Games
Akane Kuroki Withdraws from 2022 World Championships Dressage
Kuroki and Toots Win Japanese Selection Trial for 2018 Asian Games