Australia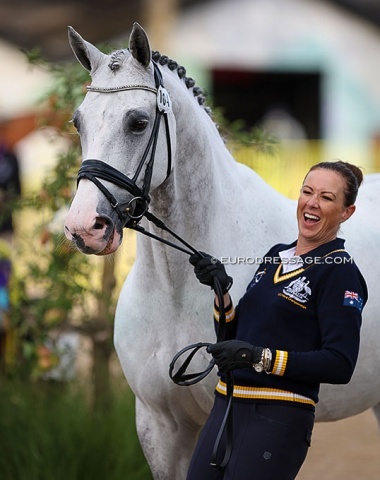 Australian Olympic Grand Prix rider Lyndal Oatley has established the "Lyndal Oatley Scholarship" for enrolment in Brett Parbery's Dressage Breakthrough program.
The Lyndal Oatley Scholarship will be awarded to three riders for enrolment in this educational program May to July 2023, with all tuition fees covered, sponsored by Oatley.
"Lyndal has for many years been a passionate supporter of emerging riders and the sport of dressage more broadly, while competing at the elite level herself," Brett explained.
According to Parbery, the Dressage Breakthrough program is a deep-dive into his training system, focusing on layering of the core training concepts always with the Grand Prix in mind. The program will have riders break down and break through all their training components and rebuild them "better than ever." It's a 7-module course with weekly lessons and live coaching workshops with Brett, supported by expertise when you need it in the private study group.
"I've really enjoyed my small part in Brett's program," Lyndal told Eurodressage. "It's a great initiative and I love everyone's support of one another. For the last months I have helped in a part time way and really wanted to give back a bit and this idea came up with the scholarship and I loved it. It's so nice to see how much positivity it's creating."
Successful riders may be competing at dressage at any level, with a demonstrated commitment to training, competing, and learning, and for whom the standard tuition fees would otherwise prohibit enrolment in the program.
Photo © Astrid Appels
Related Links
Oatley Swaps Elvive for Eros for 2022 World Championships Dressage
Lyndal Oatley Premiers New Horse, Dante's Herzchen, and Wins in Ankum
Brett Parbery, Working Hard to Become a Better Rider
Brett Parbery Bounces Back Down Under
Brett Parbery Leaves Terry Snow's Willinga Park
Brett Parbery Wins the 2017 Australian Grand Prix Championships in Boneo