The Netherlands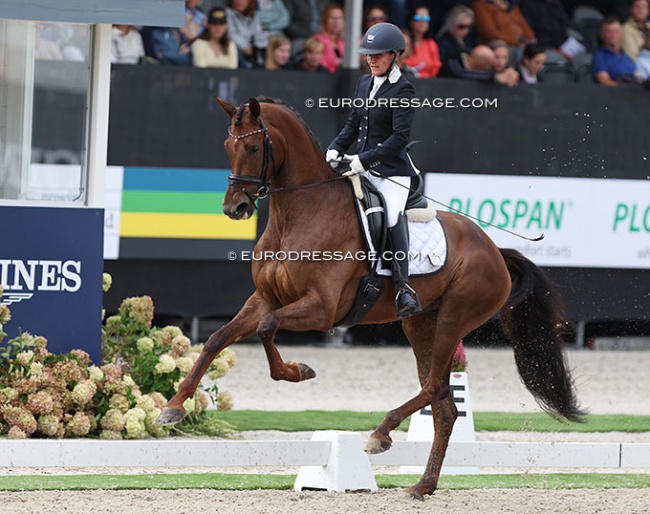 The Dutch equestrian federation and KWPN society have announced the long list of horses that are in the running for team selection for the 2023 World Young Horse Championships, following the first of three selection trials in The Netherlands. 
Three Selection Trials
The Dutch equestrian federation and KWPN society will be holding three qualifiers.
The first one is run over two days and top 20 horses per age division are invited to the second qualifier in Ermelo on 13 - 14 June. The top 12 per age division goes to the third qualifier on 4 July in Ermelo after which the team will be announced.
The Dutch selectors are Emmelie Scholtens, Johan Hamminga, and Veronique Roerink.
First Trial: Two Days in Nunspeet
The first two selection days in Nunspeet took place on 8 and 16 May 2023. Selector Hamminga was positive about the turn-out. 
"It's always nice to see a very big group of horses as these are the horses of the future," Johan explained. "Because of our experience to train more for test riding and that the riders to more test riding work, it stood out that horses executed the test quite well."
The youngsters were presented in an outdoor arena which was quite distracting. "Horses are allowed to be spooky, so we picked that arena on purpose to know what the character of the horses is. The World Championships are alway different and many unexpected things happen. That's also the nice thing about such a special competition. It's not automatically that the very best horse wins, also as a rider you need to be high level."
22, 17 and 15 Long Listed
The selectors picked 22 five-year olds, 17 six-year olds and 15 seven year olds for the long list. They are eligible to move on to the second selection trial in Ermelo on 13-14 June where also some wildcards might make an appearance.
No less than 50 five-year olds were on the starters' list. 
"We chose a few more 5-year olds for the second selection trial because these are young horses who need a bit more time and they might be of use next year or the year after. If you put more time and training into them, it will be reap the benefits. The 7-year old test is quite challenging, so  there are always fewer entries in this division. We picked the horses that seem to master the test already quite well," Hamminga concluded. 
Long-Listed Horses
5-year olds
Everest (by Especial) -  Phoebe Peters
Nacho (by Negro)  -  Charlotte Fry
Nalegro (by Painted Black)  - Charlotte Fry
Nanny Mc Phee (by Vitalis)  -  Judith Ribbels
Nashville Star (by Desperados)  -  Dinja van Liere
Nashville SW (by Secret) -  Femke De Laat
Nero (by Ferguson)  - Bart Veeze
Network (by Just Wimhof)  -  Femke De Laat
New Orleans (by Blue Hors Farrell)  - Marlou De Ruyter
Newport (by Toto Jr.)  - Febe van Zwambagt
Niana V.O.D. (by Desperado)  - Tessa Van Os
Night Shadow (by Guardian S)  -  Amber De Groot
Nijnjte (by Valverde) -  Lotte Van Engelen
Nirvano (by For Ferrero)  -Kim Koolen
No Nonsense D (by Glamourdale)  -  Cynthia Eggenkamp
No Secret (by Secret)  - Christel Heuseveldt
NOVA-LIZ (by Everdale)  -  Charlotte Fry
Number Two (by Just Wimphof)  - Jill Bogers
Nyrone Fortuna (by Ferdinand)  - Julia de Ridder
Dark Rousseau (by Dettori)  - Kim Alting
This is Naqueen (by Trafalgar)  -  Kim Noordijk
N (by Indian Rock)  - Sem Stiemer
6-year olds
Hexagons Mr Magnum (by Expression)  -  Thamar Zweistra
Manila Grace (by Guardian S)  - Maxime Osse
Mayflower (by Havanna II)  -  Lisanne Der Nederlanden
Marilyn Morka (by Ferdeaux) - Tessa De Roon
Massimo (by Toto Jr.)  - Gerdine Maree
Mercurius ACM (by Dream Boy)  -  Amber Hage
Mac Toto (by Toto Jr.)  - Danielle Heijkoop
Mister Johnson J.J. (by Toto Jr.)  - Danielle Heijkoop
Mauro Turfhorst (by Zonik)  - Dinja Van Liere
Mission (by Eye Catcher)  - Femke De Laat
Magnum (by Fürst Romancier)  -  Kirsten Brouwer
Ma Belle (by Governor)  - Krista Kolijn
Porbarn Mellevanck PP (by Toto Jr.)  - Mara De Vries
Magic Johnson van de Edcohoeve (by Johnson TN)  - Curro Benitez Sanchez
Hexagons Gorgeous Black Art (by Toto Jr.)  - Benedek Pachl
Arizona TKJ (by Hette 481) -  Hennie Roffel
My Toto (by Toto Jr.) - Hans Peter Minderhoud
7-year olds
Luqiedo (by Aqiedo)  - Adelinde Cornelissen
L'Unique Sth (by Boston)  -  Nicky Snijder
Luna (by Governor)  -  Jessica Nijpjes
Lucrum (by Ferguson)  -  Lotje Schoots
Lord Platinum (by Ferguson)  -  Curro Benitez Sanchez
Linskymorijke (by Negro)  -  Marielle Spierings
Let's Play (by Franklin)  - Meghan Mühlebach
Lennoxwaard (by El Capone)  -  Kirsten Brouwer
Las Vegas (by Ferdeaux) - Hans Peter Minderhoud
Lacrosse RS2 (by Ferdeaux)  -  Zoë Kuintjes
Hexagons Luxuriouzz (by Johnson)  - Thamar Zweistra
Firs Lewis (by Ferguson)  -  Niels Bax
Brinkhof's Lots Of Likes (by Grand Galaxy Win) - Dominique Veenstra
Accountancy Leonardo Vdt (by Zonik)  - Christianne Goes
Lightning Star (by Ferguson)  - Kirsten Brouwer
Related Links
Horses Listed for First 2023 Dutch WCYH Selection Trial in Nunspeet
Eurodressage Coverage of the 2023 World Championships Young Dressage Horses