F.O.C.U.S.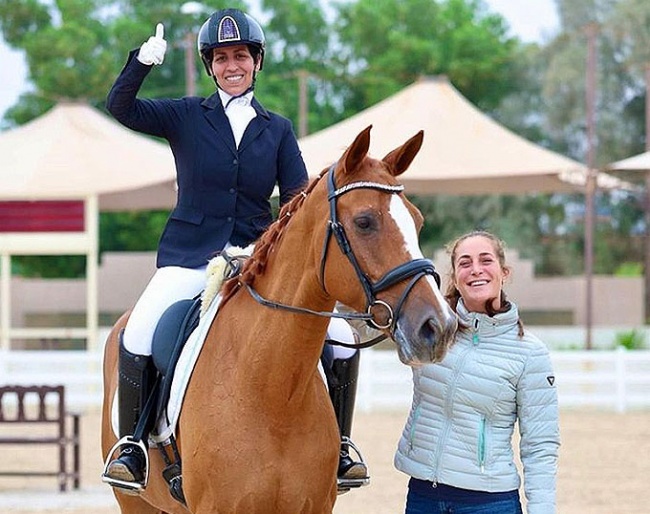 Dressage in the small Middle Eastern desert country of Kuwait is in its infancy, but a passionate group of aficionados is making brave efforts to introduce the FEI sport to a Kuwaiti audience and turn a fata morgana into reality. 
With the interest in show jumping booming in this affluent oil country, dressage is lagging behind. However, the mechanisations have been set in motion by key players such as Khalid Al Khorafi and the Al Sabah for dressage to break through as a sport for horse lovers.
Show Jumping Blooming, Interest in Dressage in the Incubator
In 1982 Nadia Al Mutawa was the first Kuwaiti and first woman to win show jumping gold at the Asian Games in New Delhi. Her sister Gemila Al Mutawa won silver and Sheikha Bara'a Al-Sabah claimed bronze. In the male dominated sport of show jumping it were these three young girls who blazed a trail for Kuwait and wrote history with this podium sweep.
Since then, Kuwait has built a strong foundation for show jumping alongside the already popular and culturally ingrained disciplines of horse racing and endurance.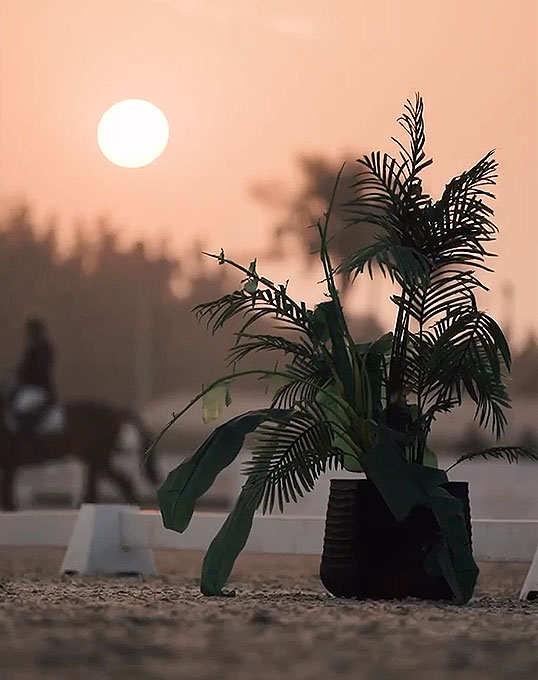 In recent years over 100 Kuwaiti athletes are registered with the FEI as international show jumping riders, while domestically the country is hosting weekly shows, boasting amazing prizes during the season, from cash to cars, equivalent to 45,000 euro per show. 
Kuwait Riding Center
The beating heart of equestrian sport in Kuwait is located at Khalid Al Khorafi's Kuwait Riding Center. Al Khorafi, a civil contracting and steel fabrication entrepreneur with a love for horses, hosts these competitions, but the businessman knows there is more beyond the horizon. 
For years Al Khorafi encouraged dressage riders to find their place in Kuwait and at his riding center, but initially there was very little acceptance of the discipline.
"Al-Khorafi is a pioneer in instituting the equestrian sport in Kuwait,"  Fajer Al Sabah told Eurodressage. "Time after time, he tried to host dressage competitions for his riding center's local riders. Though some were successful, the sport was still not very sought after."
Trailblazers
For any sport to capture the interest of a wider audience, role models and trailblazers are needed. Kuwait has found those in Sabah Al Sabah and his wife Fajer Al Sabah.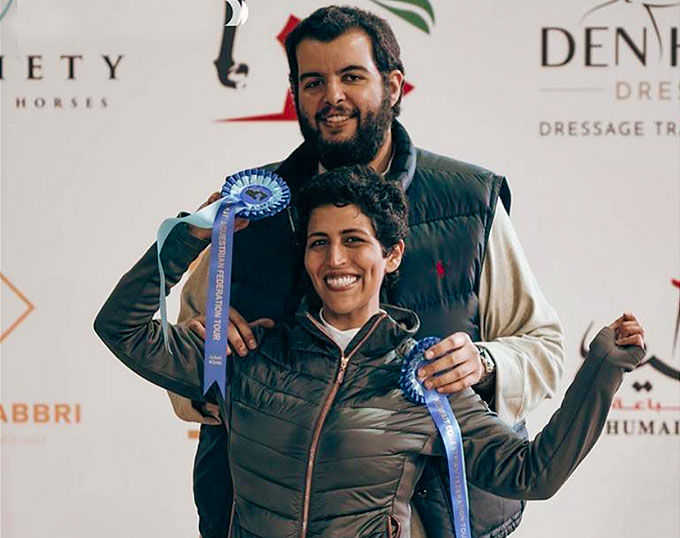 Sabah Al Sabah is an avid supporter of racehorses and has been a horse owner since 2008. He career started racing horses in Kuwait and assisted his uncle in operating the country's most successful racing yard. He now concentrates solely on buying and breeding horses in Ireland and keeps performing racehorses in the United Kingdom.
Fajer has been riding since early childhood and always preferred dressage. She got discouraged with not having any options to experience and learn the sport in Kuwait. However, this did not stop her in her tracks. She traveled to Europe to train and bought schoolmasters to learn from. The cross-border experience planted the seed from which their company Equiciety grew. 
In 2015, Sabah and Fajer decided to encourage dressage sport within Kuwait and internationally through Equiciety (Equi + Society). They began a breeding programme of dressage, racing, and show jumping horses and are greatly determined to back all equine sports in all disciplines in Kuwait through sponsorships and support.
The Dutch Connection
Fuelled by her passion for dressage, Fajer wants to properly establish the discipline in Kuwait by building it from the ground up.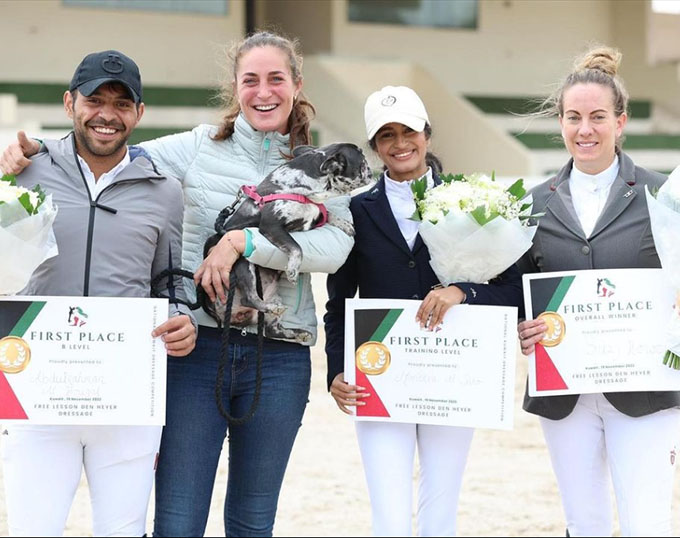 In 2019 she contacted Dutch trainer Amber den Heyer for some clinics, but the corona pandemic came and delayed the entire project by two years due to lockdowns and travel restrictions. Finally on 6 June 2022, Den Heyer journeyed to Kuwait and her clinic was instantly fully booked.  
"It is my purpose to bring a knowledgeable and passionate trainer here, not only to train me personally, but also to offer her knowledge to all those who were interested in joining her lessons," Fajer explained. "There was flooded interest, especially due the lack of trainers in Kuwait."
Fajer and Amber have now joined forces and set their minds on legitimizing dressage in Kuwait. With approval of the Kuwait Equestrian Federation, Kuwait held its first dressage competition on 19 November 2022 at the Hunting and Equestrian Club. The riders competed to newly written, custom tests inspired by the Dutch system.
"It was a tumultuous road trying to pursue dressage in Kuwait with many speed-bumps on the way," Fajer smiled. "It was entirely self-funded by the Kuwait Equestrian Federation's Head of the Dressage Committee (Sabah Al Sabah). His support to the sport is the solid foundation of the existence of dressage in Kuwait."
Backed by Dressage FEI Group 7
Although the dressage circle is still small in Kuwait with owners and riders self-funding the projects for growth, the first steps have been made and they sparked an interest from which something bigger can grow.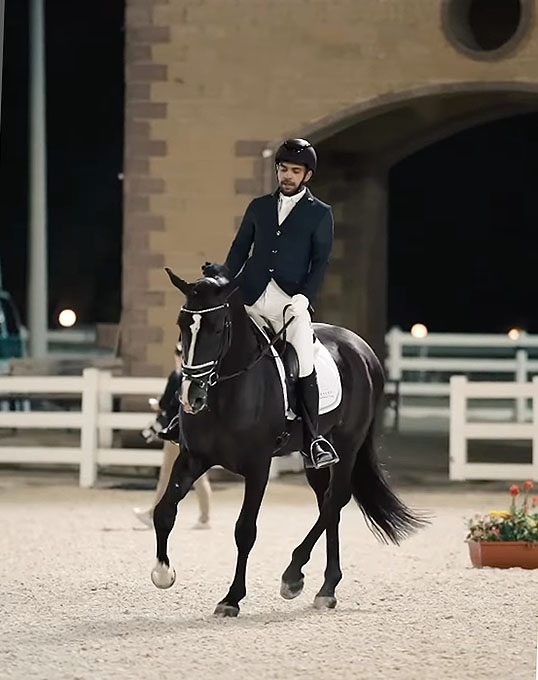 Al Sabah's efforts have not gone unnoticed and they have received the support of the international Dressage Committee of FEI Group 7. 
FEI's Regional Group 7 covers 18 countries spanning the Middle East and North Africa. Just six individuals in Group 7 are registered as international dressage riders, while there are 699 show jumping riders registered.  In 2021 five dressage riders of FEI Regional Group 7 recognized the need for a structured committee to push the sport forward.
The Al Sabah couple has tapped into the expertise of "Dressage FEI Group 7" to boost the development of dressage sport in Kuwait. 
"Along with Dressage FEI Group 7, led by Diana Al Shaer, we are working together to expand the sport slowly but surely," said Fajer. "Mohammed Al Serkal (UAE) is providing clinics to support his local riders, Yessin Rahmouni (Morocco) is also arranging training sessions between The Netherlands and Morocco to enrich the sport in his country. Wejdan Al Malki (Qatar) is already proving herself in international competitions, and is offering all her support to the Qatar Equestrian Federation. Ahmed Al Sharbatly (Saudi) is working on building dressage in Saudi Arabia."
Growing Interest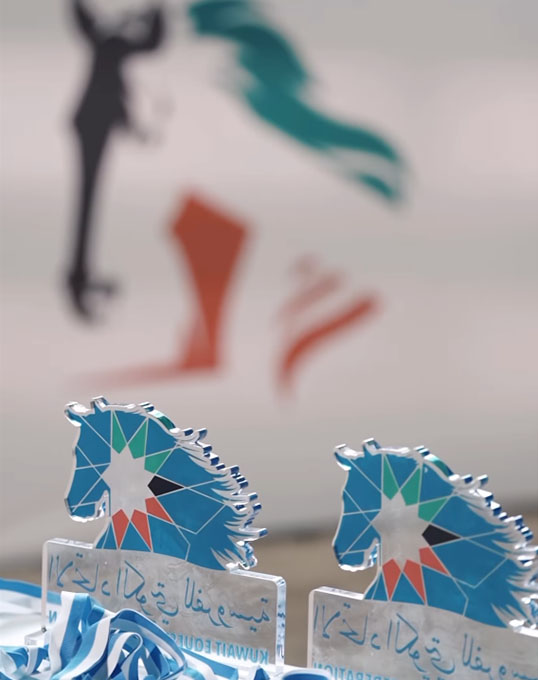 Following the success of the first show, more people have applied and participated in the second competition held at the Kuwait Riding Center.
"It was even more successful than the first," said Fajer proudly "The number of participants jumped from 9 in the first show to 16 in the second. At the third we hosted in March 23 participants signed up."
Fajer credits Amber den Heyer's enthusiasm and spirit for helping her dream of establishing dressage in her country become a reality.
"It really takes a lot of time and effort, especially with no financial support, no sponsors, and a lot of difficulties along the way," Fajer admitted," but Amber is making it happen. Kuwait is adding a new higher level almost every 3 months which shows impeccable improvement in their overall training. Amber always makes sure the horses come first, and someday, Kuwait will raise its flag high as their riders stand on the highest of podiums worldwide."
For more information, visit  www.kuwaitdressage.com or www.equiciety.com
Photos © Bravo athletes, 
Related Links
Maknami Directs National Judges Maintenance Course in Abu Dhabi
Middle East and North African Riders Unite to Develop Dressage in FEI Regional Group 7
Dominique Filion's Dynamite S Leased as Asian Games' Hopeful for United Arabic Emirates