2023 Preis der Besten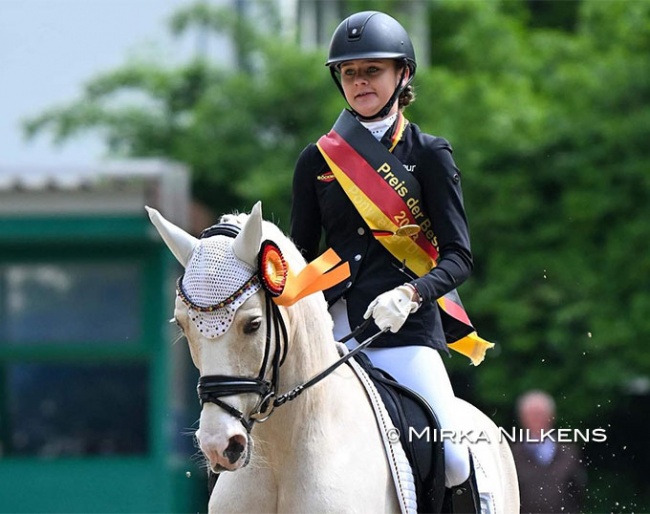 Pony rider Mia Allegra Lohe, children rider Vivianne Mercker, junior rider Allegra Schmitz-Morkramer, and young rider Jana Lang became the winners of the 2023 Preis der Besten in Warendorf, on 20 - 21 May 2023. 
What is the Preis der Besten?
Founded in 1973, the Preis der Besten (Prize of the Best) was first established for young riders. Until 1994 the event took place indoors in Dortmund. The "PDB" expanded to show jumping and broadened to include junior riders. It took place in Munster-Handorf for two years before finding its permanent home in Warendorf.  In 2002 eventing became part of the PDB and in 2014 vaulting was added.
For dressage riders, the Preis der Besten is annually the first German team selection and observation trial for the 2023 European Youth Championships in the summer.  The second team qualifier will take place at the CDIO-PJYR Hagen "Future Champions" at Hof Kasselmann in June. 
Team Selection Tension
Being the first official team selection trial, the show brings along its fair share of tension, pressure, and expectations. Subsequently the 2023 Preis der Besten ware not without its roller coaster moments.
Two qualifiers - one in Hagen and one in Kronberg - determine the starters' fields for the PDB in Warendorf. The biggest absentees at this year's PDB were the 2022 European Children Champion Martha Raupach, who did not score high enough in Hagen to qualify, and 2022 European Young Riders Champion Helena Schmitz-Morkramer, who has put riding on the back burner and is currently in London while her junior rider sister Allegra has taken over Lifestyle. 
Since 2020, a vet check takes place before the start of the event to mimic the proceedings of an international dressage competition. This year, alongside the standard trot-up, the vets paid particular attention to the correct vaccination of the horses and ponies. This led to a number of pairs being sent home for not being in order. 
To give an idea of how this affected the number of participants (amongst other reasons), 22 pony pairs were announced as nominated to show at the PDB, but 15 actually competed in Warendorf. Not competing, for instance, were pony pairs Jil Kögler (Del Estero NRW) and late entry Feodora von Röder (Morgensterns Delicious), both students of Semmieke Rothenberger.
In the end the familiar faces dominated the top of the ranking across the levels which leaves little to the imagination of what this year's team selection will look like. 
Pony Riders: Mia Allegra Lohe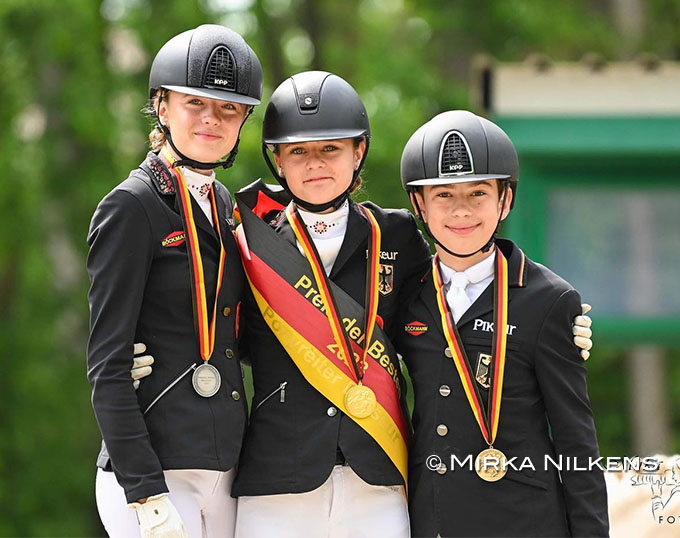 In the pony division, the 2022 European Pony Kur Champion Mia Allegra Lohe ruled the roost aboard her 14-year old Danish bred mare Tovdal's Golden Future Imperial (by CJ Chargon Bredager x Rytterbjergets Imperial).  The pair won the first round with 76.077% and the second with 77.415%. They are long-time students of Tara Schneider. 
"She was simply incredible on both days. She's a little diva, but super sweet and cuddly to handle," said Lohe after winning the title. "I'm incredibly grateful to ride her."
Lilly Marie Collin and the 8-year old stallion Cosmo Callidus NRW (by Cosmopolitan x Cyriac) were third in the first round (74.564%) and second in the second round (75.561%) to finish on the silver medal step of the podium.  Kristy Oatley's student Hubertus Stallmeister and the schoolmaster Adriano B, a 17-year old Angelo B x Flying Dream offspring who has won multiple medals with his previous riders, landed the bronze after placing second in round 1 (74.923) and third in round 2 (74.341%). 
German pony team trainer Caro Roost commented, "I'm very proud of my pony riders. We have a few experienced pairs but also some new ones who held up well. I'm especially impressed of how many fun families are engaged in horse sport."
Children: Vivianne Mercker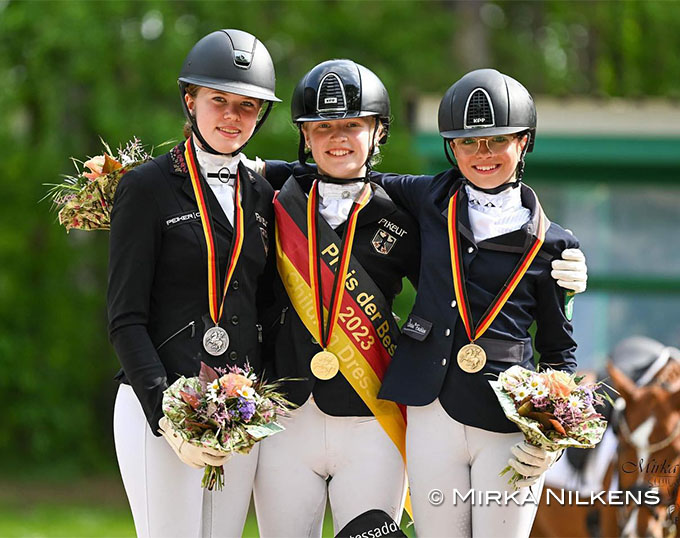 In the children division a new face has been climbing the ladder to the top: Vivianne Mercker. She brought two horses to Warendorf,  the 13-year old Oldenburg mare Belladonna (by Belissimo M x Rubinstein) and the 7-year old Oldenburg mare Djamalla (by Dom Romanov x Sir Donnerhall) and captured first and second place with them. Only one spot on the podium is given to a rider so Mercker got gold with Belladonna as she was the highest scoring horse. They were third in round 1 with 79.250% and won round 2 with 85.720%. 
"With Bella I liked to ride the simple changes and with Djamalla the trot extensions are cool," said Mercken, who trains with Franz Trischberger. "It all was so much fun here."
Lilly Marie Heins and Skyline, an 11-year old Hanoverian by Spörcken x Fidermark), finished second overall after winning round 1 (80.775%) and placing third in round 2 (81.431%). 
The bronze went to Madlin Tillmann aboard Lebensfreude, a 14-year old Rhinelander mare by Lebenskunstler x Fidermark. They were fourth twice (74.525% and 79.713%)  but finished third overall.
"Bavaria  is incredibly strong this year in the children division," youth team trainer Hans-Heinrich Meyer zu Strohen stated. "The others are following in their wake, but I'm sure that they will catch up at high speed and not snail speed."
Junior Riders: Allegra Schmitz-Morkramer
In the German junior division the top of the leaderboard continues to be dominated by the same faces, no matter which horses they saddle. The horse families of Schmitz-Morkramer, Oatley and Baumgurtel wield the axe of power there while the rest tries to catch up.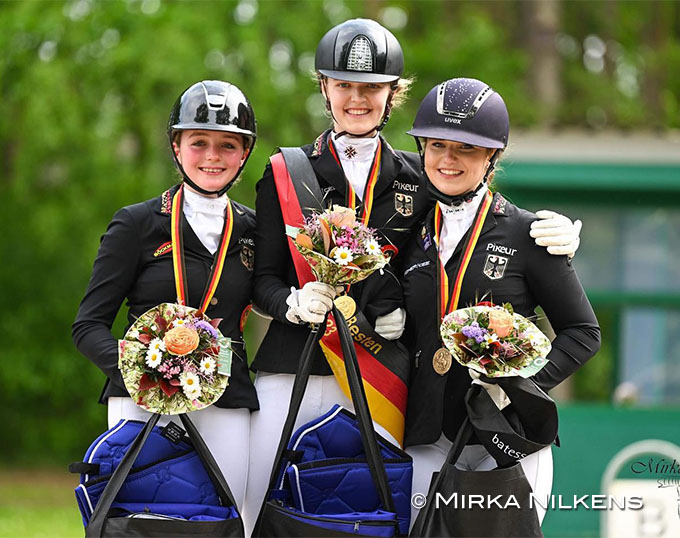 Reigning European junior champion Allegra Schmitz-Morkramer and her 11-year old Hanoverian Libertad (by Londontime x San Remo) were unbeatable, winning both rounds with 76.892% and 76.711%. 
"I'm very grateful to my family who support me so much and my trainer Sonja (Ellerbrock)," said the 17-year old Allegra. "We've been a team for nine years and she has guided me on the way." Allegra also received the golden rider's badge in gold in Warendorf from team trainer Meyer zu Strohen.
This year Rose Oatley is betting on 8-year old Oldenburg mare Sommernacht (by Rocco Granata x San Remo) instead of her 2022 team ride Veneno or her 2021-2022 junior mount Rock Revolution, who hasn't been out to show since October 2022. With the bay mare she clinched the silver medal in Warendorf, placing second twice with 73.676% and 74.842%. 
Lana-Pinou Baumgürtel and the 11-year old Hanoverian Founder (by Foundation x Sarkozy) placed third after posting 72.892% and 73.553%. Lana was also fourth on her second horse Emma, a 9-year old Westfalian by Escolar x Laurentianer. 
Young Riders: Jana Lang
With twenty-two pairs the young riders' division was the largest this year in Warendorf.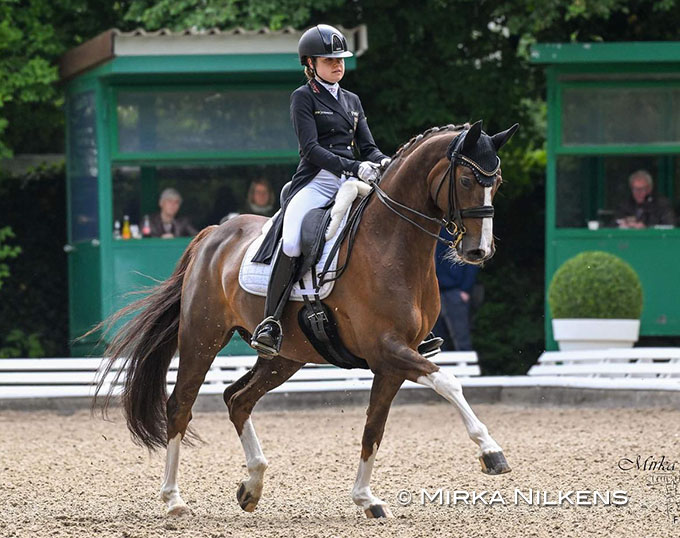 Interesting to note were the big judging discrepancies between the individual judges in the first round for the Young Riders. The first placed pair, for instance, had scores from 73.6894% to 78.421%; another combination saw his results go from 67.894% to 74.210%, a third rider had differences from 68.815% up to 73.157%, while a fourth one saw a big gap from 68.289% to 73,026%. Probably the biggest difference was with Nina zur Lage, who had a 66.184% but also a 74.078%. That class was judged by Gudrun Hofinga, Cornelia Hinsch, Katja Westendarp, Kerstin Holthaus, and Wolfgang Schierloh.
The division was won by Jana Lang on the 17-year old Baron.
The silver medal went to a German team routinier, Anna Middelberg on the 12-year old Hanoverian Blickfang HC (by Belissimo M x Brentano II). She placed third in the first round with 73.026% and second in the second round with 72.184%. Former European junior riders' champion Lucie-Anouk Baumgürtel is not riding her team horse Hugo but brought along the 8-year old Hanoverian Ferati (by Furst Belissaro x Del Piero). She was second in round 1 (73.105%) and fourth in round 2 (71.474%) to place third overall. 
"With the young riders there was still some developing going on," said Meyer zu Strohen. "We had a lonely top and the other pairs need to continue to work on themselves to catch up. Nonetheless we're heading to Hagen with a good group."
Photos © Mirka Nilkens
Related Links
Scores: 2023 Preis der Besten
Combinations Announced for 2023 Preis der Besten
Previous Winners
Raupach, Schmitz-Heinen, Schmitz-Morkramer, Baumgurtel Win 2022 Preis der Besten
Oatley, Paschertz, Baumgürtel, Collin Win 2021 Preis der Besten
Busch-Kuffner, Schmitz-Morkramer, Pistner, Rothenberger Win 2019 Preis der Besten
Baumgurtel, Schwierking, Erbe, Rothenberger Win 2018 Preis der Besten
Baumgurtel, Horstmann, Becks Win 2017 Preis der Besten
Schuster, Rothenberger, Becks Win 2016 Preis der Besten
Rothenberger and Becks Win 2015 Preis der Besten
Rothenberger, Abbelen, Rothenberger Win 2014 Preis der Besten
Photo Report: Rothenberger, Von Danwitz, Niemann Win 2013 Preis der Besten Title
Rothenberger, Niemann, Schurmann Win 2012 Preis der Besten
Linnemann, Schutte, Luttgen Win 2011 Preis der Besten
Photo Report: Krieg, de Ridder and Lutkemeier 2010 Preis der Besten Champions
Rothenberger Kids and Sieber Win 2009 Preis der Besten
Photo Report: 2008 Preis der Besten
Photo Report: 2007 Preis der Besten
Photo Report: 2006 Preis der Besten
Scores: 2004 Preis der Besten
Scores: 2003 Preis der Besten
Scores 2002 Preis der Besten
Torloxten and Giesen In the Picture at 2001 Preis der Besten
Scores: 2000 Preis der Besten
Kroncke, Kroncke and Maiwurm Win 1999 Preis der Besten