Oldenburg Auctions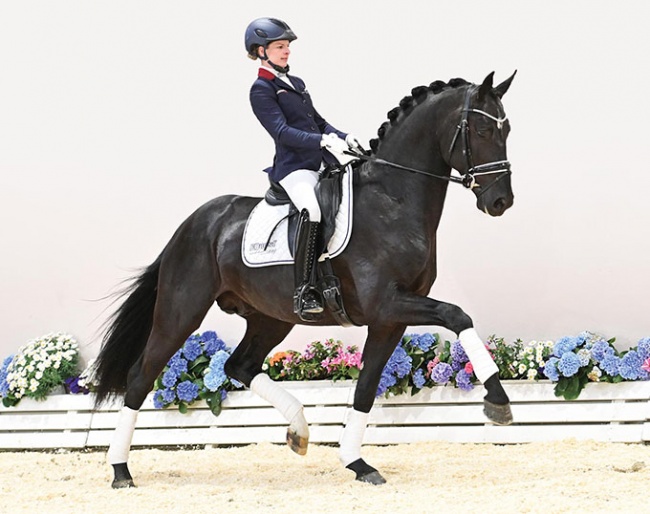 The young sport horse Empire and the foal Elegance became the price highlights of the 2023 Oldenburg Special Edition auction in Vechta, Germany, on 17 June 2023. The auction took place in hybrid format with live on the scene bidding, as well as online. The top sellers move to Great Britain and Denmark.
Sport Horses: Empire
The impressive stallion Empire (by Escamillo x De Niro xAndiamo)n bred by Gerd Pigge and owned by Clemens von Merveldt, was the best seller in the collection of dressage and show jumping bred sport horses.  The black stallion sold to Great Britain for 58,000 euro. 
The OS star Unlimited Star (by Untouchable x Argentinus x Zeus) moves to south Germany for 39,000 euro.
The second most expensive dressage horse was Illuminati (by Ibiza x Furstenball) which sold to American Grand Prix rider Sherry van't Riet for 43,000 euro. 
Monky Fortyseven (by Morricone x Foundation) fetched 38,000 euro, just like Vienna (by Vivaldi x Stedinger). Fu Fu (by For Romance x Romanov) fetched 32,500 euro. A Brit also secured Egmont (by Escolar x Franziskus) for 28,000 euro.
The average price of the sport horse collection was around 27,000 euro. Twenty-one sport horses generated a total of 564,000 euro. Six Oldenburg horses will have international careers, they will move to Great Britain (2), Italy (2) and the USA (2).
Foals: Elegance
The price leader of the elite foals is Elegance (by Escanto PS x Don Schufro x Sandro Hit). Dam Weihestern is none other than the sister of Weihegold OLD (Isabell Werth). Elegance sold for 31,000 euro to the Oldenburg friend and breeder Lone Boegh Henriksen from Denmark.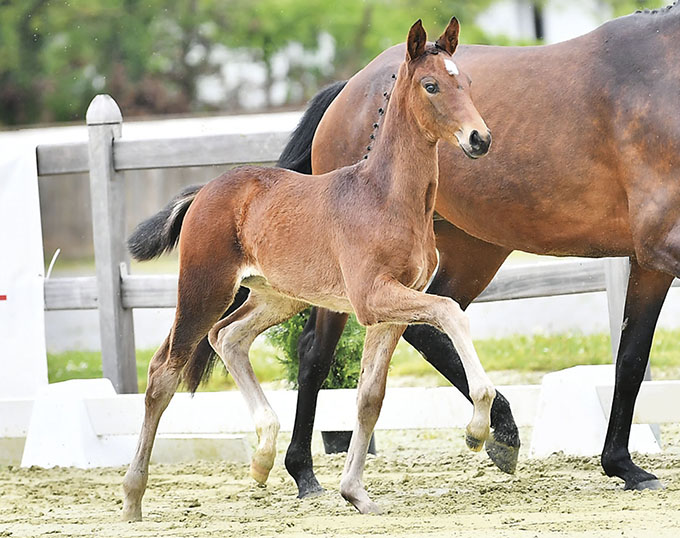 Grand Prix star Isabell Werth secured an elite foal in Vechta as well. For 11,000 euro she bought the colt Vitalou (by Vitalis x Feedback x Fidermark), bred by breeder group Flandersbach.
Plenty of foals sold for 10,000 euro or more. Belafonte (by Bonds x Diamond Hit) fetched 22,500 euro. Flic Flac (by Fynch Hatton x Diamond Hit) moves to Holland for 21,500 euro. Dream Royal (by Dynamic Dream x Rubin Royal) stays in Germany for 21,000 euro, just like Extra Gut (by Extra Gold x Fidertanz).
A total of 65 foals sold at the auction generated a total turnover of 694,000 euro with an average of 10,677 euro. Twelve Oldenburg offspring stars will bring joy abroad in the future. They will move to Switzerland (3), the Netherlands (2), Austria (2), Denmark (1), France (1), Spain (1), Hungary (1) and the USA (1).
Floris Hit SK (by Floriscount x Diamond Hit) moves to Spain for 11,500 euro, Beautiful Sky (by Skyline to B x Diamond Hit) to the U.S.A. for 11,000 euro, Tosca (by Toto Jr x Sandro Hit) to Austria for 8,500 euro, and Santino ST (by Segantini x Likoto xx) to Holland for 8,000 euro
Complete results: sport horses - foals
Related Links
Clear the Stage: 2023 Oldenburg Summer Auction Collection Online
Time for the Best: 2023 Oldenburg Special Edition Auction of Top Sport Horses & Foals