2023 CDI Caledon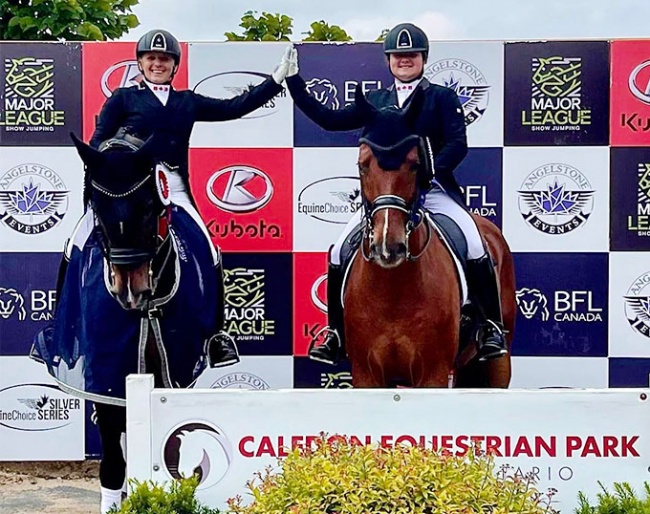 For Evi Strasser it was a dream came true when she and her daughter Tanya made it a 1 - 2 - 3 in the 3* Grand Prix at  2023 CDI Caledon on 16 June 2023. Evi won the Grand Prix on Deja Vu Tyme, while daughter Tanya Strasser Shostak finished second on a new ride, Fidelis Tyme. With ten pairs in the big tour, the all-Canadian starters' field brought top sport action to Caledon Equestrian Park, the host site of the 2015 Pan American Games.
The Numbers are Up
After years of Canadian international dressage sport being in a lull domestically and the organisation of CDI's being kept to a minimum, a reboot happened in 2023. 
No less than eight CDI's are scheduled for this calendar year with the action kicking off in Ottawa in May, followed by the bi-coastel CDI's in Langley (West) and Caledon (East) in June. Five more internationals are planned for the summer and autumn in Rockwood (ON); Langley (BC), Calgary (AB), Bromont (QC), and Calgary again (AB).
The CDI Caledon showcased homegrown talent over the weekend with a record 249 entries gathering for three days of national and international competition 16 - 18 June 2023.
The CDI classes generated the most buzz in this all-important Pan-Am Games qualifying season. With just a handful of opportunities to earn qualifying CDI scores on home soil, these international competitions are especially important for Canadian riders who did not compete in the USA during the winter season.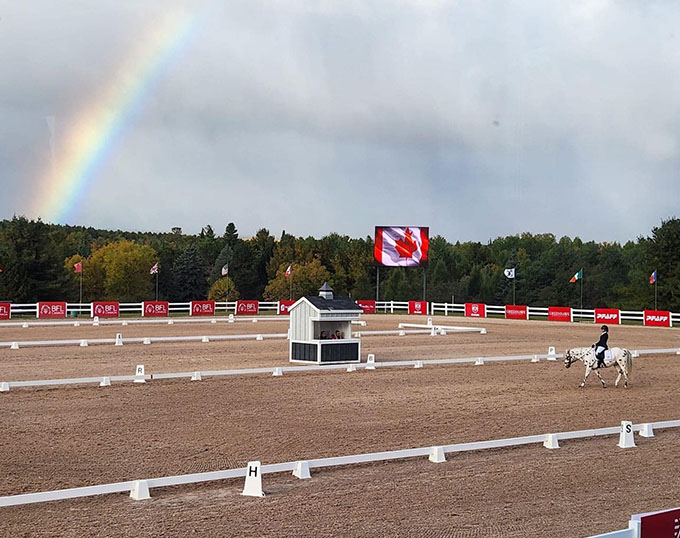 "We were thrilled to be back at the beautiful Caledon Equestrian Park, hosting a record-breaking competition at a world-class facility like this," said Caledon Dressage President Andrew Woodley. "Caledon Dressage is proud to develop the grassroots of the sport with a top quality National show. With classes from Intro to FEI, Bronze to Gold, and even a Western dressage division, we truly offer something for everyone in a welcoming, competitor-friendly environment. The CDI competition is an invaluable opportunity for Canada's top riders to shine on the international stage and get feedback from a panel of renowned FEI judges before the upcoming Pan American Games in Santiago."
Pan Am Fever, a Dream Come True
After a season getting scores in Wellington, Evi and Tanya Strasser gained traction and made significant progress after they returned home to Good Tyme Stables in St. Adèle, Quebec. 
"Since we are home we had more time and we decided to focus on all the rides and needs of the Grand Prix horses," Evi explained. "I think this made the difference. Beside this we only had the three horses with us at the show so your attention does not go all over place, to students, youngsters, and your own rides. here we could focus on ourselves and that made it much easier to concentrate on each test."
Evi brought two horses to Caledon, the 16-year old Hanoverian Deja Vu Tyme (by Dauphin x Werbellin) and the 15-year old Oldenburg Disney Tyme (by Diamond Hit x Weltmeyer), while Tanya saddled her new ride of 2023, the 13-year old Oldenburg gelding Fidelis Tyme (by Fit for Fun), which they bought from Petra Wiesenberger as Tanya's 2024 Paris Olympic hopeful. He was previously ridden by Austrian team rider and former Spanish Riding School rider Florian Bacher.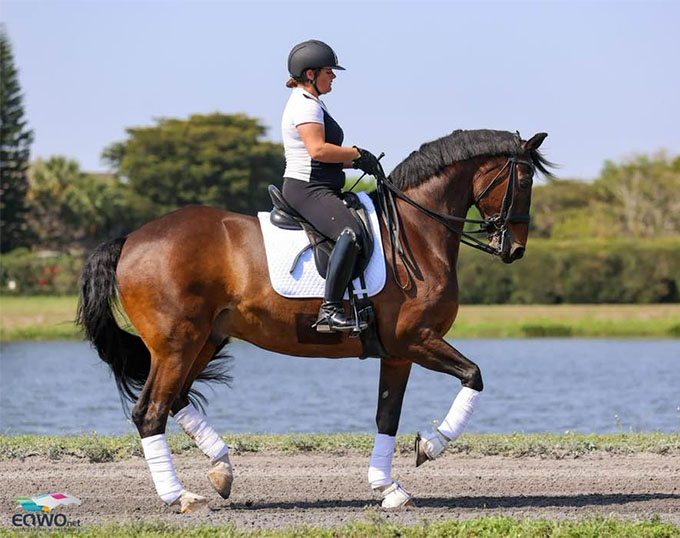 Evi won the Caledon Grand Prix on Deja Vu with 67.891%, Tanya placed second on Fidelis with 66.587% and Evi was also third on Disney with 66.413%
"I can just say that dreams do come true," Evi gushed. "I always wanted to be with my daughter in the winners' circle in a CDI Grand Prix, but finishing 1,2,3 is something you cant imagine. All the horses were in top form. Deja Vu went through the Grand Prix with such ease and lightness. It was just an amazing feeling. I'm so proud of both my horses and Tanya finishing second. It was only her second CDI on Fidelis. I'm bursting with pride. 
1996 Canadian Olympic team rider Evi Strasser has made it no secret that the Pan America Games are also on her mind.
"For the Pan Am Games all is still open," said Strasser, who also represented Canada at the 2006 World Equestrian Games (Quantum Tyme) and multiple World Cup Finals. "The qualification is going until September but we will give it our best to get there. I'm so happy and proud of my boys Deja Vu Tyme and Disney Tyme getting personal best scores here in Caledon."
Big Tour Action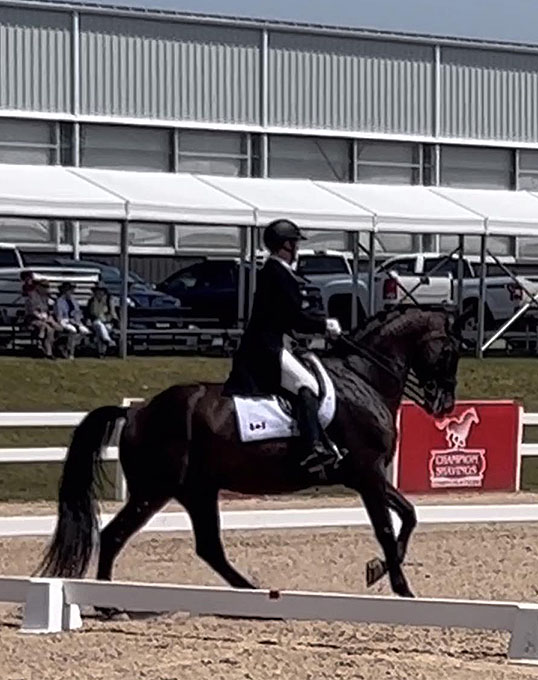 The cards were reshuffled in the Grand Prix Special and Freestyle, which were judged by a panel of international judges including Marian Cunningham (PER), Sarah Geike (USA), Elizabeth McMullen (CAN), Brenda Minor (CAN), Sandra Andrea Smith (ARG) and Natasha Waddell (BRA).
Two-time Canadian Olympian Jacqueline Brooks captured her second consecutive Grand Prix Freestyle win, dancing her way to a 70.495 with the 12-year old Oldenburg Te Amo QOS (by Totilas x Rubinstein). Susanne Dutt-Roth and the 11-year old KWPN bred Hulk Hogan (by Bretton Woods x Houston) finished second on a 69.94%, edging out Evi Strasser and Disney Tyme's 69.44%.
In Sunday's Grand Prix Special, Rakeya Moussa earned her second career CDI victory, scoring 68.149 on the 15-year old KWPN bred Davidoff van het. Trichelhof (by Lord Leatherdale x Wall Street). Mathilde Blas Tetrault and her 13-year old KWPN Fedor (by Johnson x Negro) were second with 66.319%, while Evi Strasser and Deja Vu Tyme rounded out the trop three on a score of 66.191%.
Bell Dominates Small Tour
As Pan Am teams are a mix of Small Tour and Grand Prix competitors, the small tour drew out the biggest starters' field with 19 riding the Prix St Georges.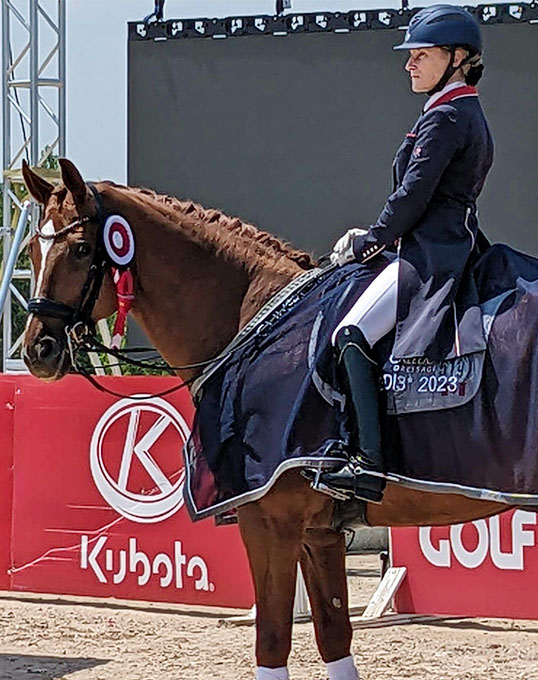 Lori Bell captured both the Prix St Georges and Intermediaire I classes with her 15-year Oldenburg gelding Flirt (by Florencio x Donnerhall), with scores of 72.451 and 71.814, respectively. 
"Flirt felt amazing," she said. "Confident, forward and ready to do his job. This horse will give me the moon if he's able. The ride was so much fun!"
In the final Small Tour class, Beatrice Boucher and the 10 Canadian-bred Hanoverian Summerwood's Limei (by Londonderry x Weltmeyer) were the Intermediaire I Freestyle winners with 75.992%.
Related Links
Scores: 2023 CDI Caledon
Canadian Mother-Daughter Duo, Evi and Tanya Strasser, in the Running for Pan Am Team Selection
Rider in the Spotlight: Evi Strasser, Having the "Tyme" of her Life