Rhinelander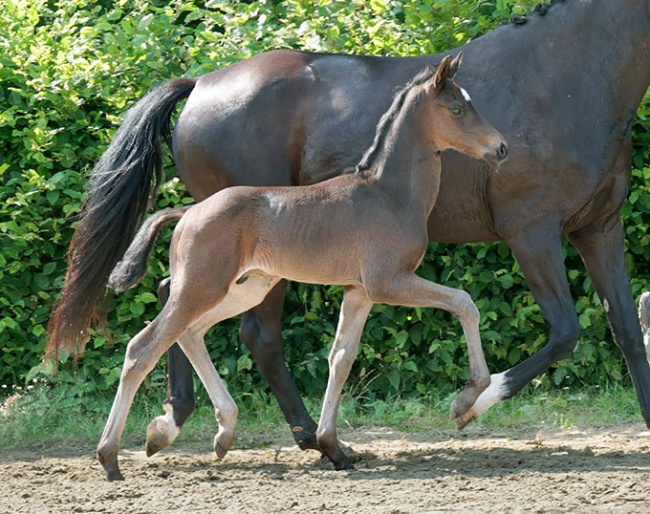 Eldorado AI became the best selling foal of the 10th edition of the Wickrath Foal Auction, hosted by the Rhinelander breed society based at Schloss Wickrath on  15 July 2023. 
A collection of 29 dressage bred foals was up for sale. 
The colt Eldorado AI (by Escaneno x Furstenball) became the top seller for 12,000 euro.
Einer Wie Keine P (by Escolar x Demirel) sold  for 11,250 euro, while Equincero Sl (by Escaneno x Quaterbeck) found a new oner for 10,500 euro. 
10,000 euro was paid for colt Diego (by Dynamic Dream x Damon Hill), while two foals sold for 9,500 euro: Ernesto (by Ellis x Vivaldi) and Emilja Salentina (by Expresso x Rubin Royal)
Tessa M (by Total Hope x Quaterback) went for 9,000 euro
Pony foal Next Universum d'Alpen (by FS Numero Uno x FS Mr Right) sold for 7,250 euro
Complete results here.
Related Link
Enrico, Top Seller of the 2023 Rhinelander Online Foal Auction in Wickrath
Sixth Castle Wickrath Online Foal Auction with Stunning Stallion Prospects
Via Valdi, Best Seller of the 2021 Schloss Wickrath Online Foal Auction
Veneziano, Eye Catcher of the 2020 Rhinelander Foal Auction. Buy Him Now!
Foal Auction at Rhenish Horse Center Schloss Wickrath on 17 August 2019