2023 European Children and Junior Riders Championships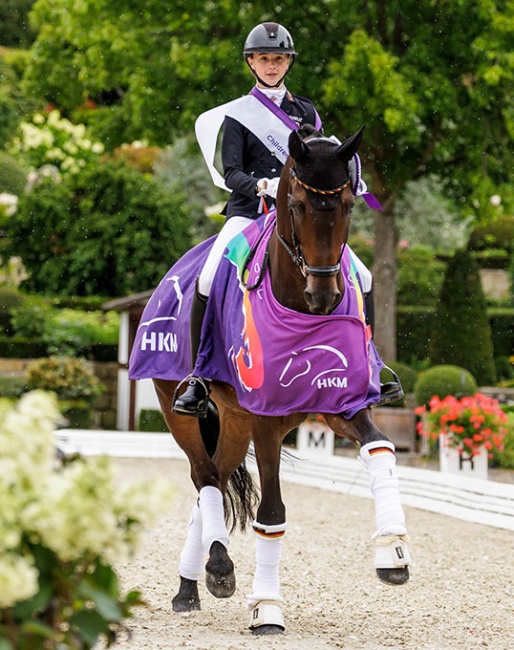 Germany's Marie Bernhard became the individual gold medal winner at the 2023 European Children Championships which came to a conclusion at Ann-Kathrin Linsenhoff's Schafhof in Kronberg on Sunday morning 23 July 2023 
Bernhard was joined on the podium by team mate, Therese Billig, while Lal Mira Gürgen wrote history for her country by being the first Turkish medal winner even at the FEI European Dressage Championship. 
Gold for Bernhard
Marie Bernhard (Iggingen/BAW) and the 11-year old Franziskus son For Rock are the European Champions in Children's Dressage. With a new personal best score of 83.195 percent, the pair came out on top of the 18 finalists.
Marie Bernhard comes from a family with an affinity for horses. Father Alfred runs the family-owned Schönhardter Pferdehof in Iggingen, Baden-Württemberg, and mother Yvonne also trains horses and riders. It was she who discovered For Rock as a five-year old and trained him up to advanced level.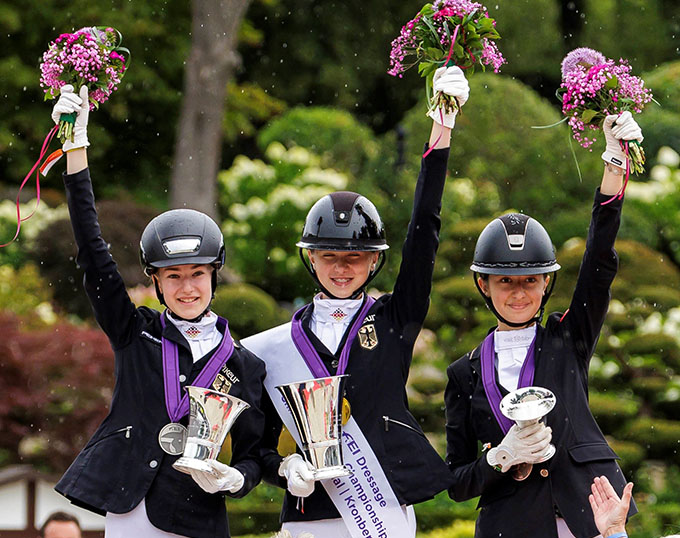 Marie actually wanted to compete with her mare Kiandra at the European Championships, but Kiandra dropped out due to health reasons. Without further ado, Marie sat in the saddle of For Rock for the first time on Friday and rode her way into the European Championship team directly the following weekend.
"Rocky is just such a great horse, you can't put that into words," beamed the European champion. "He always fights for you, it's really amazing. I never expected it to work so well and for us to get this far." And with a broad grin, the gold medalist adds, "Mom also already knows that unfortunately she won't get him back." (laughs).
Silver for Billig
Silver went to 13-year-old Therese Billig (Taucha/SAC) on Faro Shen. And the pair also posted a new 'personal best' of 80.797 percent today.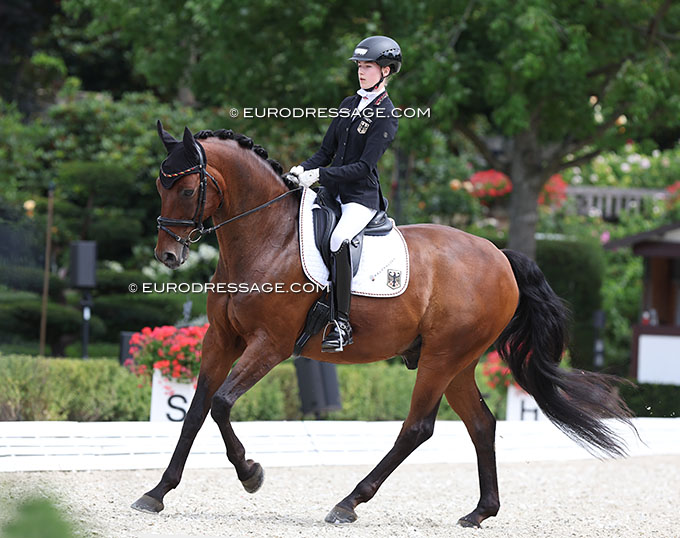 Therese is at least as surprised to have won individual silver after team gold. Ten days before, she was still on the reserve list for the European Championships and only slipped into the team on Friday before the start of the European Championships.
"I can't quite believe that I'm now reserve European champion. I am incredibly happy about this success. You always have to motivate Faro a bit before and in the test, but I managed that well today. Awesome."
Therese's home trainer Kathrin Müller was also beaming, "Therese rode really great on all days, but so are all the kids. I really have to say respect and high regard."
Historic Bronze for Turkey
The 14-year-old Lal Mira Gürgen sat in the saddle of the only 7-year old KWPN gelding Lowland (by Bordeaux). She has already made a strong impression this spring show season at CDI's and it was great to see the judges at Schafhof reward the good riding of this unknown rider from an "exotic" dressage nation.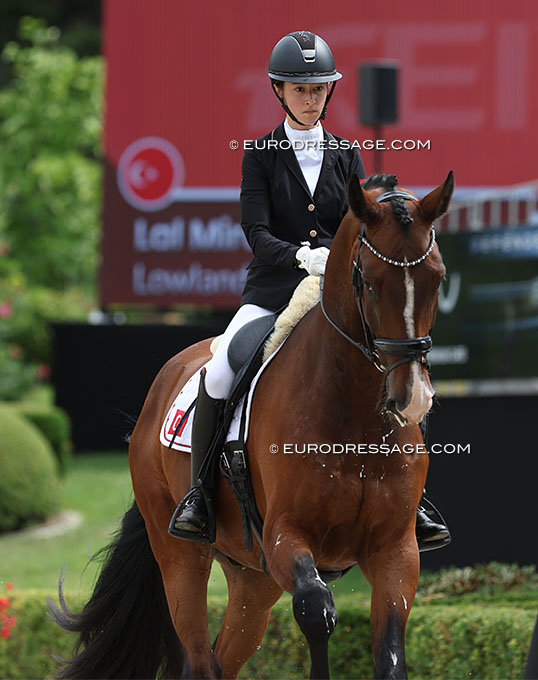 Lal lives in Turkey and trains in the Netherlands with trainer Lina Uzunhasan, who originally rode for Turkey before declaring for the U.S.A.. During the vacations, some weekends, practically every free minute, Lal travels to her horse to train.
"She really does a great job all year," Uzunhasan praises. "We came here with the goal of finishing in the top 18, but it's been much better than that. To be completely honest: We were even happier with the team test than today with the individual task, but Lal and her horse are growing more and more together. We are just happy. Lal is the only rider for Turkey competing here, so of course that makes us proud."
Lal has been riding since she was a child, "I started riding at the age of six in a pony club in Turkey, I just always loved horses. After I moved to another club and also bought my first horse there, Lina's father discovered me." That was the beginning of her journey to success.
Off the Podium
Germany's Vivianne Mercker (Munich/BAY) and the only seven-year-old Djamalla, who had delivered the best result of all European Championship participants in the preparation test as well as in the team test, had a bit of bad luck today. In the canter tour, the pair made two expensive mistakes, so that the two ended up in fourth place.
Official words - Lauterbach in a triple function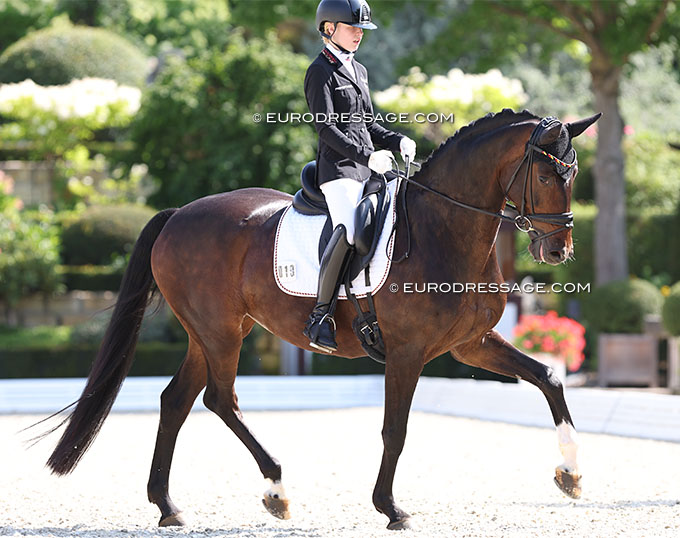 "As a representative of the FN, I am overwhelmed by the success of the German riders. But we have seen great riding all the way through. It is really fantastic to see how the sport in this age group has developed over the last ten years," explained Sönke Lauterbach, who was there in three different capacities - as Secretary General of the German Equestrian Federation (FN), but also as a representative of the International Equestrian Federation (FEI) and the European Equestrian Federation (EEF).
"I'm really excited to see what the whole thing will look like in a year or two. Also, it's just great that we have a rider from Turkey on the podium today, which is relatively rare in equestrian sport after all. It's great for the development of the sport throughout Europe." On the other hand, he said he wanted to highlight the first-class organization of this tournament. "It is incredible what has been created here. The conditions for riders, horses, grooms and fans are just outstanding, it doesn't get any better than this."
Show Director Matthias Alexander Rath was pleased about the high praise and explained: "Of course we tried to create the very best conditions for horse and rider. But it was also simply a great pleasure for us to be able to welcome the various riders and nations here. It's great that another nation, Turkey, won a medal today. Ten different nations in the Children's Final, that alone speaks for a real European Championship."
"The most beautiful job in the world"
Pony national coach Caroline Roost, who is supporting national coach Hans-Heinrich Meyer zu Strohen at the European Championships in Kronberg, drew a personal conclusion after two team gold medals, three individual medals in the Juniors and two individual medals in the Children - the Junior Freestyle is still to come.
 "I am overwhelmed and moved. Our hearts go out every morning and we are just so thankful that we have such great families here and such great children who take part in this and make it possible to go this far. Who take on this effort. I really do have the best job in the world."
-- Schafhof press release, edited by Eurodressage
Photos © Stefan Lafrentz and Astrid Appels
Eurodressage took photos of all competitors. If you are interested in photos for social media use, send us an email and you can BUY our photos 
Related Link
Eurodressage Coverage of the 2023 European Children / Junior Riders Championships