Opinions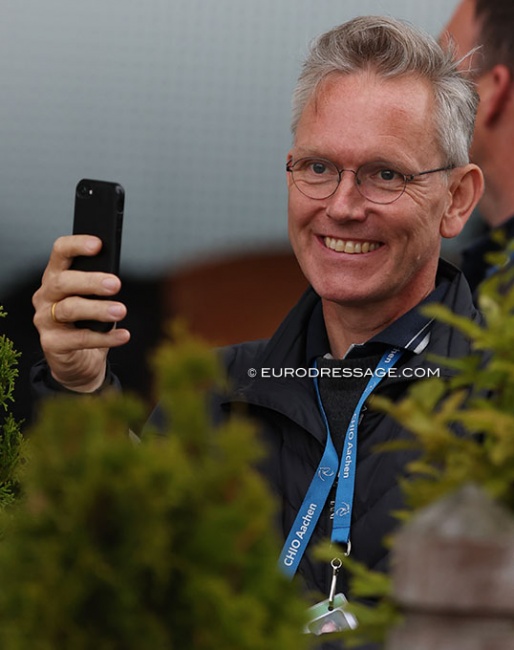 Australian equestrian journalist Chris Hector attended the 2023 CDIO Aachen and chatted with colleague Jan Toenjes, editor-in-chief of Germany's biggest equestrian sport magazine St. Georg. 
Hector wrote, "Journalists interviewing journalists can look a bit dodgy, but the truth is, some of the most acute observers of the scene, are sitting at the press desks, and with Jan Tönjes sitting just down the desk from me at Aachen, the temptation was too strong to resist."
On Judging the Piaffe
Hector stated, " I see more and more swishing tails, mouths open, hollow backs, hindlegs out behind, and I see judges here at Aachen giving that top mark," to which Toenjes replied the following: 
"Exactly, especially the hollow back and the high croups, that's so simple to detect, you see it, the croup is high, the haunches are not lowered in what should be the most collected movements in the entire test, okay its rhythmically performed, it's so to speak properly done, because it's 13 steps more or less on the spot but with all the other points not taken into consideration. Sure it's 13 steps on the spot, but the rest is bullshit, excuse my French. It's a 6.5, and if a rider gets that score for that movement four times in a row, then he is out of contention at the big Nations' Cups, a score of 70, 71 is not enough to be selected."
"But as long as they get the high scores, the training at home won't be changed. It's speculation how they train, but if you see these piaffes that really travel to the left and to the right, that's unbalanced, yes, and the judge can't say, I bet this rider puts his horse in front of the wall and just beats him until he piaffes. Ask the trainers – if the horse travels from left to right, this might be one indication that the training is not properly done. Of course there are horses that are more gifted for this movement, but if we have unbalanced piaffes, and if we have high croups in every change, and even in the pirouettes no spring any more in the hindlegs but more or less just a turn on the haunches without having a real canter jump, or the characteristics of a canter jump in the hind leg – and then you get a 7.5. so why as a rider do you have to change it if you get a 7.5, that's not fairly good, it's close to good."
On Riding and Judging Corners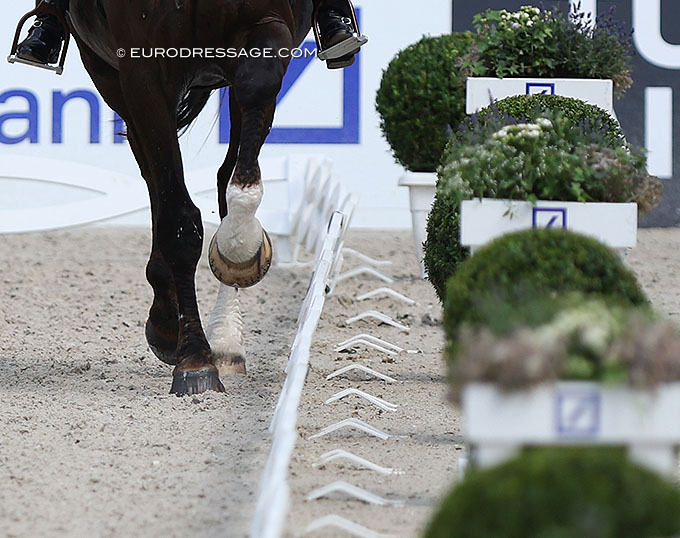 " I see so many things we need to discuss, for example, some of the horses, including some of the German horses, start from X, from the halt, salute, in what I would say was a medium trot and not a collected trot. We see so many horses with no flexing and bending in each corner. I mean the classical dressage – next term to discuss – says every corner is a quarter of a small circle. It's about getting the inner hind leg, getting proper control of the poll, give some rein, be even softer, using every corner for the self-carriage… but what we see, they would rather have it in a counter flexing, and that's absolutely wrong."
"And that's also part of the movement. We have the extended trot and then the short side is also counting into the score for this movement, and if I see this and say, okay this is not collected, this is passagey, or stiff and tight, there is no bending, and I don't see that in the scores."
More nuggets of wisdom in the full interview on horsemagazine.com
Photos © Astrid Appels
Related Links
Jan Toenjes: "We Need New Scores for the Bundeschampionate"
Chris Hector, "Next Week Will be the Happiest in my Life"