Oldenburg Auctions
The British proved to be in a shopping mood as customers from the U.K. bought no less than 10 of the 67 foals offered for sale at the 2023 Oldenburg Elite Foal Auction in Vechta on Saturday 26 August 2023. 
Las Cruces (by Las Vegas x Vivaldi x Welt Hit II) became the price highlight of the collection. Bred by Olaf Bagls, this stallion prospect sold for 67,000 euro to an international dressage stable in Great Britain. The dam line of Las Cruces produced Olympic horses Dante Weltino and Riwera de Hus. 
The second most expensive foal in the collection was Valentin (by Va Bene x Sir Donnerhall x Depardieu), bred by Ulrike Finck-Deichner, and offered for sale by Gestüt Wäldershausen, sold for 26,000 euro and will stay in Germany. 
Done for Fun (by Dynamic Dream w Escolar) sold for 24,000 euro and will also stay in Germany. Der Traum (by Dynamic Dream x De Beau) sold for 22,500 euro to The Netherlands. 
Portuguese clients purchased El Presidente (by Elastic x San Amour I) for 18,000 euro, Vicky (by Vitalis x Desperados) for 14,500 euro, and  Die Da (by Dimaggio Black x Bon Coeur) for 9,000 euro.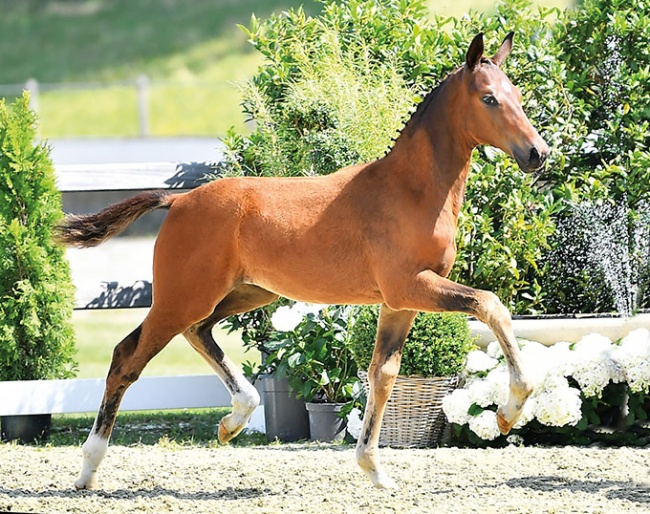 Viber (by Vingino x Comme il faut) went for 18,500 euro, Dry Gin (by Damaschino x Beltano) found a new home in Austria for 17,500 euro, just like Reina Sofia PG (by Viva Gold x Rock Springs) for 14,500 euro. Fantastic Diamond (by For Romance I - Floriscount) will move to Sweden for 17,000 euro. 
Fähnrich (by Follow Him's Schönweide w Herbstkönig/T) fetched 16,000 euro, Best Buddy (by Be My Dancer x Uphill) sold for 15,000 euro, and So Gut (by Secret x For Romance I) will stay in Germany for 14,500 euro.
Brits bought Django S (by Dynamic Dream x Foundation) for 14,000 €,  So Sweet (by So Perfect x Franziskus) for 13,000 euro, the chestnut filly Felice (by Feliciano x Donnerball) for 12,500 euro, Valentina (by Vivaldos x Stedinger) for 11,500 euro, Delightful (by Dynamic Dream x Morricone I) for 10,000 euro, Vievienne (by Vivaldos x Belissimo M) for 9,500 euro, and I'm Romantic (by biza x Don Romantic) for 8,500 euro.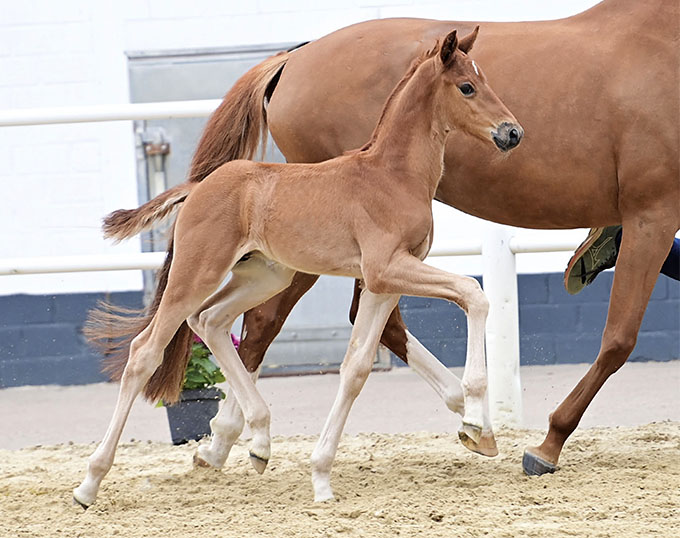 Virados (by Viva Gold x Desperados)  goes to Spain for 12,500 euro, just like Baron de Ley (by Baron x Floriscount) for 8,500 euro. Swiss clients bought Dutch Courage (by Dutch Dream - Fidertanz)  for 8,500 euro.
Foreign countries again showed great interest in the Oldenburg quality foals. 26 of a total of 67 foals sold at auction went to Great Britain (10), Portugal (3), Sweden (3), the Netherlands (2), Colombia (2), Austria (2), Spain (2), Poland (1) and Switzerland (1).
This Oldenburg Elite Foal Auction achieved a turnover of 873,500 and average price per foal of 13,037 euro.
Complete results here. 
Related Links
Dressage Stars of Tomorrow in the Oldenburg Elite Foal Auction on 26 August 2023
Kir Royal, Price Highlight of the 2023 Oldenburg Online Elite Foal Auction, Sold to Canada
It's Me Sells for Mega Price at 2022 Oldenburg Elite Foal Auction in Vechta
Victoria Woods, Price Highlight of 23rd Oldenburg Elite Foal Auction, to Holland
American Shopping Spree at 2020 Oldenburg Autumn Elite foal Auction, Feingold Best Seller