Trakehner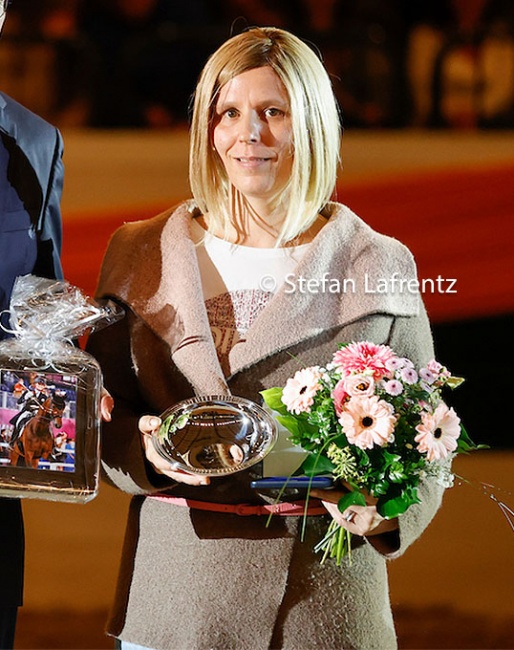 Silke Druckenmüller, the breeder of Olympic and European champion Dalera BB, has passed away at the age of 45 after a serious illness. Züchterforum reported the sad news. 
Druckenmüller (née Fass) was a keen amateur dressage rider whose interest in breeding. was sparked when she bought a Trakehner mare as a riding horse for herself. 
She developed a friendship with the breeder and soon bought a second Trakehner mare, the 3-year old Dark Magic (by Handryk x Hohenstein x Altan II) at Peter Kunath's in 2005. She decided to breed the black mare first before riding her. 
The first foal out of Dark Magic was Dalera BB (by Easy Game) and half siblings Dallenia (by Millennium, now in training with Kristina Möller in Luxembourg) followed in 2013 and Dallenio (by Millennium, now in training with Benjamin Werndl) arrived in 2015. In 2018 Dalera's full brother Dalerion (by Easy Game) was born. In 2020 an embryo (by Easy Game x Handryk) was auctioned for 17.000 euro. Rimondo lists a filly, Dalara, born in 2021 (maybe out of this embryo?)
Druckenmüller was the recipient of the WBFSH Dressage Breeder of the Year in 2021 and 2022.
Related Links
Silke Druckenmüller, WBFSH Dressage Breeder of the Year 2021
Silke Druckenmüller, WBFSH Dressage Breeder of the Year 2022
Embryo Full Brother Governor, Top Dressage Seller in 2020 Studutch Online Auction