2023 Portuguese Dressage Championships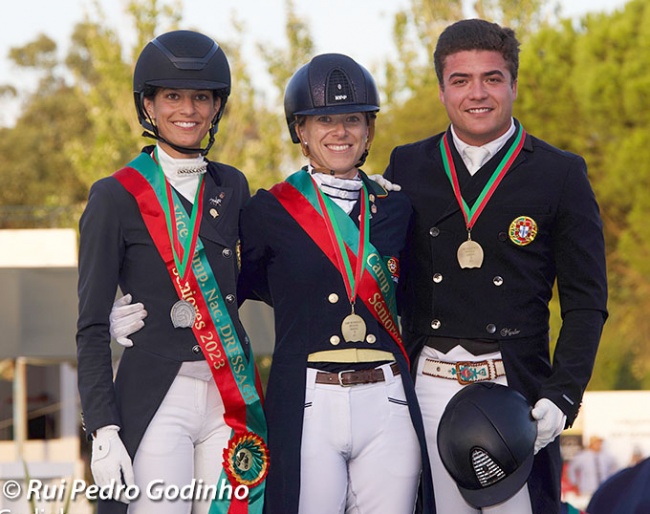 Olympian Maria Caetano claimed her fifth national Grand Prix champion's title in her career at the 2023 Portuguese Dressage Championships held during the CDI Lisbon on 29 September - 1 October 2023. 
National Championships were being held from pony level to Grand Prix, bringing afoot an enthusiastic crowd and ambitious riders to compete for the title and champion sashes. 
Fifth Title for Caetano
At the highest level, senior Grand Prix, Maria Caetano found a "golden" lining after a disappointing European Championships in Riesenbeck, where team Portugal was not able to clinch that coveted Paris Olympic team spot. Caetano got right back on her feet, dusted herself off, and rode two horses in the championship - Hit Plus and Horizonte.
With her own 11-year old Portuguese sport horse bred Hit Plus (by Bretton Woods x Peralta Pinha) she rode the three championships rounds and earned the highest step of the podium after winning being the high scorer in all three classes. She posted 69,522% in the Grand Prix, 70,830% in the Special, and  74,290% in the freestyle. 
"Hit Plus was amazing," Maria gushed. "The GP Special was super good and in the freestyle he was still fresh and giving it all after 3 days of competition! I'm so proud of him! It was even more special to arrive to the finals with two horses on the first and second place! Horizonte was on top form as well, and after the special both horses were very close in points! It gives me a big hope for the future with these two superstars."
When asked if she is getting used to collecting so many titles, Maria replied, "it feels super special to win the National Championships! For me, it had been always a very important competition every year! It's my 5th title as Senior (my 7th together with the young riders titles) and it feels like the first one!"
Silver and Bronze
Eleven combinations showed up for the 2023 Portuguese Grand Prix Championships and seven moved into the third round with the freestyle finals.
Caetano was the only rider from the Riesenbeck team competing in Lisbon. German based Joao Moreira, as well as Maria Amaral and Jeannette Jenny chose not to show at the Nationals. A new plan has been created for Amaral's Hot Hit Campline as he is the catch ride for Brazilian Pedro Manuel Tavares who aims to score a MER result for Brazil at next week's CDI Troisdorf to ensure Brazil has three Grand Prix riders with a Certificate of Capability for the 2024 Paris Olympics. 
With seven riders in the freestyle finals in Lisbon, it was Rita Ralao Duarte on the 10-year old Lusitano Irao (by Rubi x Xaqiero)) who got silver after scoring 68.717% in the Grand Prix, 64.170% in the Special and 72.520% in the Kur. The bronze medal was for Martim Meneres on his former Young Riders horse, the 12-year old Portuguese Sport Horse bred Gucci Plus (by Sir Lui x Peralta Pinha) with 66,283% in the Grand Prix,  66,128% in the Special and 71,165% in the Kur.
Portugal and the Olympics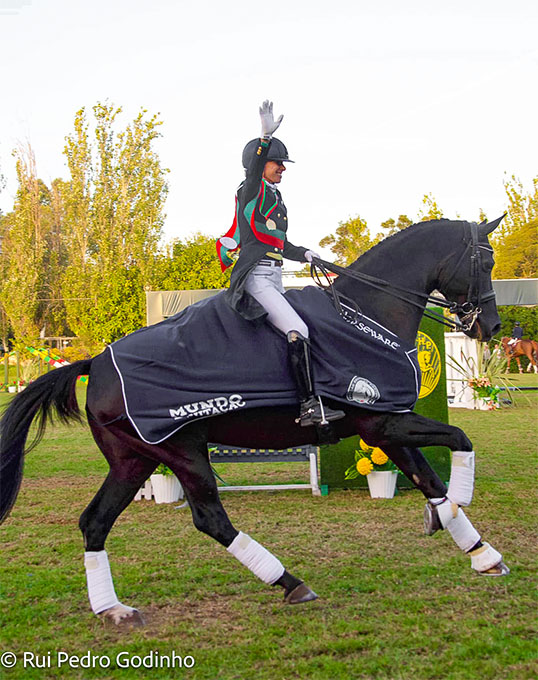 As last rider to go for her team at the Europeans in Riesenbeck and not achieving her usual level on Tokyo Olympic ride Fenix de Tineo, Maria saw Portugal's Olympic team ticket disappear. 
"Sport is like this, sometimes you get it all right in the ring and other times the things just don't go as planned," she said calmly. "Fenix had been a very consistent horse during his career but that precise day he was not feeling well as usually. They are not machines and also have bad days. Was a pity that it happened in such a big competition, but we just cannot predict things like that."
The Olympic dream for Portugal is not over yet, though, as the country can still qualify a composite team in case no African country produces three MER scoring Grand Prix riders by the end of 2023. South Africa is considered the most likely candidate but at the moment has only one Grand Prix rider in the running at the moment. 
"I'll keep fighting for the individual spot until the end of the year and with big hope to have a composite team in the Olympics," she said. "I'll be competing between Spain and France for the next months and I'm planning to drive to a Germany in December for one or two big Christmas competitions."
Photos © Rui Pedro Godinho
Results - 2023 Portuguese Dressage Championships - Lisbon
Children
1 Leonor Coelho - Monarca do Lis 14133 75,685 76,459 73,347 --- 75,164
2 Guilherme Broega - Minuto 13329 75,607 73,100 75,969 --- 74,892
3 Margarida Ramos - Figo das Figueiras 8536 71,631 72,892 72,863 --- 72,462
4 Maria Inês Almeida - Gentil 13668 71,340 70,917 72,111 --- 71,456
5 Mafalda Valadão - Aprumado 12121 69,732 70,142 68,118 --- 69,331
6 Lara Carreira - Inca 12115 63,179 71,975 70,875 --- 68,676
7 Leonor Custódio - Crescente Do Rio 8411 65,619 67,242 69,073 --- 67,311
8 Julia Lopes - Aquiles do Ilhéu 4830 65,441 67,034 66,878 --- 66,451
9 Maria Isabel Esquivel - Iraque Da Ferraria 14305 60,816 62,900 62,232 --- 61,983
Pony Riders
1 Vitoria Reame - Nice Guy 14040 68,400 66,595 63,885 --- 198,880
2 Maria Carvalho Confraria - Jet Set De Zeldi 13009 61,700 62,122 68,755 --- 192,577
3 Matilde Fernandes - Inca 13008 62,486 57,865 64,920 --- 185,271
Junior Riders
1 Briana Alexandra Vintila - Agusta MV 14048 68,424 69,971 69,415 --- 69,270
2 Mariana André - Iceberg De Tineo 13568 63,485 65,647 67,370 --- 65,501
3 Martim Nunes De Jesus - Je-Celta 11241 61,667 66,412 67,550 --- 65,210
4 Letizia Gil Lopes - Feiner Kerl 97 15150 64,500 66,088 64,530 --- 65,039
5 Lara Praxedes Carlos - Loro 12284 63,334 63,500 67,015 --- 64,616
Young Riders
1 Nicole Antunes Da Silva - Funji 13295 66,882 67,559 67,335 --- 67,259
2 Francisca Castro Monteiro - Invictus VF 10400 65,265 65,735 67,915 --- 66,305
3 Afonso Bibi Sousa - Eliseo 12373 62,618 64,294 65,325 --- 64,079
4 Luisa Martins Dos Santos - Icaro 13040 63,235 60,412 65,720 --- 63,122
Under 25 
1 Sebastiao Lucas Lopes - Inquieto Lezirias 12576 68,735 67,564 72,235 --- 69,511
2 Mariana Assis Da Silva - IJI HP 12024 67,294 67,898 72,325 --- 69,172
3 Pedro Garrido - Jockey 11147 67,118 66,795 71,350 --- 68,421
4 André Brás - Fevereiro 8310 65,588 67,077 69,200 --- 67,288
5 Francisco Vila Nova - For Sure 14240 66,559 65,513 67,935 --- 66,669
Seniors
1 Maria Caetano - Hit Plus 9926 69,522 70,830 74,290 --- 71,547
2 Rita Ralão Duarte - Irão 11781 68,717 64,170 72,520 --- 68,469
3 Martim Meneres - Gucci Plus 9137 66,283 66,128 71,165 --- 67,859
4 Filipe Canelas - Fortuna 424 9871 69,000 66,085 67,045 --- 67,377
5 Georgina Rogers - Guiso 10444 66,413 64,575 69,270 --- 66,753
6 Duarte Nogueira - Joba II 11148 67,283 65,362 67,360 --- 66,668
7 Luciana Inácio - Iraque 10828 62,804 65,670 70,320 --- 66,265
Complete scores here
Related Links
Rodrigo Torres Claims Third GP Champion's Title - Broega, Vintila, Lopes Win Youth Classes at 2022 Portuguese Championships
Braz, Nogueira, Antunes, Lopes, Vila Nova, Torres Win 2021 Portuguese Dressage Championships
Marques, Lopes, Meneres, Torrao Win 2020 Portuguese Dressage Championships
Carrasqueira, Lopes, Meneres, Vila Nova, Torres Win 2019 Portuguese Dressage Championships at CDI Lisbon
Daniel Pinto Wins 2018 Portuguese Grand Prix Championship
Monteiro, Deitado, Meneres, Gouveia Win 2018 Portuguese Youth Riders Championships
Monteiro, Lopes, Meneres, Caetano Win 2017 Portuguese Dressage Championships
Bartz, Meneres, Castelo, Caetano, Godinho, Cancio, Carvalho Win 2016 Portuguese Championships
Goncalo Carvalho Wins 2015 Portuguese Grand Prix Championships
Maria Caetano Wins 2014 Portuguese Dressage Championships
Castelo and Ralao Duarte Win 2014 Portuguese Junior and Young Riders Championships
Maria Caetano Crowned 2013 Portuguese Grand Prix Champion
Goncalo Carvalho Wins 2012 Portuguese Dressage Championships
Maria Caetano, 2008 Portuguese Grand Prix Dressage Champion
Miguel Ralão Duarte, 2007 Portuguese Dressage Champion