2023 Dressage at Devon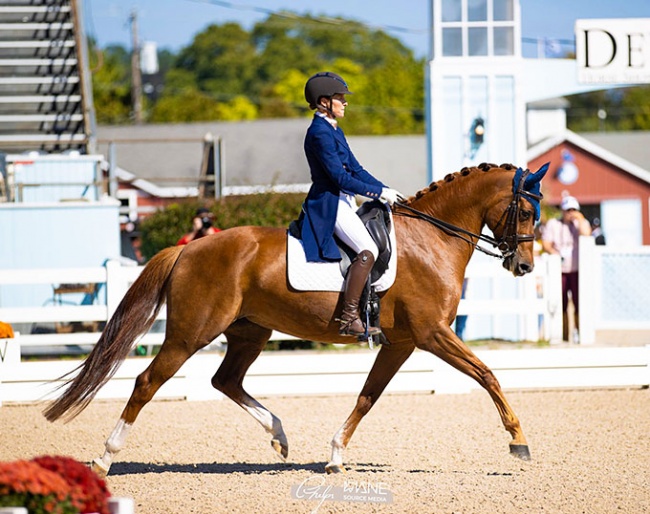 The 2023 edition of Dressage at Devon wrapped up on Sunday 1 October 2023 with freestyle classes across the divisions. Junior Sienna Rowe, amateur Christina Morin-Graham and small tour rider Erin Bonneville moved into the winner's circle to collect their trophies. 
Amateur Inter I Kur: Win for Morin-Graham
Amateurs took center stage and the penultimate class of the day in the CDIAm Intermediate I Freestyle, sponsored by Mary Phelps/Markel Insurance.
The win in the class went to Ici De La Vigne, owned and ridden by Christina Morin-Graham. Morin and her 2013 KWPN mare by Jazz x Future posted 69.683% to secure the blue. The chestnut Ici is bred at Stable de la Vigne in The Netherlands where she was ridden by Steve van der Woude and Leila Sticker before selling to the U.S.A.. 
Don Giorgio on his own Sensei, the 2013 Westphalian Gelding by Sezuan × Fürst Piccolo, bred by Christine Schreiner took home second with a 68.850%.
Rounding out the podium in third it was Amina Bursese of Jupiter, FL and C Discreto, a PRE 2014 Stallion by Machin × Carbonero V, bred by Yeguada Castelnovo with a 67.792%.
Junior Kur: Sienna Rowe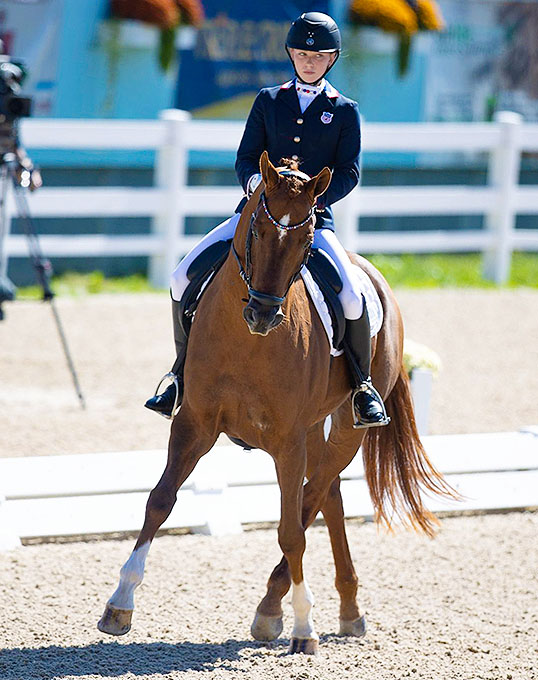 Coming off of her recent individual gold at the 2023 North American Junior Championships, Sienna Rowe closed out her 2023 competition year at Dressage at Devon on Jason Rowe's 13-year-old Westphalian gelding Lightfire Just Do It (by Lugato x Furst Piccolo) . She recreated the same magic here at Dressage at Devon posting the only score over 70% of the class, riding to a final score of 71.040% in the  Junior Freestyle.
Rowe kicked off her trip to DaD on Friday with her first win of the week in the Junior team test posting her first score over 70% of the week with a 70.404%. On Saturday, she continued her winning streak with another blue ribbon performance posting 69.069%. Completing the Dressage at Devon trifecta, Rowe claimed her third and final victory of Dressage at Devon in her least favourite event, the freestyle with her best score of the week. Rowe stated, "the freestyle is not my favourite. It was pretty good, and Nike was good. the canter half passes are probably my favorite to do on him, because he just bunches up and he just goes along and does what he's best at.
Reflecting on her first experiences riding with the magical atmosphere of DaD, "I thought it was great," she stated "It's a very different show, and not like other shows, it is very original!" The young Virginian will be skipping the winter season in Wellington to focus on school, but will be riding Lightfire Just Do It, her show jumper, and her pony in the off-season in preparation for Young Riders next spring.
Keelin Craige and Molly Ryan's 2009 ISR gelding Capstone's Oh Henry (by Empire's Power × Wild Rush) claimed the second-place position with a score of 65.430.
Inter I Kur: Erin Bonneville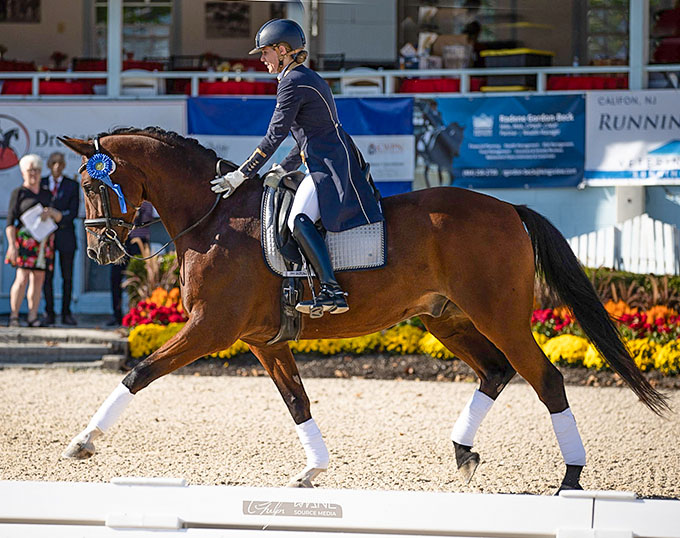 The final class of the 2023 edition of Dressage at Devon was the  1* Intermediate I Freestyle. The small tour field started out with 20 riders in the Prix St Georges but only six opted to do all three tests including the Kur. 
 Erin Bonneville scored an impressive 74.225% to take home the win with her own Qennett HTF, a 2014 Hanoverian Gelding by Qredit Hilltop × Negro, bred by Hilltop Farm Inc. Bonneville works out of Plantation Valley Stables in Middletown, MD, and is a USDF Gold Medalist. Last year she and Qennett won the Prix St Georges at Devon.
Second went to Meagan Davis of Loxahatchee, FL and Toronto Lightfoot, owned by Scott Durkin. To the soundtrack of James Bond, Davis posted a 72.075% aboard the 2013 Oldenburg gelding by Totilas x Onassis, bred at Lyngs and Damsbo in Denmark.
Laine Ashker rounded out the top three, scoring a personal best of 71.033% aboard Ann Wilson's 2014 Oldenburg Gelding, Zeppelin, by Blue Hors Zack × Donnerschwee, bred by Richard Wiegert.
-- Text PMG press release, edited by Eurodressage - Photos © Olivia Airhart/Phelps Media Group
Related Links
Scores: 2023 CDI-W Devon
Losos de Muniz and Strasser Win Grand Prix Classes at 2023 CDI-W Devon
Benjamin Ebeling Wins World Cup Qualifier at 2023 CDI-W Devon
Love Dance Named Grand Champion of the 2023 Devon Breed Show
Fidelis QC Named Foal Champion at 2023 Devon Breed Show