Oldenburg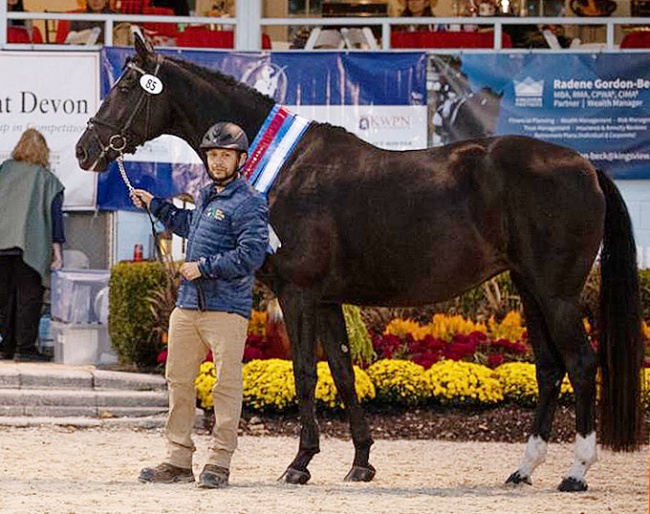 The 6-year old Oldenburg mare Love Dancer was named Grand Champion of the 2023 Devon Breed Show on Wednesday 27 September 2023.
Owned by Iron Spring Farm, Love Dance is by Vitalis × Fürst Romancier and bred by Jürgen Fetzer in Germany.
Grand Championship: Love Dance
 Handled expertly by Quinnten Alston, Love Dance, captured the Mare Championship and the Mature Horse Championship on their way to being crowned the 2023 Dressage at Devon Grand Champion.
"She is a super fun horse to show, super trot, she is in the Iron Spring Farm breeding program producing good foals so we look forward to the future with her," said Alston. "She was at our Florida farm until the beginning of this year, so she has only been with us in Pennsylvania for a few months, she came up here, we have a certain type of program that we like to do with the horses to get ready for Devon, lots of practicing in hand, getting them used to showing off their best gaits, and so she's been doing that and doing great."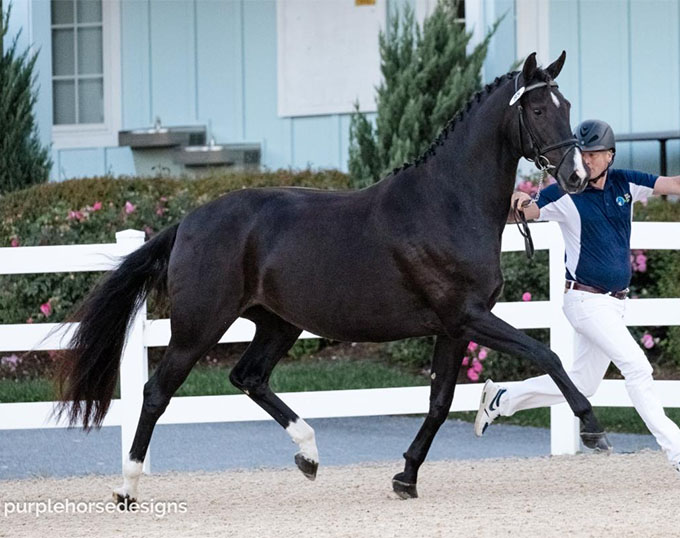 "Love Dance has been with Catherine Malone for a few years accumulating nice dressage scores. That dressage show experience set Love Dance up for handling the busy in-hand classes at Devon," said Andrea Bomkamp, broodmare manager at ISF. "She is able to turn up the excitement for her trot and then able to calmly walk out of the ring and hang out waiting for results." Love Dance has won through Third Level and also successfully competed in the young horse classes in Florida.
Love Dance is also the dam of  Rhythm ISF (by Top Gear) who was the Young Horse Champion at Dressage at Devon last year.
The four horses competed for the Grand Champion's title were Love Dance, R Stetson (by (Goerklintgaards Shaolin x Jazz), Famira ZA (by Faramund × Licotus), and Salsa (pedigree not listed on the score page).
Stallion Championship: Tackmann's Delicious
Earlier in the day Tackmann's Delicious, handled by Bruce Griffin and owned by Kaitlin Blythe, won the Stallion Championship. The 2018 German Riding Pony stallion (by Dating At NRW / Rocketti) took the win in the Four Year Old & Older Stallions on his way to the coveted Dressage at Devon Stallion Championship.
Young Horse Championship; Famira ZA
The Young Horse Championship was awarded to the best overall out of the Champion and Reserve Champions of both the Filly & Colt/Gelding Championship Sections. Famira ZA, presented by Hannah Heritage captured the Filly Championship earlier in the day, and went on to secure the 2023 Young Horse Championship.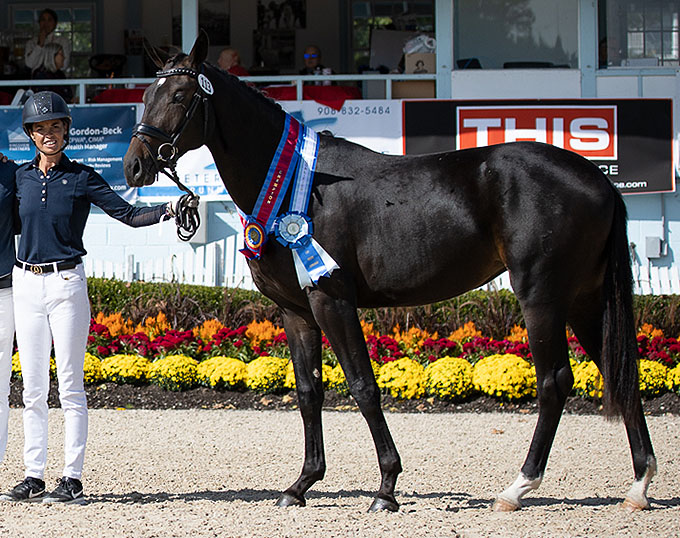 Famira ZA won the Two-Year-Old Fillies (born 2021) class on their way to collecting the Filly Championship honors. The 2021 Westfalen filly by Faramund × Licotus, Famira ZA handled by Hannah Heritage scored a 84.125% in the Two-Year-Old Fillies, to capture the win in that class, which qualified them for the Filly Championship, which they also won, and lastly, to finish off a grand slam day, the pair's Filly Championship then put them in contention for the Young Horse Prospect Championship - going three for three today, they captured that too. The suffix ZA is representative of Zarazoga Acres, LLC in Jefferstonton, VA, where Famira ZA was bred.
Colt/Gelding Championship: Red One
Capturing the tri-color honors for the overall Colt/Gelding Championship was the 2021 KWPN gelding Red One (by Gaudi × Cizandro), owned and handled by Stacy Brass of Wilmore, KY. He was born and bred in the USA by Joseph Schwartz. Brass and Red One scored an 81.850% in the Two-Year-Old Colt/Gelding class to finish second. Upon completion of the Colt/Gelding classes, the top two places from each Colt/Gelding section were brought back to the Dixon Oval, where the overall Colt/Gelding Champion would then be decided. Red One scored an impressive 8.7 for his Trot, an 8.5 for General Impression, and an 8.0 for his Walk. These high scores coupled with the remainder of his scores being in the high 7's combined to give Red One an overall score of 81.850%.
Photos © PMG
Text PMG press release, edited by Eurodressage
Related Links
Noblewood Tarpania Named Grand Champion of the 2022 Devon Breed Show
Fortunato H20 Named Grand Champion of the 2021 Devon Breed Show
Gjenganger Named Grand Champion of the 2019 Devon Breed Show
Summersby II, Grand Champion of the 2018 Devon Breed Show
Danae MF, Grand Champion of the 2017 Devon Breed Show
Stenagers Welina Reclaims Title, Named Grand Champion of the 2016 Devon Breed Show
Stenagers Welina, Grand Champion of the 2015 Devon Breed Show
Danseuse MF, Grand Champion of the 2014 Devon Breed Show
Sanibelle, Grand Champion of the 2013 Devon Breed Show
Beatrice VDL Named 2012 Devon Breed Show Grand Champion
Rheporter Claims 2011 Devon Breed Show Grand Champion's Title
Rabiola Renews Grand Champion's Title at 2010 Devon Breed Show
Rabiola Scores Hattrick at 2009 Devon Breed Show
Perfect Qredit, Grand Champion of the 2009 Devon Breed Show
Quarterback Offspring In the Ribbons at 2009 Dressage at Devon
Oldenburg Stallion Starlight Grand Champion at 2008 Devon Breed Show
Coverage of 2001 Dressage at Devon