Hanoverian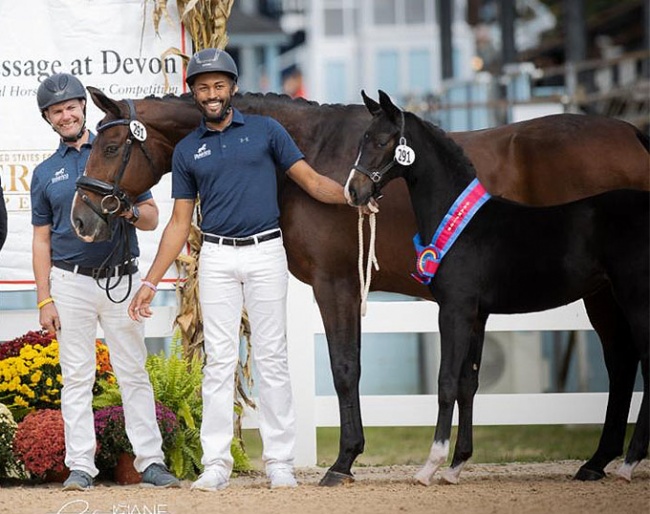 Fidelis QC, a 2023 Hanoverian filly By Feinrich × Scolari, owned by Kathryn Sepka and bred by Quinnten Alston & Johnathan Clark, claimed the Foal champion's title at the 2023 Devon Breed show on 27 September 2023. Earlier in the day,  Fidelis QC won the Fillies of Current Year with or w/o dam class. 
This is the second Dressage at Devon Foal Champion that the dam, Scantolina has produced. Scantolina was bred in Germany and is a Hanoverian Premium daughter of top S-line progenitor Scolari who brings in the qualities of Hanoverian Stallion of the Year Weltmeyer and the legendary Rubinstein I through the bottom side of her pedigree. 
In 2021, her first foal Foo Fighter QC (by Fabregas) followed in his dam's footsteps and was named Dressage at Devon Foal Champion with a big score of "9" for his trot in hand. This year, Fidelis QC received an 8.5 score for her trot, following in the footsteps of foals before her
 "Fidelis QC is out of our breeding program," said Alston. "We just sold Fidelis QC this summer to a wonderful amateur client of ours who is going to raise her to be her next performance horse, so we are looking forward to that as well." 
Fidelis QC competed against Tuxedo ISF (by Cum Laude x Oscar), Tahari (pedigree not listed on score page) and Vive L'Amour (pedigree not listed on score page) in the champion's ring for the title.
Photo © PMG
Related Links
Fahrenheit Hilltop Named Foal Champion at 2022 Devon Breed Show
Foo Fighter QC Named Foal Champion at 2021 Devon Breed Show
Oskar Named Foal Champion at 2019 Devon Breed Show
Noah ISF Named Foal Champion at the 2018 Devon Breed Show
Louisville HTF Named Foal Champion at the 2017 Devon Breed Show
Logan ISF Named Foal Champion at 2016 Devon Breed Show
Quartet GSH and Figawi 121 Win 2014 Devon Breed Show Foal Championship Classes
David Bowie MF Named Foal Champion at 2012 Devon Breed Show
Cha Ching Named Foal Champion at 2011 Devon Breed Show