Denmark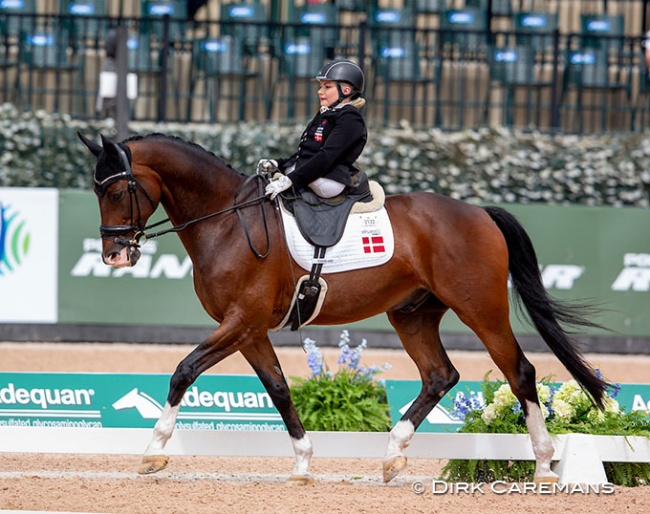 Horsebo Smarties, a medal winning Danish dressage team horse with junior rider Amanda Overgaard and with paralympian Stinna Tange Kaastrup, has passed away. The Danish warmblood gelding suffered life ending injuries in a freak accident.
Horsebo Smarties was a 22-year old Danish warmblood gelding by Gribaldi out of Salsa (by Ramiro's Bube x Ibikus). He was bred and owned by Helle Kristiansen.
Michael Sogaard
The bay Smarties was first trained and competed by Danish professional Michael Søgaard
The pair made its show debut in September 2006 in Ballerup where Sogaard rode the 5-year old to victory with 92.6%. In 2007 the pair won gold in the 6-year old division at the 2007 Danish Young Horse Championships.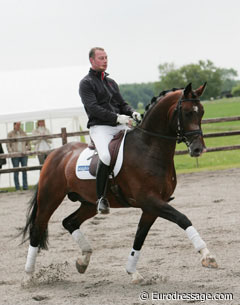 Sogaard trained the horse to FEI level and last competed him in Denmark in December 2008 in the Ecco Cup Finals, placing second in the Inter I Kur to Music with 69.75 % behind Sidsel Johansen (now Morkenborg) on Schianto.
Nathalie zu Sayn-Wittgenstein
Danish Nathalie Zu Sayn-Wittgenstein took over the ride in the winter of 2009 and further established him at Grand Prix level.  She showed him first that year and in 2011 made her international show debut on Smarties.
They rode, for instance, at the CDI's in Gothenburg, Hagen, Copenhagen, and the invitational in Rio de Janeiro. 
Nathalie also competed him at the 2011 Danish Dressage Championships, where they were 8th and 10th in the first two rounds. 
Amanda Overgaard
Smarties moved on as a schoolmaster for Danish junior rider Amanda Overgaard, who had also bought Nathalie zu Sayn-Wittgenstein's Grand Prix horse Master Mind the year before.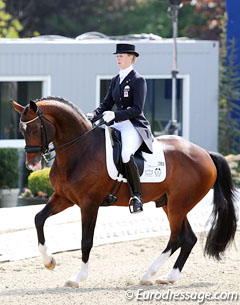 Amanda premiered Smarties in August 2012 at a local show in Hillerød, Denmark. Their international debut was at the CDI Stadl Paura in March 2013 and from there they went to Hagen and were selected on the Fnaish team for the 2013 European Junior Riders Championships in Compiegne, where Denmark won team bronze. They placed 27th in the individual test. They finished the season with a second place in the Ecco Cup Final.
In 2014 they were reselected on the Danish team for the European Junior Riders Championships in Arezzo, where Denmark captured team bronze again. They retired from the individual test
Stinna Tange Kaastrup
Smarties moved on from Overgaard to become Stinna Tange Kaastrup's career defining para dressage horse. 
Tange, who was born without legs,  made her international show premier on Smarties at the CPEDI Genemuiden in January 2016 and qualified for the 2016 Paralympics in Rio de Janeiro, where she won double bronze in Grade 1b.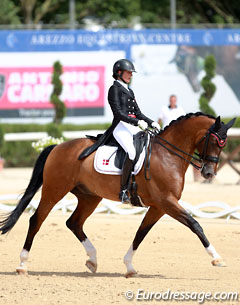 In 2017 she rode him at Grade II level and scored team silver, individual bronze and Kur gold at the European Para Dressage Championships in Gothenburg. 
They concluded their three-year international career at the 2018 World Equestrian Games in Tryon with individual and kur gold. 
Freak Accident
Smarties was retired from sport at the end of 2018 and spent his retirement with his breeder and owner.
Unfortunately, the horse sustained life-ending injuries in a freak accident on 5 November 2023. Smarties spooked from the bang low flying F-16 jets made and broke out of his field through two gates.
"I'm extremely heartbroken as I learn today that Smarties has died as the result of a freak accident due to a low flying F-16 jet," Stinna wrote. "What a sad way to end such a great life. I owe so much to this beautiful soul who've taken me around the world and danced with me in the biggest arenas and won countless medals. He was so so kind, clever and had a heart of gold. From day one this little legless rider sat on his back he was so protective and knew he had to take good care of me. Honestly, he was so special that it's hard to put into words. Smarties, your great legacy lives on and you'll never be forgotten. See you on the other side, my friend. My condolences and thoughts go out to the breeder and owner of Smarties through his 22 year long life."
Photos © Astrid Appels - Hippofoto
Related Links
Germans and Dutch Divide the Gold at 2014 European Junior/Young Riders Championships in Arezzo
Danish Teams Selected for 2014 European Junior and Young Riders Championships
Von Danwitz Grabs all Junior Gold, Denmark's Dufour Repeats Young Rider Double
Hansen, Christensen, Sorensen, Zibrandtsen, Jeppesen Win 2013 Ecco Cup Finals
Master Mind Sold to Danish Junior Amanda Overgaard
European Riders Invited to Battle for Huge Purse at 2011 CDI Rio de Janeiro
What's Happening: November 2009 - Part 3
Atterupgårds Cassidy, Polka Hit Nexen and Horsebo Smarties Win 2007 Danish Young Horse Championships