2020 U.S Dressage Championships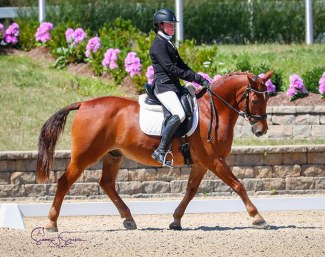 Competition picked up on Thursday and Friday at the 2020 U.S. Dressage Festival of Champions with classes for ponies,, juniors and senior  grand prix riders.
Fodor In Charge in the Pony Division
Nine combinations began their national championship experience by completing the Pony Rider Team Test of the US Pony Championship. Abby Fodor (Bloomsbury, N.J.) and Slip and Slide delivered a great test to earn a score of 70.238. Fodor and Marie Fodor's 17-year Quarter Horse/Haflinger gelding are making their third appearance at the U.S. Dressage Festival of Champions, having been the 2017 US Children Champion. Their experience and partnership showed as they won the first FEI Pony Rider Team test.
"I thought it was very good," Fodor said of her test. "I had a very good warm-up; I liked my warm-up. I think the trot lengthenings were good considering that we had some last-minute difficulties with them. I thought my canter work was pretty good. He didn't anticipate and halt early, which he usually does, so that was nice. I think he was paying attention to me a lot better, so it was good."
Carmen Stephens (Saratoga, Calif.) and Woldhoeve's Silco, her 20-year-old KWPN/Welsh gelding, finished in second place on a score of 68.286%. Olivia Brown (Charlotte, N.C.) and Balthazar, her 18-year-old Belgian Riding Pony gelding, were third with a score of 66.809%
From the Mixed Zone:
Is there anything you want to improve upon for your next test?
Fodor: "My trot work, like the lateral work, and the walk work. Other than that I was very happy with it."
You have had success at the Festival of Champions in the past. Do you think Slip and Slide knows where he is?
Fodor: "I think he knows his surroundings by now here. This is his third time here. I like this showgrounds; I think it is one of my favorite showgrounds. I think he knows where he is."
What is it like to be back at the show?
Fodor: "I think it feels really good. I have had a good year with him, even though I have only done two shows. It has been good.
"I missed coming to the show. I like the night check drives, I like seeing all the people I haven't seen in a while. It is nice to recognize everyone."
Allen Wins Round 1 for the Juniors
Sixteen combinations began the US Junior Championship by completing their first test, the FEI Junior Team Test. Averi Allen (Pleasant Hill, Mo.) and Superman impressed the judges with a solid test to earn a score of 70.808%. Allen and Jonni Allen's seven-year-old Hanoverian gelding competed in the junior division last year and they are showing a year of improvement by winning Friday's class.
"In the warm-up, I felt like it was going pretty well. We were just walking a lot, making sure he didn't get too tired. We got in there and as soon as I asked for the canter he was ready to go, and I was like, 'Oh we will see how this goes,'' Allen said with a laugh. "But once we got in the arena and we started going through the test, I felt more comfortable and I could let him go a little bit more. I am a little upset about his changes. He got too tired and started going on the forehand, but his changes are [normally] really good. But other than that I think the test went really well. I am very happy with it."
Annelise Klepper (McCutchenville, Ohio) and Happy Texas Moonlight, Shannon Klepper's 13-year-old Oldenburg gelding, were second with a score of 69.646%. Caroline Mader (Woodside, Calif.) and Fireking, her seven-year-old Oldenburg gelding, finished in third place with a score 69.343%.
From the Mixed Zone:
How long have you been riding Superman?
Allen: "I think I have had him for about three years. The first year we did training level, and then the second year, we just went right to third level and did juniors. Then, we are just taking it slow this year."
Is there anything you want to improve upon for your next test?
Allen: "Yes, the walk pirouettes. We have been struggling with those a little bit. And his medium trots, again I think he got too tired and had too long of a warm-up and he just started diving down. I didn't want to make a huge fuss about it. Just go through the test, but I think it went well."
What are your goals for the future?
Allen: "Next year, I don't think it is official, but we might do young riders or we might just keep taking it slow and do fourth level. It just depends how the winter goes. I think we might do young riders for a couple of years, we will see. And then, do the U25. I think those are the plans, just slowly get there."
Tarjan Leads Senior Grand Prix Championship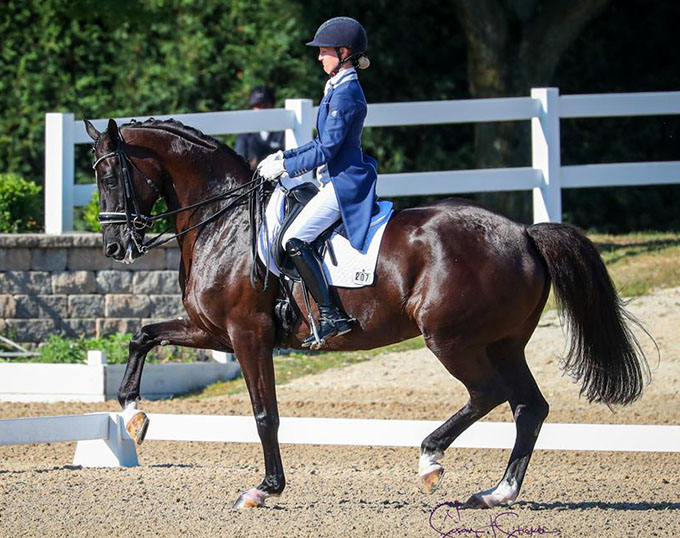 Six combinations began Thursday's competition by performing the FEI Grand Prix Test, the first test of the USEF Grand Prix Dressage National Championship. Alice Tarjan (Oldwick, N.J.) and Candescent gave a solid performance in their test to with the class with a score of 71.478%. Tarjan has piloted her 10-year-old Hanoverian mare at three previous U.S. Dressage Festival of Champions, and the horse shows much promise as she continues to develop as a grand prix horse.
"It is a work in progress; it is getting better. My horse is getting more reliable and slightly more relaxed today," said Tarjan. "We are still working on a lot of things. We have got some unsteadiness in the canter going on, so we will work on that. I'm really pleased. It has been a funny year obviously and there have not been a lot of competitions, and I think the horse is better when she has consistently been in the arena, which has been hard with so many shows getting canceled. I'm pleased today."
Jennifer Schrader-Williams and Millione, Millione Partners, LLC's 17-year-old Danish Warmblood gelding, placed second with a score of 70.500%. Nora Batchelder (Williston, Fla.) and WGangster Girl, Sally Seaver's colorful 17-year-old KWPN mare, finished in third place with a score of 68.848%.
Thursday's Grand Prix Test counted for 45 percent of the overall score, while Saturday's Grand Prix Special Test counts for 40 percent. Sunday's Grand Prix Freestyle Test counts for the final 15 percent.
From the Mixed Zone:
What have you been working on at home?
Tarjan: "A lot with the consistency and the harmony. I won't say the horse can reliably do everything, but she at least has an idea of how to do all the movements at this point, so it is really about just trying to get the harmony and get the flow."
How has the horse developed over her years attending the U.S. Dressage Festival of Champions?
Tarjan: "This horse came as a five year old and did Festival and then last two years she did the Developing Grand Prix.
"It is interesting because I have trained all my own horses and I have never really had a trained one. You think in the beginning, 'Oh I'm going to train my horse to do all the movements, and once it does all the movements I can go do a test and it is done.' And you realize no, you train it all the movements and maybe it knows all the movements of the grand prix by the time it is six, seven, eight years old, but now you need to take another five to 10 years to work on the harmony and get more consistent and work on the brilliance and stuff like this. So it has been a learning curve for me to work with a horse who knows everything and kind of try to get that better."
What has it been like to be involved in the Kundrun USEF Dressage Development Program?
Tarjan: "Charlotte [Bredahl] has been great. She is always checking up on us. She came and saw us at every show in Wellington and she would come to the farm and help us some. She is a judge so it has been helping a lot to try and present the horse in the arena. I look at it very much like a training perspective, how to train the horse and get everything done, and she looks at it much more like how to refine it and get it beautiful and harmonious for the ring, so she has been really instrumental in doing that."
Related Links
Scores: 2020 U.S. Dressage Championships
Gluch, Ots, and Mathews Take Top Placings on Day Two of 2020 U.S. Dressage Championships
Hannah Irons Wins 2020 U.S. Young Riders Championships