2020 U.S Dressage Championships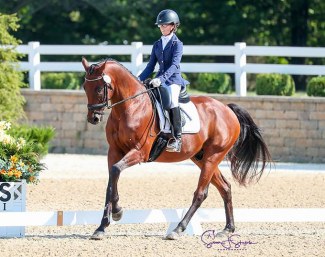 Twelve combinations took to the Grand Prix Arena for the Children Individual Test of the 2020 US Children Dressage National Championship.
The FEI Children Tests have judges on the short side focusing on technical marks, while judges on the long side focus on the quality marks.
Lexie Kment (Palmyra, Neb.) and Manatee were able to defend their 2019 USEF Children National Championship title after having a respectable test with a score of 71.982%. Kment was hopeful, though nervous, about trying to be a back-to-back national champion, but she and Jamie Kment's 17-year-old Thoroughbred gelding keep their cool and managed to win the title with an overall score of 74.354%.
"It feels really great," Kment said of her title. "I was kind of worried coming into this year with all the nerves of 'Am I going to be good enough? Am I going to be as good as last year?' Me and my mom, [who is] my trainer, we really talked about just keeping calm and working on the ride and not focusing on anything else other than riding."
Maren Elise Fouché-Hanson and In My Feelings, her 25-year-old grade pony gelding, won the FEI Children Individual Test with a score of 75.236% to clinch the Reserve National Champion title with an overall score of 73.781%. Kat Fuqua (Atlanta, Ga.), an experienced hunter rider crossing over into the dressage arena, finished third overall with a score of 71.705% on Dreamgirl, her 12-year-old Dutch Warmblood mare.
From the Mixed Zone:
Tell us about your ride.
Kment: "I was kind of worried he was going to be tired. We have been here for a while. He has been really good. Today in the ride he was a little bit off of my aids. The first centerline was a little wonky, but it felt good after that. For the future, we can really work on getting my aids better and just continuing to get better."
Fouché-Hanson: "I am so happy with this week. He has been really good. He has put in all his effort. I was a little worried in the beginning of the week because he was starting out stiff, and I was like, 'I don't know I will see.' We don't prepare him that much with equitation just to get him through the entire week, so we weren't pushing him to do his second level, amazing, put-together test, so he came a little bit above the bit, which probably did not help. But so far in both warm-ups [for the children division], we have had amazing rides. Once I got in the ring I was like, 'I hope I get what we had in the warm-up in the ring because this is going amazing.' That is the highest score we have ever gotten in the individual test, and I am so proud of him."
What are your plans for next year?
Kment: "This year was my last year in children's, so next year I am hoping to do juniors. We will see what it brings."
Fouché-Hanson: "I am actually not very sure where we are going with Drake. We might try ponies next year since he is still going amazing. I am really proud of him.
"Recently, we got a new donated horse from Dressage4Kids. Her name is Zahara. She is a 2009 imported Dutch Warmblood, and she has been trained up through fourth level. She has been so amazing for me so far. I am really excited to get home and get back to work on her and hopefully do juniors next year."
Related Links
Scores: 2020 U.S. Dressage Championships
Bacon, Kment, Dupell, Kadlubek, Manhard Win Youth Titles at 2019 U.S. Dressage Championships