Germany
Baden-Wurttemberger's number one junior rider Moritz Treffinger has clashed with his regional federation, prompting the rising Young Rider to take a step back from official squad nomination and championship selection to recharge his batteries and resource his mental energy for future riding goals.
Strife
The regional equestrian magazine Reiterjournal brought the strife between the BaWu regional equestrian federation and 2018 European Pony Champion and double Baden Wurttemberger regional champion Moritz Treffinger to light, stating that there was a strife between the rider and his regional federation, which is "stuck at the moment and apparently irreconcilable."
The regional team trainer is responsible for selecting which riders are eligible to compete in the Preis der Besten qualifier, which is the first step towards German youth team selection, as well as the German Youth Championships. If the team trainer vetoes a combination, they will not get the opportunity to participate in the selection process or major German Championship.
Treffinger
Treffinger claimed triple gold at the 2018 European Pony Championships on Top Queen H. In 2019 he had reached the age limit and had to move to junior rider level. The expectations and pressure on European Pony Champions are sky high for them to be equally successful on horses. This happens not just in Germany but in other European countries too, where these young athletes carry the burden of success and face this pressure - either self-imposed and/or from the outside.
Treffinger premiered as a junior on Standing Ovation and despite good national and international results, riding himself back on the German junior team was no automatism. In 2020 he continued to produce consistent results. In 2021 he took the Oldenburg bred Superstition (by Surprice x Hotline) from junior to young rider level at the end of the season. Overall the past three years Moritz successfully competed internationally at high profile CDI's such as Aachen, Hagen, Kronberg, Le Mans, and Leudelange, as well as nationally, but the competitiveness and pressure to capture just one of four team spots in Germany are brutal on these young athletes of which so much is expected based on pony results.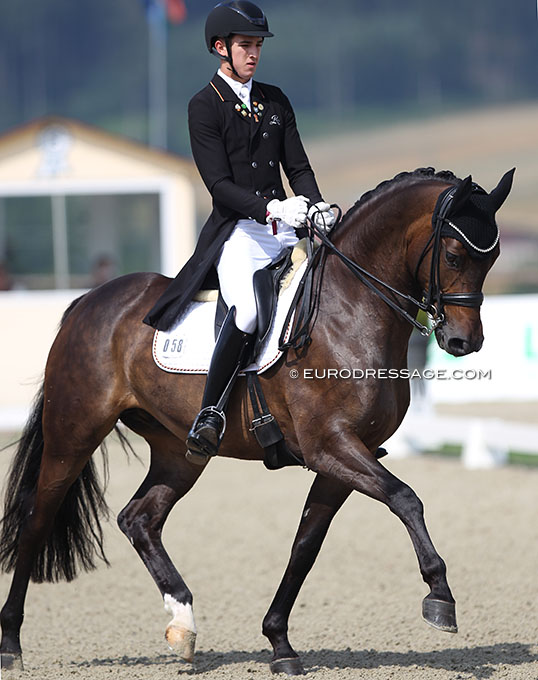 Eurodressage inquired into Treffinger's decision to step back from Baden Wurttemberger squad nomination and the rider confirmed he chose for his own mental health and well-being.
"I decided against a squad nomination in the U21 state squad on the basis of the reputation-damaging statements from our national coach," Treffinger told Eurodressage. "In the last 3 years, I have doubted myself more and more through such statements and have often stood in my own way. I put more and more pressure on myself, so I was no longer well. That's why I decided not to ride in any squad this year."
On his social media Treffinger even spoke of considering quitting competition sport as the show environment as well as the pressure he experienced from the regional team trainer and federation affected his well-being.
Releasing Pressure 
For 2022 Treffinger wants to gain more milage at Young Riders level with Superstition as well as focus on his 5-year old mare, First Florence (by Furst William x Franziskus).
"This year I would like to ride a few nice tournaments without having in mind that I have to deliver," he said. "Whether I will ride again for the Baden-Württemberg state squad in the future is open. We will see what the future holds."
Treffinger was the number 1 ranked junior rider in Baden Wurttemberg and by renouncing regional squad selection, who will miss out on official selection for major national dressage championships.
According to Reiterjournal, the strife between the regional equestrian federation and Treffinger took centre stage at a dressage meet in Weinstadt on 6 January, "where regional team trainer Niemann was mostly backed his trainer colleagues."
Statement Baden-Wurttemberger DC
Eurodressage reached out to the Baden-Wurttemberger equestrian federation for an official statement on the matter.  It sent Eurodressage the following message:
The Discipline Selection Committee (DC) for dressage in Baden-Wuerttemberg has made it its mission to support and guide their athletes in their careers as equestrians. The DC met up at the regional championships in Meisenheim to discuss their nominations for the German Youth Championships (GYC) in Darmstadt 2021. The supervising judge at the warm-up approached regional coach Christoph Niemann to inform him that Moritz Treffinger caught his attention during his preparation and cool-down phase in the warm-up area. The DC feels that Moritz is putting himself as well as his horses, unintentionally, under pressure, which in return does not always allow a harmonic performance in and outside of the competition area, as seen in said warm-up area in Meisenheim. Baden Wurttemberg's Coach, as well as multiple other renowned coaches have told Family Treffinger during training sessions and tournaments, to "ease off on the pressure, we want to see a natural and harmonic performance" on multiple occasions over the years.
Moritz kept falling back into old patterns. After the incident in Meisenheim, the DC made the unanimous decision to address family Treffinger again during the nomination talks at the regional championship, and to remind them of the DC's wish for a natural and harmonic performance between horse and rider. Christoph Niemann who is also the spokesperson for the DC, communicated said decision in a friendly and polite, but also critical and clear way, with the goal of supporting Moritz in his further development. Squad athletes in Germany are required to sign a contract, confirming that they will always treat their horse in a fair and respectful way in and outside of the competition area, and they should be mindful that they are a role model for other equestrians as well. Spectators are highly sensitive when it comes to equestrian sporting events, and it is our duty to support our young athletes in their equestrian career, which includes raising awareness to the image they portray to outsiders.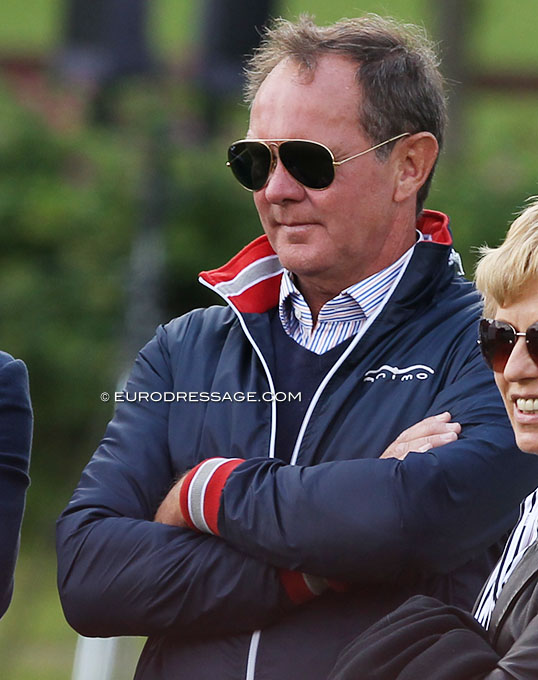 We got the chance to support Moritz during his time as a junior rider and nominated him for national training sessions, qualifiers as well as international tournaments, as we see him as a talented rider. It was a big surprise for everyone when Moritz was unable to assert himself against the other contestants. We continue to support Moritz, since we believe that this has to do with the pressure he is putting on himself (referring to Moritz' year in review post, as seen on his Instagram page). We as the discipline committee are very careful to never put any of our athletes, no matter their age or experience, in a situation where they feel the need to put themselves or their horses under pressure. Should a squad member feel pressure after all, our regional coach as well as our rider representatives are always available for a discussion with our riders, their families, or coaches.
We are aware of the very thin line that social media can create, especially when it comes to emotions, as positivity and negativity collide - something that can definitely affect our younger athletes a lot, in a positive as well as a negative way.
Moritz already collected the required results to become part of the 2022 young rider squad, which was declined by family Treffinger.
The discipline committee for dressage in Baden-Wuerttemberg will not comment on this matter any further, and we hope that Moritz and his family will be able to rest a bit now. Moritz would like to shift his ambitions from competing on championships to enjoying riding to the fullest, which is something we will support as best as we can. Maybe we will see Moritz again competing for a championship nomination one day, and until then we wish him and his family only the best.
Eurodressage asked Niemann specifically about the "reputation-damaging" statements and the team trainer replied that, "we all support our athletes regardless of their gender, ethnicity, personal beliefs or their sexuality.  Again: All of this is not about anyone's personality, but about their interaction and partnership with the horse itself."
Photos © Astrid Appels 
Related Links
De Long, Pony Schoolmaster for Laura Martin
Santo Dottore, Junior Hopeful for German Pony Team Rider Antonia Roth
Moritz Treffinger Adds Kur Gold to Record at 2018 European Pony Championships
Moritz Treffinger's Standing Ovation Sold to Japan