2022 CDI Sydney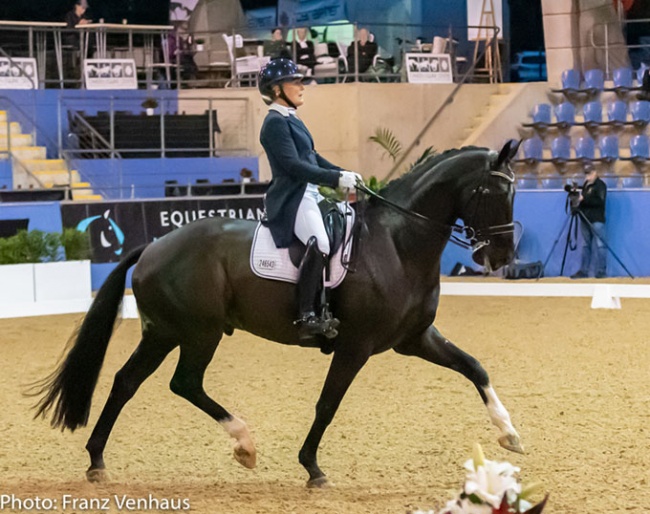 New Zealand's Gaylene Lennard has created her own slice of history scoring the highest-ever score in an international Grand Prix Freestyle at the Sydney CDI3* on 30 April 2022, breaking an 18-year-old record, and claiming a New Zealand one along the way . . . and all at just her second international outing.
Setting Records
The horsewoman from Te Aroha made a last minute call to head to the prestigious Australian event but has now put herself firmly in the picture to represent New Zealand at the 2022 World Championships in Denmark later this year.
Aboard the 12-year-old New Zealand warmblood registered Jax Johnson (by (Johnson x Anamour x Dynamit), Gaylene scored 76.875% in the freestyle bettering Australian Ricky Macmillan's 75.275% that was set in 2004, and the late Julie Brougham's New Zealand mark of 76.3% which she set in 2016 aboard Vom Feinsten.
Gaylene and Jax also won the Grand Prix Special on 70%.
"It is quite unbelievable," said the 59-year-old who is probably better known in showing circles than she is in dressage, which she took up competitively about 10 years ago. "I am lost for words. I never imagined this would happen."
CDI Rookie
The combination only rode their first international competition in Taupo in March where they bagged their first qualifying score towards the World Championships.
"These are all just stepping stones. It was only the second time we have ever ridden the Grand Prix Special and the musical," she explained.
But she says it is too early to start talking about the World Championships. "I am a one step at a time kind of girl. I wasn't even sure Jax and I were good enough so now I will go home and ask a few more questions about just what is involved."
The Aussie trip wasn't without its dramas though. Gaylene spent the first night camped out in the barn with her rather unsettled horse. The next day she bought some mirrors to put in his stable and he was immediately much calmer and happier to have 'mates' there with him.
Domestically Bred
Gaylene bought the horse, bred by renowned Kiwi dressage horse breeder David Woolley, as a four-year-old and says she knew from the get-go the horse was extraordinarily talented.
"The really exciting thing is that there is just so much more to come from him – this is just the beginning," she said.
Aussie-based New Zealand Grand Prix rider John Thompson was also competing at the Sydney CDI, winning the Grand Prix, and placing third in the Special aboard Chemistry.
Three Kiwi riders - Gaylene, John and the Dutch based Melissa Galloway - have now clearly produced scores that put them in team contention for the 2022 World Championships in Herning.
By Diana Dobson, edited by Eurodressag – Photo credit Franz Venhaus
Related Links
Scores: 2022 CDI Sydney
New Zealand's Gaylene Lennard Earns World Championship MER Score at 2022 CDI Taupo
Melissa Galloway, New Zealand's Strongest Ticket to the 2021 Olympics, Aims to Move to the U.K.