2022 CDI Temecula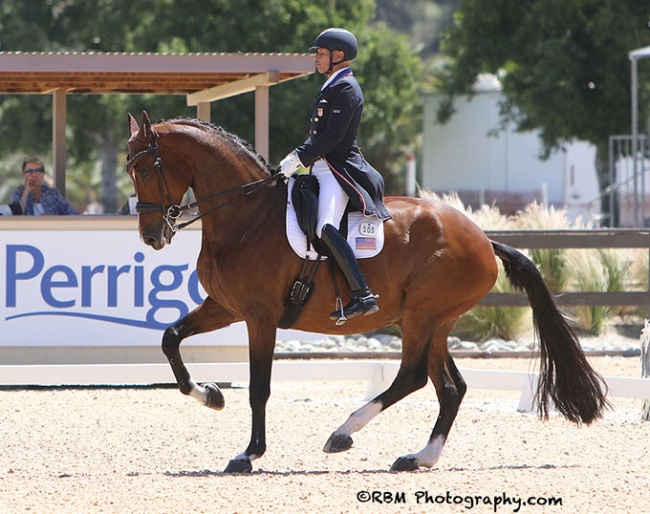 - Text by Kim Miller, edited by Eurodressage
Grand Prix winner Steffen Peters described competing at Galway Downs for the 2022 CDI Temecula on 6 May 2022 as an "honor." The compliment from the Tokyo USA team silver medalist was echoed by many of the 300 entries - for the Dressage Association of Southern California's Spring Benefit CDI 3*, CPEDI and National Dressage Show.
Warm, progressively windy weather greeted contenders from Southern California's thriving dressage scene and far beyond, including Maine, Arizona, Utah and Colorado.
Suppenkasper Wins
Six combinations competed in the international Grand Prix class which was dominated by Peters on Akiko Yamazaki's Dutch warmblood bred Suppenkasper (by Spielberg). He scored a winning 76.848% from ground jury members Magnus Ringmark, Freddy Leyman, Maria Collander, Jane Weatherwax and Birgit Epskamp-Valkenborg.
Steffen was thrilled with Suppenkasper's test, especially the relaxation and flow. "We are sometimes called adrenaline junkies, but I'm a flow junkie," he explained. "That was one of his best goes. It felt relatively easy and he was so with me. It felt that we became one and that is a neat feeling." 
This was just their second outing of the year and Steffen felt the break was a benefit to "Mopsy's" mood. Relaxation seems to be the famous Dutch Warmblood's modus operandi these days, Steffen stated. "He's so confident and relaxed since Tokyo." Because of the result? "Who knows! I certainly told him several times that he won a silver medal."
"It's always been fantastic to be here," he continued of the competition that's just an hour away from his home barn in San Diego. "Over the last three or four years, they've made so many improvements. Every time you come here, there's another arena with great footing, another covered VIP area, etc. It looks very much like an international show."
There was no resting on laurels. "This is a huge preview of coming attractions. It was not a show where you could afford to not take risks. I hope we can reproduce this feeling in Aachen."
That CDIO in late June would be the first of a few European tour stops for the U.S. team before the World Championships in Denmark.
Wagman Runner-Up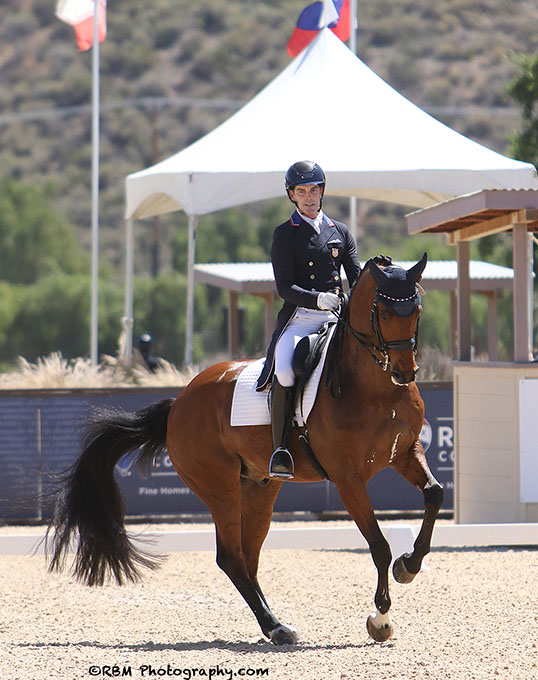 Nick Wagman, San Diego, CA, and Beverly Gepfer's 2008 KWPN gelding Don John (by Johnson x Goodtimes) were the runners-up. It was the pair's first international in one year time after having travelled to Tokyo as U.S. Olympic team reserve.
Wagman's last CDI start was also in Temecula in May 2021 and the one year hiatus from international competition left them a bit ring rusty. They were second on a 69.761%, the pair's lowest Grand Prix mark since 2019. 
Wagman is in pursuit of a spot on the U.S. Short List for the World Championships. However a score over 70% was required to finish amongst the Top 8 for selection. USEF rules do, however, include the possibility for an exception: "In exceptional circumstances, athlete/horse combinations may be selected to the Short List and invited to compete at the Observation Events that have not completed the minimum qualifications outlined in section I.B.2a-d subject to the approval of the USEF Board of Directors or an Ad Hoc Selection Group approved by the Board of Directors."
Third place in the Grand Prix went to Matthew Cunningham from San Diego, CA, on the 12-year old Westfalian bred Ribery 27 (by Rock Forever x Florestan) with a 65.5%.
Raine Wins Prix St Georges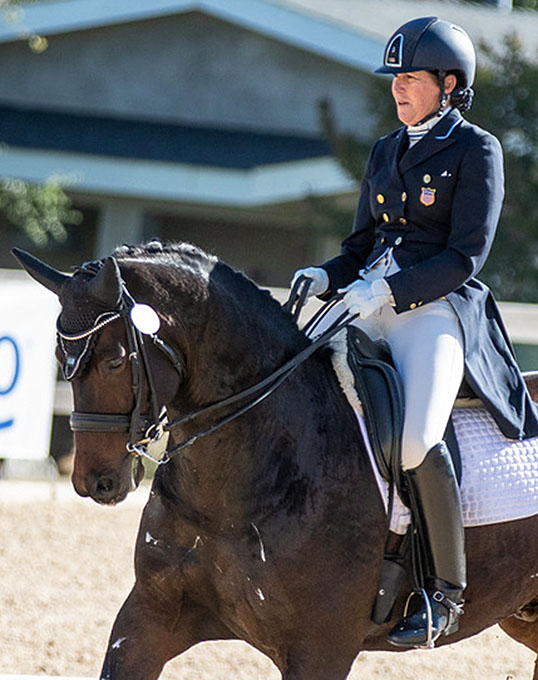 Kathleen Raine, Murrieta, CA, and Marti Foster's 8-year old Westfalian gelding Figaro (by Furstenball x Showstar) topped the Prix St. Georges class with a 70.196 from judges Magnus Ringmark, Maria Collander and Jane Weatherwax.
"I'm very happy with how the 8-year-old is progressing and I think he's very solid in the Small Tour," Kathleen said. "He was a little spooky at first, but then he recovered and he was right with me the whole time."  She foresees a "bright future" for the Westfalian.
Rebecca Rigdon from Cardiff by the Sea, CA, and her 9-year old KWPN bred Iquem (by Charmeur x Moreno) finished second on a 68.824%, and Laura Decesari, Tucson, AZ, and the 12-year old KWPN bred Flower-Power (by United x Gribaldi) were third on the same score.
From the Army to Dressage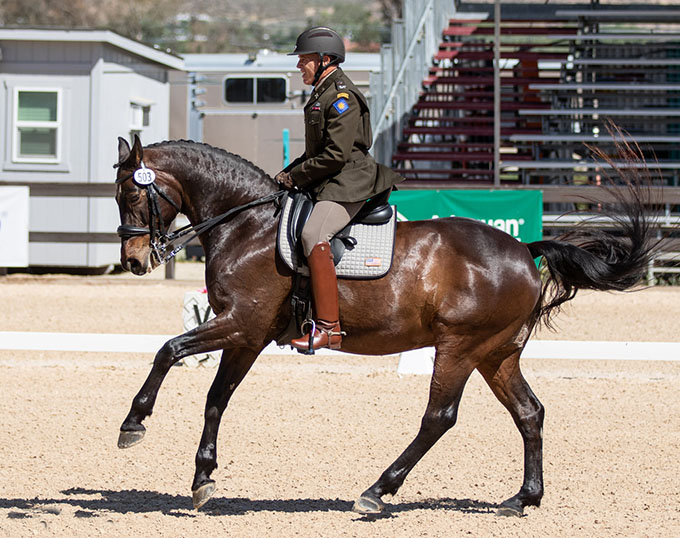 Amateur rider Eric Grimm, Irvine, CA, called his Prix St. Georges test on the 15-year old Hanoverian bred Carlos Ramirez (by Cardenio out of Ronja Ramirez) one of the best of their one-year partnership.
"I really liked our pirouettes, which can normally be trouble. He had a lot of power today."
Retired from his 30-year career as a Colonel in the U.S. Army, Eric has put his extra free time to good use in the arena, under the watchful eye of his trainer and wife, Faith Grimm. The extra work was reflected in their 60.685% ride.
Boehning Wins Young Riders Team Test
Sixteen-year-old Ellanor Boehning continued her quest for a North American Young Riders Championships Region 7 berth by topping the Young Rider Team Test with her 11-year old Westfalian Sir Junior (by Sir Stauffenberg).
The Hanoverian was a surprise birthday present last fall, and the new pair jumped into the CDI world this winter in Wellington, FL.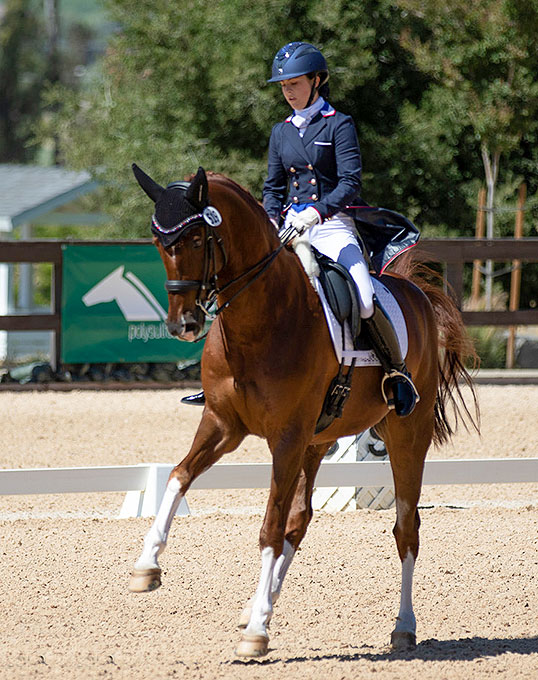 "He gained a lot of confidence from the big atmosphere there, and he's a confident horse going into new places -- unless there are things flapping." There were things flapping this afternoon. "He got a little spooky down by C, but he handled it really well," said the San Diego resident.
Lucienne Bacon, Atherton, CA, and the 14-year old Canadian warmblood Do Re Mi (by Don Frederico) were second on 62.108% and Charlotte Dunn, Deer Mountain, Utah, and the 11-year old KWON bred Golden Noir (by Bodyguard x Samba Hit) were third with a 59.324%.
Tiggy Gates Tops Junior Team Test
Also targeting the NAYC, Tiggy Gates and the 16-year old Hanoverian Shadow's Dream (by Sandro Hit x Rotspon) had a lovely ride to a 67.010% in the Junior Team Test.
"Our test was a little tight, and we are working on that," said the rider from Industry, ME. "The atmosphere is pretty intense in there, and he handles the pressure and the atmosphere like an absolute champ."
Josephine Hinnemann from Murrieta, CA, and the 13-year old American Hanoverian Copa Cabana MRF (by Contucci x Bordeaux) earned a 66.263% for second in this class and Katherine Nayak, Tuscon, AZ, and Pamela Farthing's 11-year old Lusitano Gaspacho were third on a 63.081%.
Jane Weatherwax, Freddie Leyman, and Birgit Epskamp-Valkenborg served as the Junior and Young Riders judges.
-- Temecula Photos by Richard Malmgren - The West Equestrian
Related Links
Scores: 2022 CDI Temecula
Sabine Schut-Kery and Sanceo Drop Out of Race for U.S. Team Selection for Herning