KWPN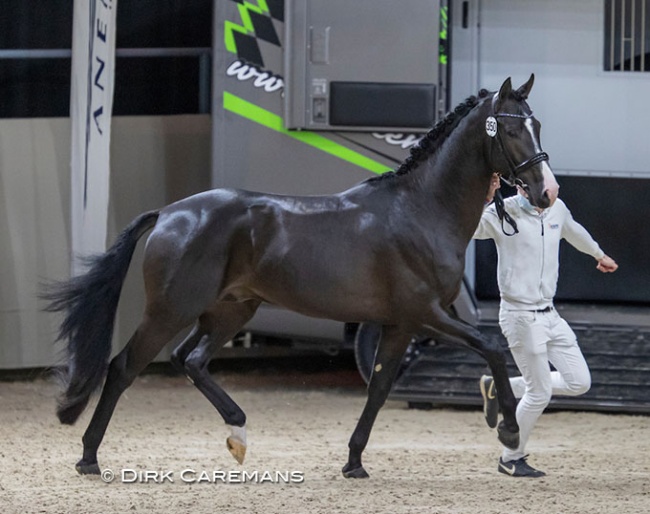 The 2022 KWPN Spring Stallion Performance testing, which began on 25 April 2022 and concludes on 28 May 2022, has seen a reduction of nine to four participating stallions.
At the 2022 KWPN Stallion Licensing in February, no less than 39 colts were accepted and they all need to do a mandatory performance test in order to be allowed to breed. Traditionally a bigger group of stallion participates in the autumn testing to give the young colts more time to grow and develop.
Nine 3-year old dressage bred colts began the spring 35-day performance testing in Ermelo. On 9 May one 4-year old was added to the group for a 21-day testing. At this moment, only four 3-year olds colts remain in the testing.
The 3-year olds that began the spring testing were:
Easy Boy U.S. (by Escamillo x Vivaldi)
- this colt has quite a few names: He is also known as Extreme U.S., El Vivo PS and Eurostar US
Osaka P (by Escolar x Florencio) 
O'Toto van de Wimphof (by Toto jr)
Secret Lover (by Secret x Fürstenball) 
OO Grolloo (by Glamourdale x Uptown) - testing ended
One of a Kind (by Imposantos x Fellini) - testing ended
One to Remember (by Secret x ) - testing ended
Odysseus P (by Foundation x Painted Black) --> invited to the autumn testing for veterinary reasons
Fabiano (by For Romance x Diamond Hit)  --> invited to the autumn testing
The 4-year old that began the 21-day testing was
Nasdaq (by Astrix x Lord Sinclair) --> invited to the autumn testing
Photo © Dirk Caremans
Related Links
Four Premium Colts, Thirty-Nine Accepted at 2022 KWPN Stallion Licensing
Nashville Star, High Scorer of the 2021-2022 KWPN Winter Stallion Performance Testing
Merlot VDL, High Scorer of the 2021 KWPN Spring Performance Testing