KWPN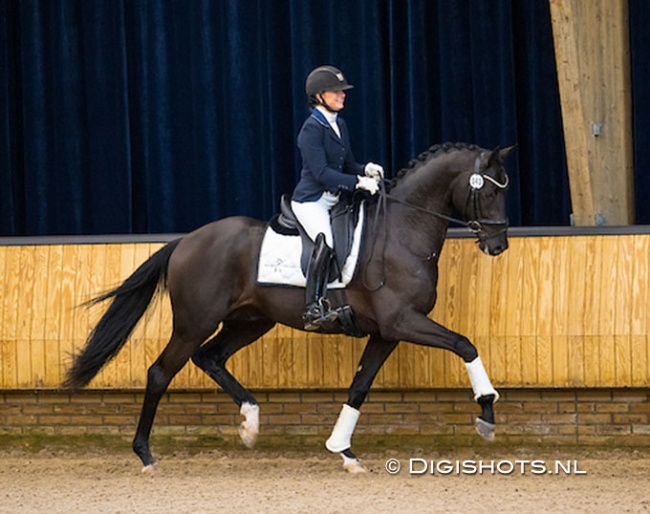 Nashville Star (by Desperados x Westpoint) became the high scoring stallion in the 2021-2022 KWPN Winter Stallion Performance Testing, which started on 28 December 2021 and concluded on 18 January 2022. 
Fourteen colts began the testing in Ermelo and five were sent home mid-way. Nine completed the testing are now officially fully licensed to breed for the KWPN society. 
Nashville Star
The high scorer of the testing was Nashville Star (by Desperadous out of Ezraijgje (by Westpoint). He is bred by L. Martens and owned by Reesink Horses. 
"He's a handsome, appealing stallion with three good basic gaits and a very good walk. He moves light-footedly and stands out in his ability to collect and extend," said Bert Rutten, chair of the KWPN licensing committee. He was joined by inspectors Johan Hamminga and Marian Dorresteijn. 
The black stallion scored 9.5 for walk, 8.5 for trot, canter, suppleness, and self-carriage, 9 for rideability and 8.5 for dressage potential.
Nalegro
The runner-up with the second highest total of points was Nalegro (by Painted Black out of Jalegrofleur, the full sister of Valegro (by Negro x Gershwin). Nalegro is bred by Joop Hanse and co-owned with Gert-Jan van Olst.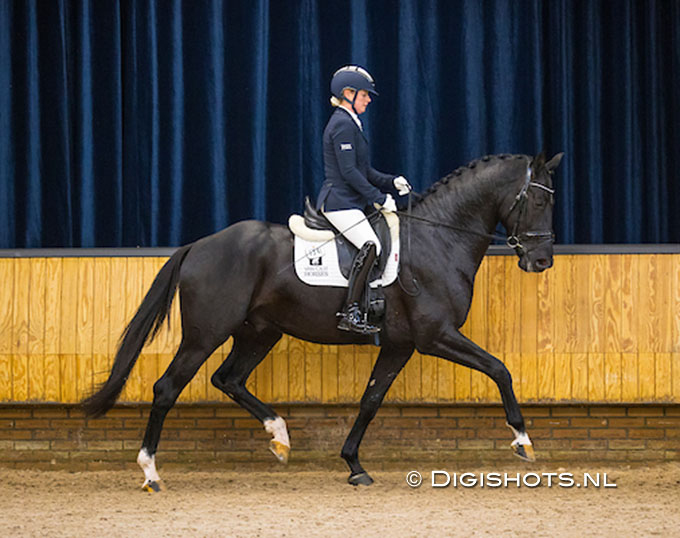 The black scored 85 points in total with 8.5 for walk and trot, 9 for canter, 8 for suppleness and self-carriage, 8.5 for rideablity and potential.
The Name Game
At the final exam day, the committee also reserves the right to rename the stallions, often opting for anglicized versions of stallion names instead of respecting the breeder's choice.
For the high scorer, the name did not go such a big transformation, from Nashville LMD to Nashville Star, but some colts got entirely different name. Newton TC became "New Dreams", Nota Bene Prins became "Noble Prince Norel", Noble Savage turned into "Dark Rousseau", Nixon became "Nordic Blue Hors," and there were several more Dutch names replaced with English derivatives. 
Photos © Digishots
Results - 2021-2021 KWPN Winter Stallion performance testing
The nine licensed stallions are:
Nashville Star (by Desperados x Westpoint)  - 87.5 points
Breeder: L. Martens and daughters - Owner: Reesink Horses
Nalegro (by Painted Black x Negro) - 85.0 points
Breeder: Joop Hanse - Owner: Joop Hanse & Gert-Jan van Olst --> original name Nolegro
Dark Rousseau (by Dettori x Rousseau) - 84.5 points
Breeder: H. Verdellen - Owner: Reesink Horses & G. Jansema --> original name Noble Savage 
Nobel Prince Norel (by Painted Black x Uphill) - 83.5 points
Breeder: E. Fikse - Owner: GW van Norel --> original name Nota Bene Prins
Newport (by Toto Jr x Rossini) - 82.5 points
Breeder: P. Van Doorn - Owner: Stal Leeuwenhof --> original name Norbert
New Dreams (by Jerveaux x Dream Boy) - 82.5
Breeder Tim Coomand, I. Verheul - Owner: Daliquart (Koch) --> original name Newton TC
Nordic Blue Hors (by Totilas x Jazz) - 82 points
Breeder: Sjef Jansen, Chris von Martels & De Beukenvallei - Owner: Joop van Uytert and Blue Hors Stud, DK. --> original name Nixon
Nirvano (by For Ferrero x Charmeur)  - 81.5 points
Breeder: G. Strik - Owner: Stal van de Sande & F. van der Vegt
Network (by Just Wimphof x Krack C) - 77.5
Breeder and onwer: D. Staller & D. Broekema
Related Links
Five Colts Drop out of 2021-2022 KWPN Winter Stallion Performance Testing
Fourteen Colts Begin 2021 KWPN Winter Stallion Performance Testing
Forty-Four Colts Licensed, Five Premium at the 2021 KWPN Stallion Licensing