KWPN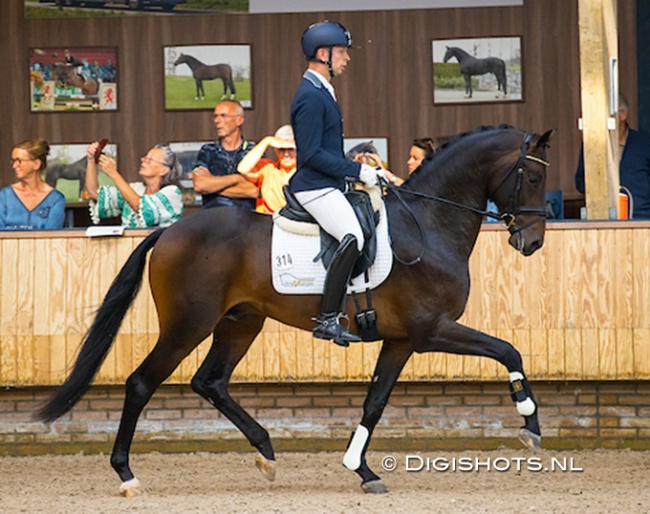 The 4-year old Merlot VDL became the high scoring stallion of the 2021 KWPN Stallion Performance Testing, which concluded after 21 days on 14 May 2021. 
The group of participating stallions was particularly big this year as in the 2020 corona year the spring performance testing was cancelled. Fourteen 3-year old colts and thirteen 4-year olds began the testing, but in the end only 10 stallions finished the testing out of the group of 28 !
Merlot VDL
The licensing committee, consisting of Bert Rutten, Marian Dorresteijn and Johan Hamminga, rewarded 85.5 points as the high score of this testing.
Merlot VDL (by Bordeaux out of Hyacinth-Vrouwe (by Florencio) is bred by the Klinkhamer family and owned by VDL Stud in partnership with Saskia van Musscher.  The dark bay stallion scored 8 for walk, 8.5 for trot and canter, 9 for suppleness, 9 for balance and self carriage, 9 for rideability, 8.5 for potential as a dressage horse. He totalled 85.5 points. 
"This is a very elegant, uphill moving stallion who is very willing to work and can collect and extend well in the movements," said Bert Rutten. 
Mauro Turfhorst
The second highest scoring stallion was the 4-year old Mauro Turfhorst, who is by Zonik out of Hidaylia (by Negro x Scandic). He is bred by Jan Greven and owned by Stoeterij Turfhorst in partnership with Reesink Horses. 
This black stallion scored 8 for walk, and 8.5 for trot, canter, suppleness, self carriage and balance, rideability and potential. He finished on a total of 84 points. 
Ten Pass Testing
Ten colts in total passed the spring performance testing. They are:
Number Two (Just Wimphof x Ferro) - Breeder: Gerrit van Esterik - Owner: breeder & Joop van Uytert – 83,5 pts
Neil (Governor x Vivaldi) - Breeder and owner: Ad Valk & fam. Andeweg – 83 pts
New Orleans (Blue Hors Farrell x Jazz) - Breeder and Owner: De Dalhoeve – 83 pts
Next Romancier (Fürst Romancier x San Amour) - Breeder:  J.Th.W. en H. Huls - Owner: Rom Vermunt & Joop van Uytert – 81,5 pts
Nick Wimphof (Just Wimphof x Bordeaux) - Breeder: Geesje & Tinus Naber - Owner: van Uytert & Stal Brouwer – 80,5 pts
Night Shadow (Guardian S x Florencio) - Breeder: Willy van der Aa - Owner:  breeder & Stal Van de Sande – 80 pts
Nephew (Daily Diamond x Johnson) - Breeder: S. Wijnveen - Owner: Jan Greve – 78 pts
Nacho (Negro x Krack C) - Breeder: Sandra Maakenschijn - Owner: Van Olst Horses – 76,5 pts
Merlot VDL (Bordeaux x Florencio) - Breeder: Fam. Klinkhamer - Owners: Saskia van Musscher & VDL Stud – 85,5 pts
Mauro Turfhorst (Zonik x Negro) - Breeder:  Jan Greve - Owners: Stoeterij Turfhorst en Reesink Horses – 84 pts
Photo © Digishots
Related Links
Massive Drop Out of 4-Year Olds from 2021 KWPN Spring Stallion Performance Testing
Nero DDH, Nolegro, No Way Drop Out of 2021 KWPN Spring Performance Testing
Fourteen Dressage Colts Begin 2021 KWPN Spring Stallion Performance Testing