2023 British Dressage Championships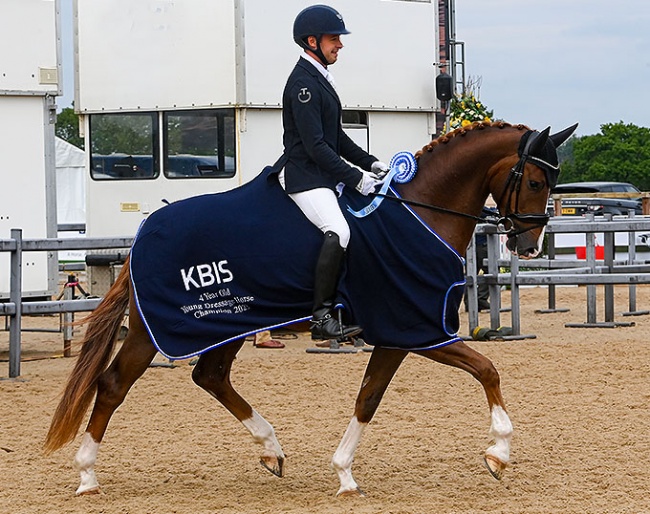 The 4-year old Game On, the 5-year old MSJ Viva Dannebrog, and the 6-year old Iceland Girl PS became the winners of the 2023 British Young Horse Championships which were held on the concluding day of competition at the British Nationals at Somerford Farm on 14 - 17 September 2023. 
The ever-popular final judging of the British Young Horse Championships is always a highlight on the last day of competition. The top four in each age category went before the panel of Denmark's Christine Prip and Erik Theilgaard and ride judge Lewis Carrier who selected three outstanding winners.
4-YO: Game On
The four-year-old horses got the Young Horse Championships underway with four high quality contenders in Game On   (by Governor x Sir Donnerhall), First Dance T (by Dark Glamour W x For Romance), Entourage (by Escamillo x Rubinero) and Obsession M (by High Five US x Jazz).
Ride judge Lewis Carrier took time with each horse and carefully considered their attributes before reporting back to fellow judges Christine Prip and Erik Theilgaard. The winner for the panel was Nicola Mahoney's liver chestnut Hanoverian gelding, Game On, presented by Ashley Jenkins.
Gloucestershire-based Ashley (31) commented; He's just the best character every day. It's lovely to ride him, he wows me every day. He loves to canter around the fields, and he is a joy to look after and a joy to ride."
Game On received some super comments from the judges. "I think his type and his canter made him stand out," commented Ashley. "His canter is pretty exceptional - this was probably what gave him the upper hand on the others maybe. He's just a cute boy."
Owned and bred by Ashley's good friend, Nicola Mahoney, Ashley has been riding the liver chestnut gelding for just coming up to a year. "The guy who broke him in, Jamie Jenkins, did an amazing job. I have been riding him since then, he hasn't had anybody else riding him, he is just a brilliant character. He's definitely one everybody goes to on the yard. They ask, what's that one?
"With a horse like this, we just take every day as it comes," added Ashley. "But he gives me high, high hopes for the future."
Second placed was awarded to First Dance T (Dark Glamour W x For Romance), an Oldenburg mare owned by Stena Hoerner and ridden by her partner Greg Sims, and third was awarded to KWPN bay mare Obsession M (High Five US x Jazz), ridden by her owner Katie Scott. Fourth was the Hanoverian stallion Entourage (Escamillo x Rubinero), qualified by Greg Sims but ridden in the final judging by his owner, Sarah Millis, due to Greg having two horses through to the final.
5-YO: MSJ Viva Dannebrog
The middle group of young talents were five-year-olds MSJ Viva Dannebrog (by Vitalis x Don Schufro), Hawtins Brindisi (by Belissimo M x San Amour), Reventador (by Revolution x Tuschinski) and WHD Elton (by Emilio x Diamond Hit).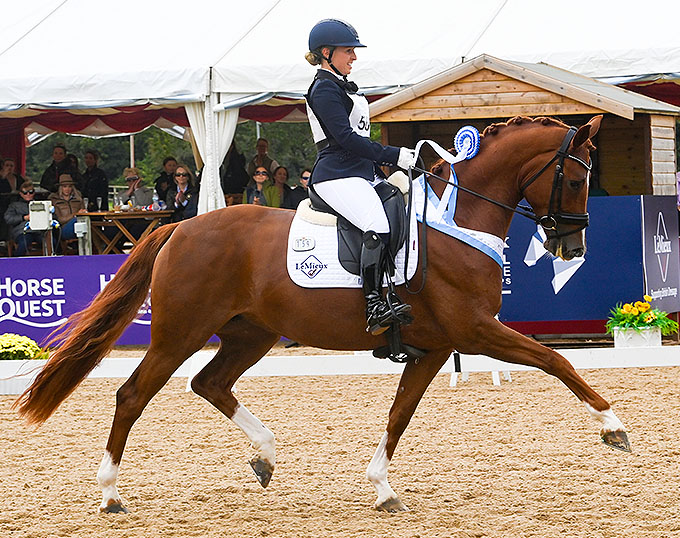 The winner for the panel was Emma Blundell's chestnut mare MSJ Viva Dannebrog (Vitalis x Don Schufro). Winner of last year's 4-YO title, and placed fourth in the Small Final for 5-YO at the FEI WBFSH Dressage World Breeding Championships, the mare has proved a fine example of what the judges are looking for.
"It's an absolute honour to win here, it's amazing and she came as the reigning champion from last year," commented owner Emma (Blundell). "So obviously there's always a bit of pressure. When you compete in the four-year-olds, nobody knows what to expect and they've never been here before and you don't know how they are in the atmosphere. But after last year, we knew how she performed in that situation, so obviously you have to hope that they'll deliver again, but everything can be different.
"The others can have matured more, other horses have come in, but it was it was a really good class - the standard was very good. I was a little bit nervous but I'm really proud.
"It's amazing," added Amy whose sister Holly piloted the mare to last year's title while Amy was expecting her first baby. "I just really wanted it to happen because it wasn't me that won the title on her last year - it was my sister - but the horse obviously has. So it was really special. I was just hoping that I could do right by the horse and Emma and go do the same again this year.
"She felt amazing, she always does in the arena," continued Amy. "I think she really enjoys the atmosphere, which is what you look for in a young horse. That you can drop the reins and she can really relax, which is what you saw, or I can pick her up, or another rider get on her and she's really accepting, which is why she is so special.
"We don't train loads at home together, but we have a lot of conversations. Emma will come to mine and watch the horses work and actually, just of late, Emma has been coming and riding the horses. She has ridden 'Vivian' up to this show, so that's really nice at five years old. It's nice that Emma can ride them and have little lessons and feel where I'm at in their training. It's really nice to have a pool of horses that are that trainable in their brains, and are of this quality, that can then come and win the championships.
Emma Blundell is a big supporter of the young horse classes, as she explains. "I think for us it's a big thing. The horses are against their peers, so it's competitive in terms of their age group and what's around the country at that time. I think it is a very specific type of horse and not all of our horses would compete towards that championship. I think it's a lovely thing to aim for and I think it's really nice to have the guest judges and people coming in for a different outside perspective. It's very much one of our focuses of the year obviously for the business."
And what's next for MSJ Viva Dannebrog? "We'll go home and train and hopefully go to the World's for Six-Year-Olds and then come back and be champion again.
Second place was awarded to the Danish-bred gelding WHD Elton (Emilio x Diamond Hit), owned by Lauren Taylor and presented by Beth Bainbridge; third place went to Judith Davis's Hawtins Brindisi (Belissimo M x San Amour), a British-bred Hanoverian gelding ridden by Lucinda Elliott, with fourth going to the mare, Reventador (Revolution x Tuschinski) owned by Georgia Keegan and ridden by Robbie McNeill.
6-YO: Iceland Girl PS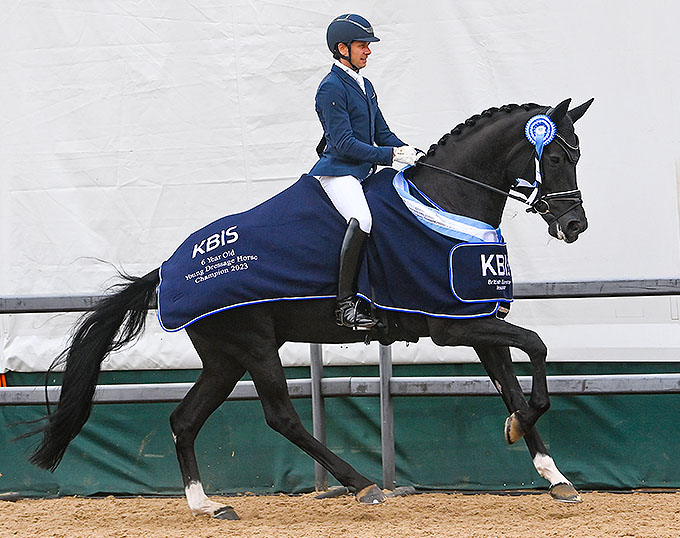 The final group of horses forward for judging were six-year-olds Hawtins Sarocco (by Sezuan x Belissimo M), Iceland Girl PS (by Ierland x Londonderry), Magic Dream (by Governor x Swarovski) and   Miana (by Franklin x Bordeaux). All four showed much potential, but it was Deborah Cunnigham's Iceland Girl PS who was declared the 2023 British 6-year-old Champion.
Iceland Girl PS, a real supermodel of a horse, won the 5-YO title here last year. Bred at Gestüt Lewitz in Germany, and ridden by Tom Goode, head rider for Emile Faurie, the Oldenburg mare has a super uphill tendency and an outstanding canter.
"I'm absolutely delighted with Iceland Girl PS," said a thrilled Tom Goode. "She is my dream horse, she has no weakness. I'm really happy with how she performed. She gave the test rider a super ride. Her canter is the obvious highlight and gives you and incredible feeling but she also has a great temperament and is very trainable. We are so excited for her future."
Goode has now won back-to-back titles on the Paul Schockemöhle bred mare. "After winning the 5-yo title with her last year it's a fantastic feeling to win the 6yo this year," Goode admitted. "A massive thank you to her owner Debbie Cunningham and Emile for the opportunity to ride such an amazing mare."
Second place was awarded to Jo Cooper's KWPN mare Magic Dream (by Governor x Swarovski), presented by Becky Moody, third place to Judith Davis's Hawtins Sarocco (by Sezuan x Belissimo M), a British Hanoverian gelding ridden by Lucinda Elliott, with fourth place awarded to the KWPN mare  Miana (Franklin x Bordeaux), owned by Willinga Park's Terry Snow and ridden by Jayden Brown.
-- Text by British Dressage, edited by Eurodressage - Photos © Kevin Sparrow
Related Links
MSJ Viva Dannebrog, Iceland Girl PS, Full Moon II, MSJ Encore Win 2022 British Young Horse Championships
Mon Amour, Tiger, Swanmore Dantina Win 2021 British Young Horse Championships
Mount St. John Diamonds are Forever, Waverley Fellini, High Hoes Estelle, MSJ Dante Win 2020 British Young Horse Championships
Special Diva, Hawtins Lirica, Freeman Win 2019 British Young Horse Championships
Hawtins Lirica, Izonik, Hawtins San Floriana Win 2018 British Young Horse Championships
Waverley Dante, Hawtins San Floriana, Mount St. John VIP Win 2017 British Young Horse Championships
Hawtins San Floriana, Mount St. John VIP, San Marco Win 2016 British Young Horse Championships
Hawtins Duchessa and Florentina Win 2015 British Young Horse Championships
FJ Veyron and River Rise Escarla Win 2014 British Young Horse Championships
Eldorado and Romanno Stromboli Win 2013 British Young Horse Championships
Romano Ruinart, Zolansky, Royal Concert Win 2009 British Shearwater Young Horse Championship
2007 British Dressage Young Horse & Breeding Championships