Van Olst Sales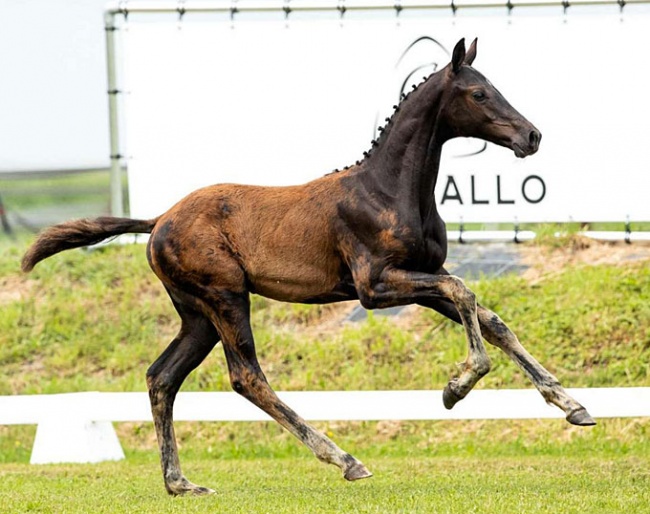 The bay colt Promes became the high flyer of the second online foal auction which Dutch stallion owner Gert-Jan van Olst organized as part of the Van Olst Sales. The bidding concluded on 17 August 2020. 
Promes (by Glamourdale x Jazz) sold for 29,000 euro to the U.S.A.
The second most expensive foal was the filly Pearl B (by Jayson x Lord Leatherdale), which also moves to the U.S.A for 18,000 euro.
Americans highly coveted the foals sired by Van Olst stallions. A third foal will jump the puddle, colt Pippendale (by Glamourdale) sold for 12,500 euro. 
Filly Periona K (by Kjento x Johnson) sold for 14,000 euro to Great Britain. A German secured Partagas (by Lantanas x Vivaldi) for 11,000 euro. 
A Dutch customer paid 12,000 euro for the filly Parton Dolly (by Kjento x Son de Niro). 
A Swiss client bought colt Playboy JS (by Glamourdale x Krack C) for 6,500, while a Belgian purchased colt Pancho Royal (by Glamourdale x Wynton). 
All foals in the collection sold to new owners. The average price for a foal was 12,416 euro. 
Related Links
Princeville JT, Best Seller of the 2020 Van Olst Sales Foal Auction
2020 Van Olst Sales Continue with Second, Superb Online Foal Auction
Kjento, Glamourdale, Chippendale Shine with Offspring in 2020 Van Olst Sales Online Foal Auction