Germany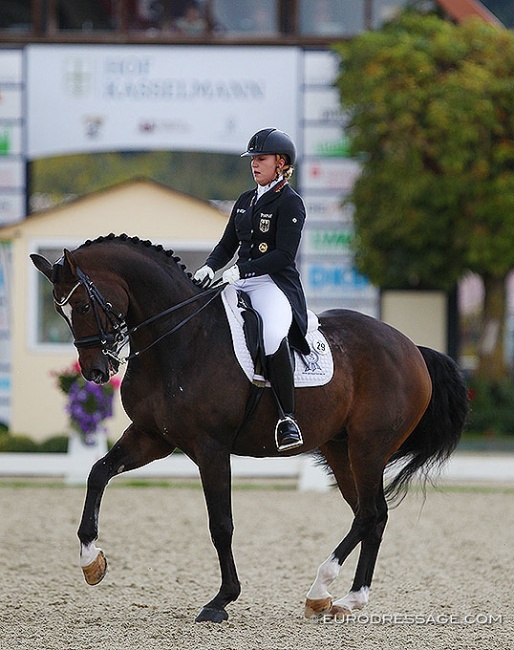 The German Equestrian Federation has announced the horse-and-rider combinations which have qualified to compete at the 2020 Piaff Forderpreis Finals - which are the German Under 25 Championships - in Frankfurt in December. 
The entire Piaff Forderpreis show circuit was upended due to corona with events getting canceled and qualifiers moving locations several times. In the end only four qualifiers were held (Kronberg, Bettenrode, Gut Ising/Chiemsee, and Balve). 
Riders gained qualification points at each event and the leader on the board is the 2020 European Under 25 Champion, Ann-Kathrin Lindner on Sunfire FBW, who won three out of four competitions.  Three riders qualified for the finals with two horses: Lindner, Alexa Westendarp and Raphael Netz.
The 2020 Piaff Forderpreis Finals are scheduled to take place at the CDI-W Frankfurt on 17 - 20 December 2020. At the moment, Frankfurt is one of a few indoor competitions still standing this winter, as a large group of indoor shows pulled the plug, not being able to stay financially viable with no or a reduced audience and no trade fair. 
The Finalists for the 2020 Piaff Forderpreis are
Ann-Kathrin Lindner - Flatley and FBW Sunfire (60 pts)
Alexa Westendarp - Hicksteadt and Der Prinz (44 pts)
Raphael Netz - Lacoste and Elastico (43 pts)
Ellen Richter - Vinay (43 pts)
Kristin Biermann -  Queensland (35 pts)
Hannah Erbe - Carlos (34 pts)
Evelyn Eger - Whitley (32 pts)
Lune Karolin Müller  - Seal (31 pts)
Sophie Reef - Charming Lady (31 pts)
Photo © Astrid Appels
Related Links
Fuchs Wins 2020 Piaff Forderpreis Selection Trial, Sixteen Riders Qualified for 2020 Show Circuit
Warendorf in Lockdown - First Piaff Forderpreis / EYC Selection Trial Uncertain
First German U25 Team Qualifier Moves from Warendorf to Kronberg
Alternative Dates for 2020 Louisdor Cup and Piaff Forderpreis Announced
CDI-W Stuttgart Canceled, More 2020 Indoor Competitions at Risk due to Corona Measures
Lindner and Sunfire Lead the Way in First German Selection Trial for 2020 European U25 Championships
2020 CDI-W Frankfurt, All Systems Go as an Indoor Event at the Festhalle