Switzerland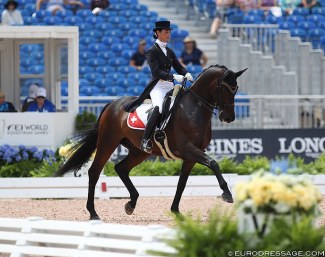 The Swiss Equestrian Federation has announced the dressage squad leading up to the new year and 2021 show season. 
The Swiss NF has set as goal to field riders in all three Olympic disciplines at the 2021 postponed Olympics in Tokyo.
Switzerland obtained one individual dressage spot for the 2021 Games. Swiss rider Birgit Wientzek-Pläge unlocked that slot for Switzerland on Theodora Livanos' Robinvale, but the actual rider that gets to go will be decided in the early summer of 2021. In 2021 there will also be European Dressage Championships in Hagen.
"The selections for the Olympics will be early next summer and of course we are aiming to send a team to the Europeans as some pairs will be able to get international experience until the autumn," said Evelyne Niklaus, the dresage chief at the Swiss NF.
New selection criteria were adopted to draft the 2021 Swiss dressage squads. In particular the perspective squad (small tour level with promise for Grand Prix) has been expanded. 
The 2021 Swiss Squads include
Pony Riders
Sarah Demmler - NEW
Robynne Graf
Layla Schmid
Junior Riders
Tallulah Lynn Nater
Renée Stadler
Young Riders
Laura Maria Grunder
Carl-Lennart Korsch
Noemi Zindel
Under 25
Seniors - Perspective Squad
Simona Aeberhard
Barbara Bertschinger - NEW
Philine Brunner
Lars Bürgler - NEW
Delia Eggenberger
Markus Graf -  NEW
Sandra Meier - NEW
Patricia Sarasin - NEW
Ramona Schmid - NEW
Andrina Suter)
Seniors - Elite Grand Prix
Carla Aeberhard
Hansruedi Geissmann - NEW
Mélanie Hofmann- NEW – coming from perspective squad
Antonella Joannou
Charlotte Lenherr
Gilles Ngovan - NEW – coming from perspective squad
Estelle Wettstein 
Related Links
Party of Three - Graf, Ngovan, and Wettstein - Rule the 2020 Swiss Dressage Championships
Swiss Grand Prix Squads for 2020 Announced
Swiss Youth Squads for 2020 Named
Swiss Dressage Squads for 2019 Named
Swiss Dressage Squads for 2018 Named