F.O.C.U.S.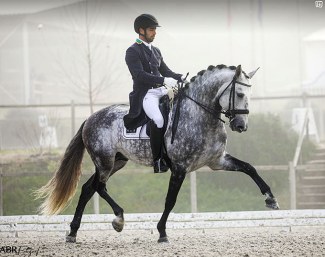 For 33-year old dressage professional Roberto Brasil the future looks bright following his newly established partnership with Brazilian brood farm Coudelaria Vila De Sagres.
The Portuguese Grand Prix rider will assist Vila de Sagres in branching out of their business into Portugal and presenting their Lusitanos in dressage sport. 
Formative Years in the U.S.A
Roberto experienced his formative years as a dressage professional in the U.S.A., working as a rider and trainer for Olympian Cesar Parra from 2014 till 2019. 
In the USA Roberto made his international show debut at the 2017 CDI Devon, competing the Oldenburg mare Whoopie Gold (by Wolkentanz II x Romancier) in the medium tour. Overall, he mainly showed at national level, but got the opportunity to compete from young horse level to Grand Prix. 
"In the U.SA. I developed and competed several horses along the years," Roberto explained. "I was awarded the silver medal in 2015 and the gold in 2017 by the United States Dressage Federation. My time in the USA was great and I loved it. I made a lot of contacts, learned the market, and now it is time to make it, where it counts."
In 2019 the rider decided to return to his roots in Portugal and spread his wings. Roberto connected with trainer Carlos Lopes, who opened doors to collaborations with current employer, Coudelaria Vila de Sagres. 
"Everyone knows that the centre of Europe is where the real competition is," said Roberto. "That's where the big riders are. I have my dreams  and like any other rider, one day, I want to be able to be on my team and got to the Olympics."
Soon after his return to Portugal, Roberto returned to the CDI Arena, making his official international Grand Prix debut as a rider representing Vila de Sagres on Maria Caetano's former Portuguese team horse Xiripiti at the 2019 CDI Lisbon. He also competed his own 5-year old Junior Rubi d'Ilheu (by Rubi AR x Oceano MBV) in the 5-year old young horse classes at the CDI's in Campanhia das Lezirias and in Lisbon.
Vila de Sagres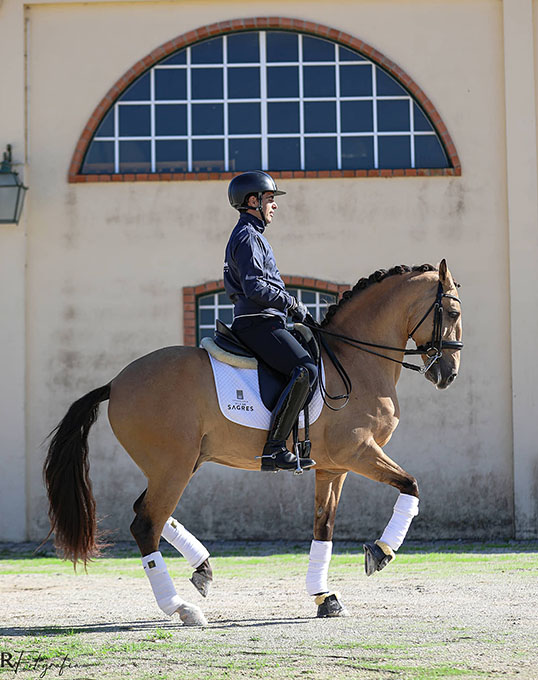 In order to achieve his dream of riding at the Olympics, Brasil needs to secure a string of horses for his future. An alliance was made with Vila de Sagres.  
"I am young, I have time and I am not in a rush. I have a super group of horses at Vila de Sagres now and I'm sure, in time, this partnership is going to bring a lot of happy memories along the years, both for them and for me," said an optimistic Roberto. 
Vila de Sagres is a major Lusitano horse breeding farm in the Sao Paulo area. The estate not only focuses on breeding high quality Lusitanos for the morphology classes, but also for dressage sport. They want to achieve success based on results in the competition arena and have their stable name became a brand in the international dressage world. 
Carlos Lopes, who is a 4* FEI dressage judge, is an advisor for Vila de Sagres' breeding program. The Brazilian farm has a stock of around 100 horses including broodmares and foals. Forty of those are intended for dressage sport and will soon move to Portugal to be developed.
"Vila de Sagres was looking for a rider and I was leaving the USA, so it was perfect timing for everyone," said Roberto. "Carlos connected us and I fell in love with the program. We think alike and we have the same goals so it was easy an easy decision for me to join them."
Due to the corona pandemic, Brasil focused on introducing his first allotment of Vila de Sagres' horses to the competition arena at national events in Portugal. He and the team presented talented Lusitanos such as Leste, Ministro, and Nero in Brazil, as well as rode Lord dos Diamantes, Madiba, Liege de Lizerias and the Lusitano mare Iris into the arena in Portugal to good results. 
Hercules d'Atela
The flagship horse of Vila de Sagres is the rising Grand Prix stallion Hercules d'Atela (by Soberano out of Vaqueja d'Atela). Bred by Coudelaria Lusitanos d'Atela in Portugal, this 8-year old grey stallion is ready to make his break through at the highest level of dressage sport.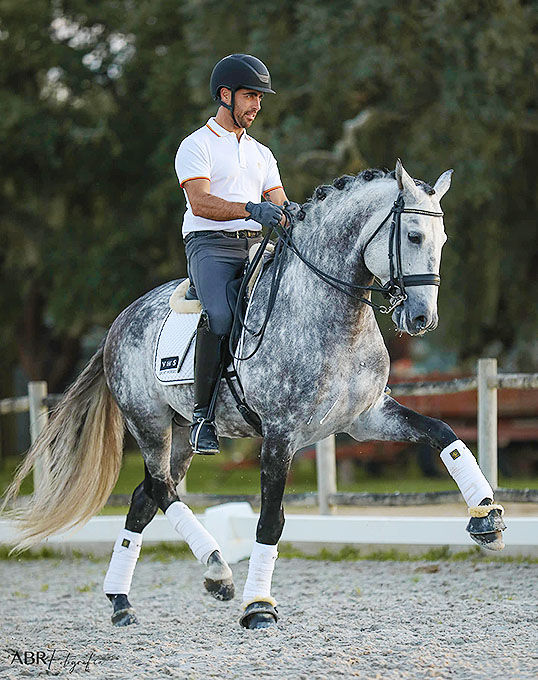 Hercules d'Atela has been a winner from the start. He was a champion and gold medal winner in his age group at the 2015 and 2016 International Lusitano Festival in Cascais. He also won the title and gold medal at the 2016 European Lusitano Breeding Championships held in Germany, after which he sold to Vila de Sagres as a breeding stallion at their farm.
"He has caught everyone's attention since he was a young horse," said Roberto. "I have developed him to Grand Prix level myself. He is a super mover, looks like a Lusitano, but he moves like a warmblood. He has a super piaffe and passage, and most important of all a super brain."
Last month, Brasil and Hercules made their medium tour debut at national level in Portugal. In 2021 Roberto hopes to introduce him to the Grand Prix, although Covid-19 makes any planning uncertain. 
"With the Covid situation we have to go day by day and at the end of the day Hercules will be the one telling us the when he's ready," said Roberto. "He is without a doubt a horse for the future and we obviously have our plans with him, but we have zero rush. Most important to us is having a sound, happy horse that enjoys his job, more so than competing. The well-being of our horses is really what is most important."
Discover Vila de Sagres at www.viladesagres.com.br or on Facebook and Instagram
Tune in with rider Roberto Brasil on Facebook and Instagram.
Photos © Afonso Rodrigues
Related Links
Rolex DP, Dillinger, Jasmim Plus, Imperados dos Cedros, Ferrolho Win 2020 Portuguese Young Horse Championships
Carrasqueira, Lopes, Meneres, Vila Nova, Torres Win 2019 Portuguese Dressage Championships at CDI Lisbon
Piaffe Performance' Young Guns Rock 2017 Dressage at Devon