Oldenburg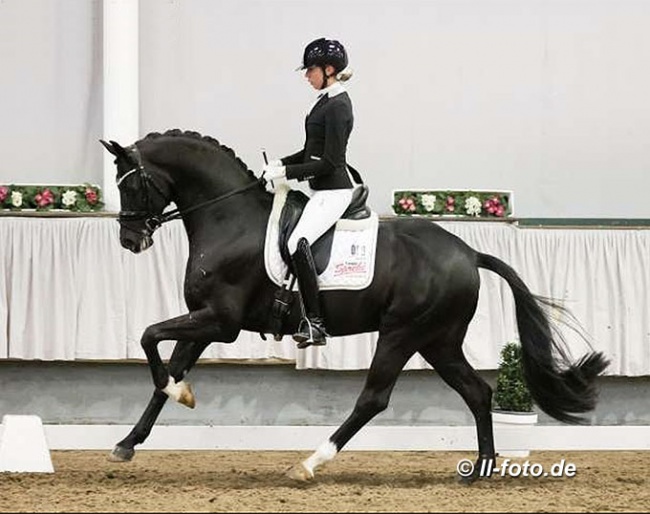 The 4-year old Flashbang and the 5-year old Dimaggio Black became the high scoring stallions in the sport test held in Munster-Handorf on 31 January - 2 February 2021. 
Twelve 4-year olds and fourteen 5-year olds participated. As there is no longer a threshold score to pass the test, all stallions that participated keep their licensed status. Like this the studbooks leave it up to the market/commerce to decide which stallions will be bred to and which not.
Flashbang
In the 4-year old division the Westfalian registered Flashbang (by Furst Jazz x Sir Donnerhall) became the top scorer with 8.84 points. Bred by Clemens Renvert and presented by Franka Loos, the stallion scored 8.5 for walk, 9 for trot and canter, 8.8 for rideability and 9 for general impression. The stallion is owned by Nils Kramer. Flashbang was presented at the 2020 KWPN Stallion Licensing but rejected. According to Horses.nl because he did not move uphill enough with an engaged hindleg. In October 2020 he was licensed at the Westfalian stallion licensing.
The Hanoverian bred Frankie Lee (by Franziskus x Spörcken) achieved the second highest total with 8.74 points. He scored 8.4 for walk, 8.8 for trot, canter and rideability and 9.0 for general impression. The horse is owned by Eugene Reesink. 
The third best scoring stallion was Bitcoin (by Bon Coeur) with a total of 8.32 points. He received 8 for walk, 8.4 for trot, 8.2 for canter, and 8.5 for rideability and general impression.
Dimaggio Black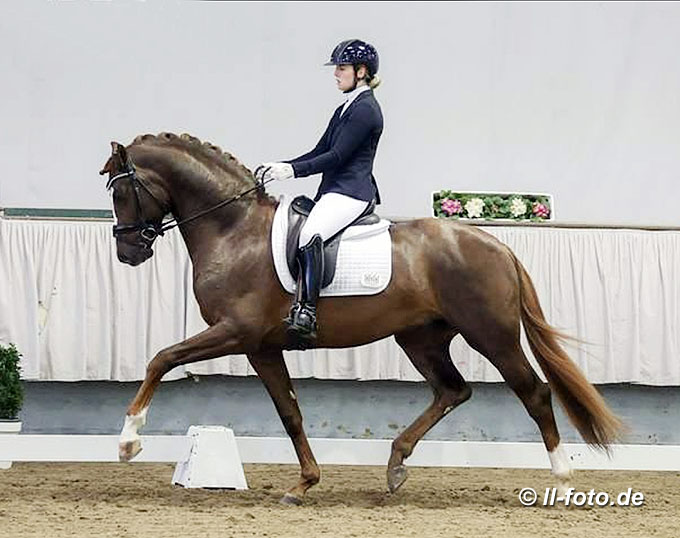 In the 5-year old group Australian Simone Pearce steered Gestut Sprehe's Oldenburg bred Dimaggio Black (by Dimaggio x Furst Heinrich) to the high score of 9.40 points. The stallion, who got approved at a private, home licensing, received 9.5 for walk and canter, 9 for trot, 9.5 for rideability and general impression. 
The total of score of 9.40 is the second highest ever given in a sport test. Don Martillo still holds the record of  9.52 points. 
The second highest score was achieved by  the Westfalian Belvedere DB (by Belissimo M x Danone) presented by Stefanie Wolf. Bred by Jürgen de Baey, Belvedere DB earned a total of 9.20 points with 8.8 for walk, 9 for trot, 9.3 for canter, 9.5 for rideability and 9.3 for general impression. 
The third best score was for the Westfalian Ellis (by Escolar) with 9.04 points. The dark bay got 10 for walk, 8.5 for trot, 8.7 for canter, and 9 for rideability and general impression. He is bred by Walter Droege.
Photo © LL-foto
Related Links
Fürst Dior and Gaitano, High Scorers at 2020 Munster Stallion Sport Test
Gaitano and Jovian, High Scorers at the 2019 Munster Stallion Sport Test
D'Alessandro and Caracciola MT, High Scorers 2018 Munster Sport Test
Daytona and Da Costa, High Scorers at 2018 Munich Stallion Sport Test
Zoom and Duracao, High Scorers at Second 2018 Munster Stallion Sport Test
Jovian and For Final, High Scorers at the 2018 Stallion Sport Test in Verden
Dante Quando and Bonds, High Scorers at 2018 Stallion Sport Test in Munster