2021 CDN Grote Brogel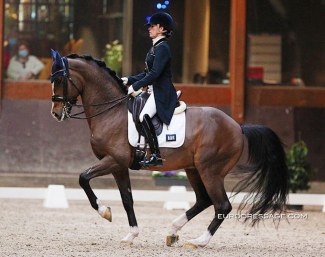 It is hard to imagine that one week ago we were standing in moon boots 10 centimeters deep in snow and with nights at -15 C° temperatures and yesterday, Sunday 21 February 2021, it was a balmy 18 c° with the sun brightly shining heralding early spring days.
Gosh I Missed It
Yesterday was also the day that I ventured out again with my camera after a 6-month hiatus from equestrian photography due to a lack of shows amidst the second wave of the corona pandemic. My last stint was the 2020 European Youth Championships in Budapest and since then, my camera has been lying packed in the office, figuratively gathering dust. 
Photographing horses is like riding a bike: once you get the hang of it, you never lose the skill. I must confess, I missed it! I wasn't really aware of it as I continued working on the computer the past half year, bringing everyone their daily dose of dressage, online.. but as soon as I arrived at De Breugelhoeve equestrian centre in Grote-Brogel, just 15 minutes from my home, I felt this boost of energy surging through my body. Seeing beautiful horses warm up, smelling the sweat, actually meeting some people again despite the social wasteland that corona has created. Chatting about dressage and life, and taking measure of how the sport in Belgium has developed. 
Wellington Mourning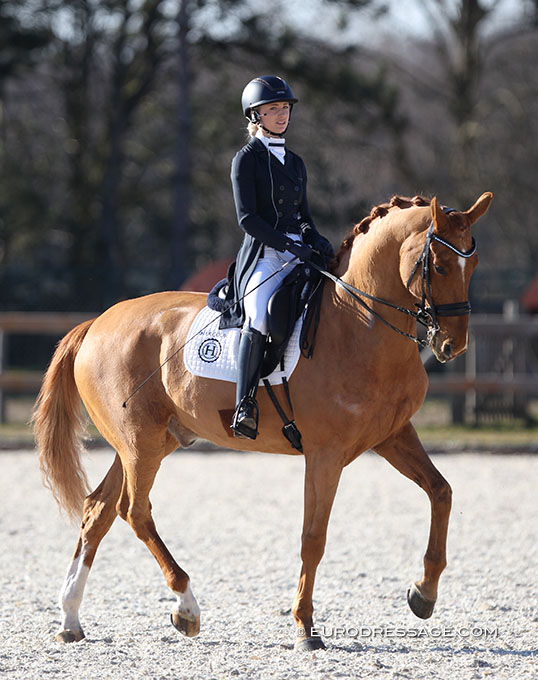 I have also been in mourning over my decision not to go to Wellington now. Normally I would have been at the Global Dressage Festival at this time of the year, making an inventory of the state of dressage in the U.S.A. while soaking up some sun and Vitamin D. However, with tourist travel prohibited, and the US Embassy in Brussels not giving me the required National Interest Exemption (NIE) to enter the country to work, I felt a bit rebellious (as well as lazy) not to pull strings.
The United States Equestrian Federation has been selling Waivers (which get you a NIE) at 350$ a pop to every CDI rider and their "staff". You could even get your pedicure over to Wellington if you exploited your rider connection and paid the ridiculous 350$ fee. However for press, there is no (free) entrance provided by the show!
In addition the thought of getting corona tested 4 times in two weeks, and a mandatory 10-day quarantine upon return home did not boost my morale either. 
National Fix
I don't go to national dressage shows very often, simply as my plate if full with internationals. However, with all those wonderful CDI's cancelled and travelling made such a hassle, I had to fall back on CDN's to get my horse fix. And boy was Grote Brogel fun the few hours I was there. 
I popped over quickly on Saturday for some business and to shoot the juniors, but returned on Sunday to watch the Under 25 and senior Grand Prix class. Belgium's base at Grand Prix level has been growing exponentially this past year. Team technical advisor Jeroen van Lent told me that for the monthly squad training session coming up 1 March with Jan Bemelmans, 25 spots were filled in a jiffy and that does not even include all Belgian Grand prix riders as there some who are based abroad or couldn't make it. I remember in the late 1990s there were in fact four Grand Prix riders at the time. Four !!
On Fire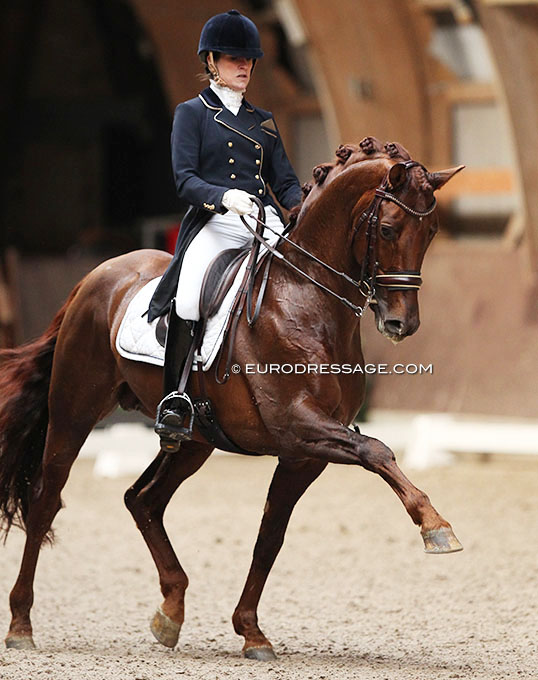 Of course my curiosity was also piqued by the coming an exciting new Belgian Grand Prix combination, Larissa Pauluis and Flambeau. Larissa is not a new face, coming from ponies through the levels, but her horse Flambeau is and his travels around Europe as a GP hopeful, then a jumper and then a sales horse I already described in this article.
Now I wanted to see Flambeau live, as well as several other pairs tackling GP for the first time (Kryptonite van de Performing Stables, Silent Gatano), or come back kids (Romy), or simply some horses I had never seen live yet (Dante DL, Dancing Diamond, Wadest). It was an all you can eat buffet!
There were 13 pairs in the senior Grand Prix and the class was won by Pauluis on her 11-year old KWPN bred Flambeau (by Ampere x Zeoliet). The horse is a tricky ride and Larissa was quite busy in the mouth throughout the test, but the horse's suspension in trot and passage and his steady cadence were wonderful to watch. Also the piaffe has tons of potential and rhythm, only the self carriage needs to improve. The pirouette left was a volte and there was a mistake in the ones, otherwise the score would have certainly been higher than their winning 72.700%.
Pauluis also ranked second on her 9-year old Westfalian stallion Valentin (by Vitalis x Fidermark), who is such a handsome fellow but his balls seemed to get in the way today. The gorgeous liver chestnut is very flashy in the extensions and has talent for the piaffe, but his main issue at the moment is the carriage from behind. In passage he sways in the hindquarters instead of stepping under and in the changes he gets croup high, but the young stallion certainly has plenty of time and room for growth. He scored 71.050%. 
Polished tests
There is certainly a lot of talent in Belgium, both riding wise and in horse stock.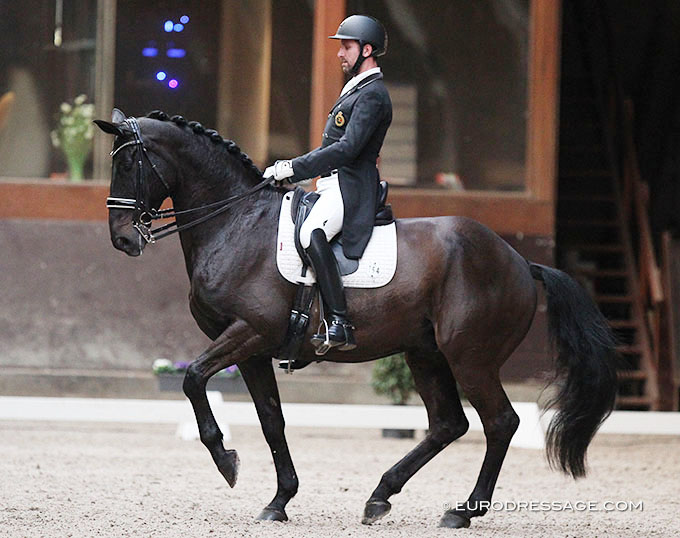 Domien Michiels and Marc Steeno's 13-year old Belgian warmblood Intermezzo van het Meerdaalhof (by Gribaldi x Balzflug) made it look like they were seasoned at Grand Prix. The bulky black gelding showed lovely trot extensions and half passes and a very nice extended walk. The passage was regular, but could have been more engaged from behind and in piaffe Intermezzo has a nice soft rhythm but could sit a bit more instead of leaning on the shoulders. The one tempi's were nice and straight. They scored 70.000%.
Alexa Fairchild is another Belgian rider who came through the system, from ponies to junior/young rider, through Under 25 and now in the senior Grand Prix. She represented Belgium at no less than 9 European Youth Championships and is now establishing herself as a Grand Prix rider. With 18-year old  schoolmaster Dabanos d'O4 (by Abanos x Donnerschlag) she can gain routine. Aboard her 15-year old Hanoverian mare Romy (by Rotspon x Rousseau) she has a second iron in the fire. Dabanos was always a hot cracker but under Alexa (and with age) he has become much more mellow and at ease with himself and his surroundings, enabling his rider to produce a very polished test. Had it not been for a mistake in the tempi and some irregularities in the passage, the score would easily have gone over 70. Now they were 5th with 69.100%. Aboard Romy she was fourth. The lovely mare has all the potential for a brilliant piaffe. She is one of the few making an attempt to really sit and rise in the withers and the tempi changes were lovely. In trot she could show more suspension and ground cover if she was a little less hand held overall. They scored 69.400% for a clean ride.
Fun to Watch
It was a very fun afternoon watching all the riders. Mannaerts rode her 12-year old Friesian who was very submissive and strutting his stuff the Friesian way.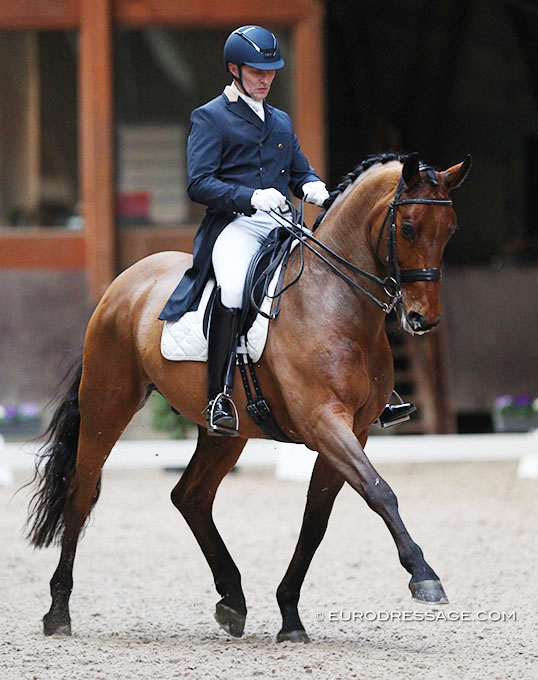 Jeroen Devroe has a very talented, green Grand Prix horse in the 12-year old SBS bred Dante DL (by Upgrade x Argentinus). The show jumping bred bay was extremely spooky and did not give his rider an easy round, but the were heaps of nice moments and the horse has a beautiful silhouette in the trot work and piaffe-passage. Work in progress. 
Justin Verboomen rode the 13-year old, Belgian bred Wadest (by Welt Hit II x Sandro Hit) to a 67.250% score. The refined looking stallion has a nice rhythm in piaffe but gets very narrow at the base. The walk was mediocre but overall Verboomen steered the horse through the test with much ease. 
Some of the nicest piaffe was shown by Claudia Dorpmans aboard the 12-year old Westfalian Dancing Diamond (by Diamond Hit x Fidermark) with an outstanding rhythm and on the spot. The horse was soft in the bridle at the start, but the pair lost communication in canter and some mistakes followed. 
Sam Verheyden rode Kristel Daelemans' 11-year old BWP bred Kryptonite van de Performing Stables (by Detroit x Charming) hors concours in the horse's first Grand Prix test. The pair showed mega extended trots and lovely passage. The piaffes were still a bit touch and go and the tempi needed a bit more straightness. They scored 69.40%
Text and Photos © Astrid Appels - No Reproduction allowed. If you want to use our photos for Social Media, email us and we'll send you a selection to choose from
Results - 2021 CDN Grote Brogel
Under 25 - Short Grand Prix
1. Numa Verberne - Silent Gatano  - 67,180%
2 Lore Vandeborne -  Ikke-pia V/d Bergerhoeve -  65,962%
3 Suraya Hendrikx - Black Beauty - 65,577%
4 Laura Luyten - Endy Bh - 61,282%
5 Aurélie van der Voort - Don Domingo - 61,026%
6 Lauranne Lammens - Hilcara Van Het Vijverbos  -  62,372%
Grand Prix
1 Larissa Pauluis - Flambeau -  72,700%
2 Larissa Pauluis - First- Step Valentin - 71,050%
3 Domien Michiels - Intermezzo Van Het Meerdaalhof - 70,000%
4 Alexa Fairchild - Romy - 69,400%
5 Alexa Fairchild - Dabanos D'o4 - 69,100%
6 Jorinde Verwimp - Cape Town - 67,550%
7 Patricia Mannaerts - Doeke Fan Berltsum - 7,500%
8 Jeroen Devroe - Dante Dl - 67,350%
9 Justin Verboomen - Wadest - 67,250%
10 Anne Ponsaerts - Carrera - 65,500%
11 Loranne Livens - Aragon L -  64,950%
12 Claudia Dorpmans  - Dancing Diamond - 63,750%
Sam Verheyden 168 Kryptonite Van De Performing Stables  - 69,400% (Hors Concours)
Related Links
Belgian Dressage Squads for 2021 Announced
Larissa Pauluis: Flambeau and Valentin, Bright Lights after 2020 Annus Horribilis
Dabanos D'O4 Returns, Grand Prix Schoolmaster for Alexa Fairchild
Alexa Fairchild to Helm Fashion Line and Horse Business for International Fairchild Sport
Van de Weyer, Hennes, De Jong, Luyten, Nyssen, Roos Win 2020 Belgian Dressage Championships