2021 CDI Wellington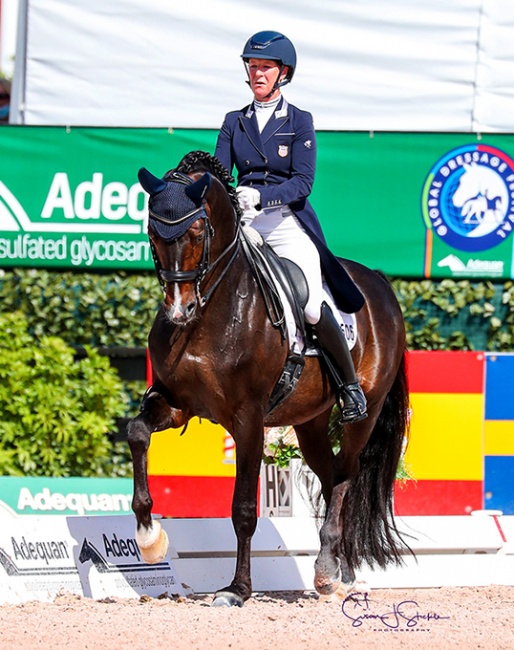 Week 7 of the Global Dressage Festival continued on Saturday 27  February 2021 with a second victory for the USA's Sabine Schut-Kery and Sanceo, this time in the Grand Prix Special 5*. 
Personal Best
Schut-Kery and Sanceo, Alice Womble's 2006 Hanoverian stallion by San Remo, marked their highest Grand Prix Special score to date, earning a 77.468%, more than four points higher than second place finisher Lindsay Kellock (CAN).
"I feel so much joy and have happy tears," began Schut-Kery. "It's very emotional. Aside from those feelings, to ride the test, you are focused in there of course, but it's also joyful. It's an amazing feeling to have an animal like that to respond to you in there with such small aids and cues. That amazing feeling is still there for me after 30-plus years, how we can communicate with an animal like that."
Stick to the Plan
The personal best score for the pair comes after a successful win on Thursday in the Grand Prix 5*, and Schut-Kery noted her appreciation for the team that supports the duo and has helped them get to this point.
"During the awards," Schut-Kery explained, "I thought, 'My gosh, there are so many people on my team, and I want to thank the ones behind me that keep a horse at that level.' The coaches, vets, farriers, grooms, and the owners of course. When you have such a nice ride, one that you've been working up to, those are the things that go through your head."
Schut-Kery noted that though Thursday welcomed a victory, it wasn't her favorite performance, and she was happy that she was able to stick to her plan to really ace the Grand Prix Special. She said, "How many times in your life do you have a plan and you hope you can stick to it, but it doesn't go right? This really feels like it all went to plan today. My goal was the special. I did it a week before in the National show to prepare because we had been out of the ring since November, so today was nice. Thursday was a little disappointing on my part as a rider, so it's nice that today it worked out so well. It's one of those special moments, and I know that I will always have to work hard for it, but it's a moment of joy."
For the past 12 years the California based Schut-Kery has been training with Christine Traurig, also now in Florida. Sabine has chosen Poinciana Farm as her home for the season this year. 
Kellock and Lyle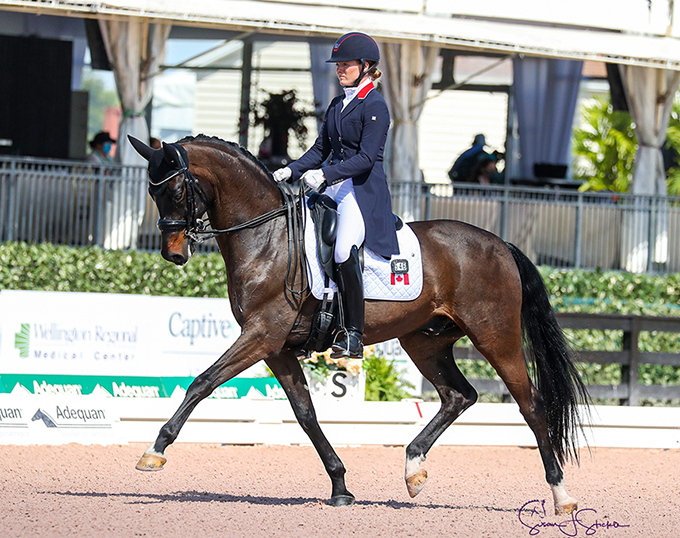 Kellock and Sebastien, Enterprise Farm Equestrian LLC and Lindsay Kellock's 2006 Rheinlander gelding by Sandro Hit, captured second place after riding to a 73.234%.
"I had a great feeling today in this test," Kellock noted. "Each time my horse goes in there I feel him get more and more confident in that ring, which then gives me the confidence to give him bigger aids or ask him to do more and be more expressive. As a rider, to feel him go in there and feel confident has really helped me ride a better test."
The pair has been working their way up in scoring throughout the season, and Kellock commented that she was particularly proud of her mount in what is only his second year competing at the International Grand Prix level.
"Today he gave me everything and more than I was asking," continued Kellock. "I felt like I could push his passage way more than normal, and he still came into that piaffe transition well. Normally that is a little bit difficult because he has such a big passage. I'm just happy with how it's all come together over the last year. Having this year for training has been big. This is only his second year at international grand prix so I'm really thrilled with where he is, and I just hope he can keep getting better."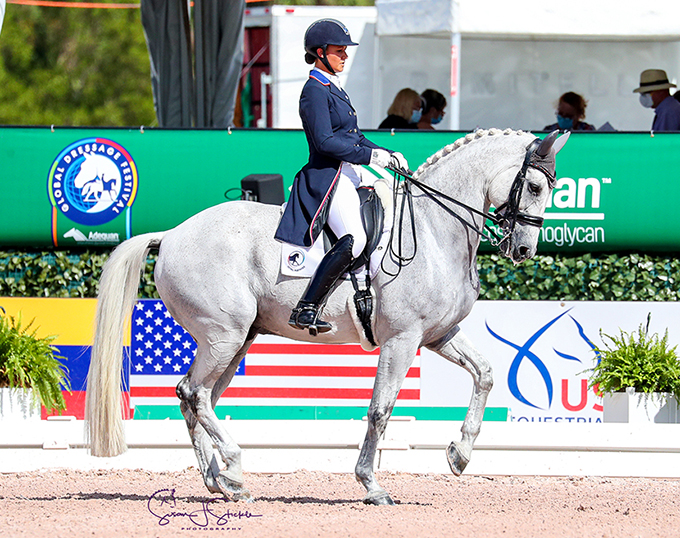 Adrienne Lyle (USA) rounded out the top three with Harmony's Duval, Duval Partners LLC's 2008 KWPN gelding by Rosseau, earning a 73.149%. Lyle said: "I was happy with today's ride. I thought we had improvement from the Grand Prix. He had a little bit more power, a little bit more engagement. With that, unfortunately, I lost a little bit of control in the one [tempis], and we had a costly mistake there. Overall, I thought the quality of the piaffe/passage was better today and more characteristic of what he was capable of."
Lyle also took a moment to congratulate Schut-Kery, stating, "I also have to say what fun it was to watch Sabine's amazing ride and watching those scores climb higher and higher to the point we know we're all trying to get the U.S. riders to. That made me cry on the sideline. It was so beautiful. That was my highlight of the day."
Fortmuller and Peters Collect Trophies
Earlier in the day, Canada's Pia Fortmuller topped the Intermediaire A 3* with Frieda, Lars Busch and Pia Fortmuller's 2011 Hanoverian mare by Furstenball OLD, with 71.176%.
In the Intermediaire I 1*, Steffen Peters (USA) took home another victory with Boreas FRF, a 2012 Oldenburg stallion by Bordeaux, owned by Five Rings Farm, with 73.206%. Peters also took second with Boston Strong, a 2010 Oldenburg gelding by Bordeaux owned by Christina Vinios, with a score of 70.794%. Third place went Eliane Cordia Van Reesema (USA) and Fellow, her own 2010 KWPN gelding by Amazing Star, scoring 69.559%.
-- GDF press release, edited by Eurodressage.
Photos © Sue Stickle
Related Links
Scores: 2020 CDI Wellington
2021 Wellington 5* without American All Stars?
Peters and Schut-Kery In the Blue in 5* Grand Prix Classes at 2021 CDI Wellington
Peters Wins 5* Kur, Kelly Layne Rides Second Personal Best in 3* Kur at 2021 CDI Wellington