Seat Instruction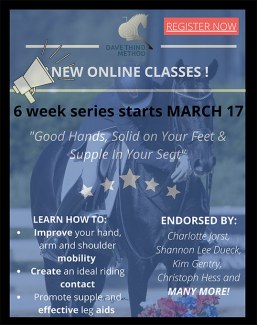 Dave Thind Method is proud to announce two new at-home learning opportunities; a series of live-classes and for those that can't attend, a new series of pre-recorded classes. Hopefully something for everyone, especially with two separate topics.
Dave explains how powerful and transformative Dave Thind Method (DTM) Feldenkrais Awareness Through Movement® lessons are for riders, offering the potential to be much more transformative than traditional learning done while on horseback. Especially in the case of riders riding for years.
Awareness of your Seat through Movement Lessons
"Almost always, taking riders out of the saddle, out of the barn and perhaps even out of gravity where they lay down at home to do small movement lessons leads to the biggest change," Thind explained. "In my experience, much easier and more lasting in a full body, and functionally integrated way. Simply put, we teach the nervous system new possibilities and paint as vivid and clear a picture of new, better options for the same function. Without force or correction, we give our nervous system the chance to compare, contrast, and then choose what is easier, simpler, softer, akin to a reset button."
A DTM trained rider is very different from someone who learns to "work hard" and "correct" their posture in order to make it look it should while riding.
Dr. Feldenkrais explains this phenomenon in his own words: "No voluntary direction can correct bad posture. However, it does change the appearance of the body—not by lifting the contraction that needs lifting, but by enacting a compensatory one. The segment changes its appearance and looks roughly as it should, but not without the strain of voluntary action. By constant vigilance and self-reminding, one learns to maintain two conflicting contractions."
NEW LIVE CLASSES - "Good Hands, Solid on Your Feet & Supple In Your Seat"
6 Week Online Class Series starts March 17, 2021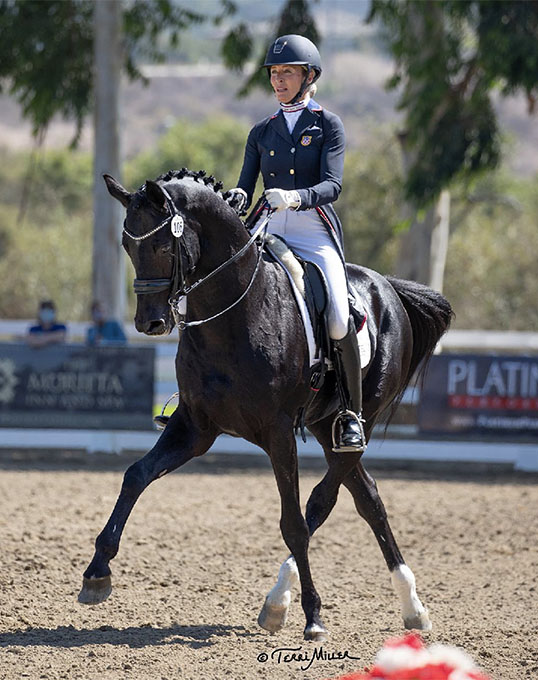 New online classes via zoom starting in two weeks - This 6 week series of online Zoom workshops will have a specific focus on finding pathways to relaxation and suppleness in your body and reframing the nervous system's response to normal "holding patterns" in order to improve contact and connection between horse and rider.
Register here: https://www.davethindmethod.com/event-details/good-hands-solid-on-your-feet-supple-in-your-seat
Early-bird pricing valid until this Wednesday.
During this class series riders will explore how to correct movement patterns, increase mobility and ultimately develop proper function in the vital anatomy parts that affect contact (hands, arms and shoulders). In addition, riders will learn proper ways to use relaxed, sensitive and effective leg aids from hips down to the toes. In addition there will be a special bonus, two full classes devoted to rider toning to improve your physical strength - without compromising flexibility and elasticity.
Creating ideal contact is something that even top riders need to work to improve every day. However thanks to Dave Thind Method (DTM) and its Feldenkrais "Awareness Through Movement" lessons adapted for riders of all levels and disciples, there is a fast track to success! Something you can do from the comfort of your own home.
NEW SET OF RECORDED CLASSES - "Dave Thind Method Skeletal Strength"
Read more here: https://www.davethindmethod.com/single-post/student-favorite
This last series appears to have been a student favorite! On the last day of class, Dave asked students in both classes to describe how they now felt in their bodies after the 6 week long series. We have highlighted just some of what our students had to share below.
This work is SO powerful, as evidenced here, and we are so proud to be able to share Dr. Alon's legacy and body of work as translated for riders. 

"I recently rode in a clinic and got a compliment that I had a 'good seat'!!! I really never considered myself to have a Good seat . Just ok. Kudos to you!!" - Deborah T
"The feeling of being more grounded, centered and strong is incredible" - Christine G,
"Connecting the parts together. Learning how each half of me is different" -Karen A
"The new awareness that very small movements can be very effective" -Kate C
"Feeling the freedom to move. Not being in a stiff perceived position" -Erin
"More connected to my whole body" -KristinAnn J
"Pelvic and heel tapping helped me become more aware of my movement" -Christy D
"Feeling more grounded" -Joanne M
"My horse thanks you for the positive changes in my riding. I've become softer, and been able to get out of my head and let my body respond to the movement felt underneath me. Looking forward to your March class." - Kerry S
"I discovered that just listening to you and to my own body worked very well.  That's how I would ride...create a bubble with Sunshine (my gelding) and then open my ears to my trainer.  Pretty amazing how muscle memory stores these simple movements.  Also interesting that old body habits work against balance." Susan A
"I found this series so very different & the timing has been remarkably astute - the sense of optimism during & post sessions and onwards during the week is subtle yet very powerful . Your sessions truly turn my week around and allow a time to pause , recalibrate but also energize with self confidence.  I am so deeply grateful to have found you & your work - each week, day, I find inspiration and I have found my voice on many levels, and saying thank you doesn't really express this enough." Jan J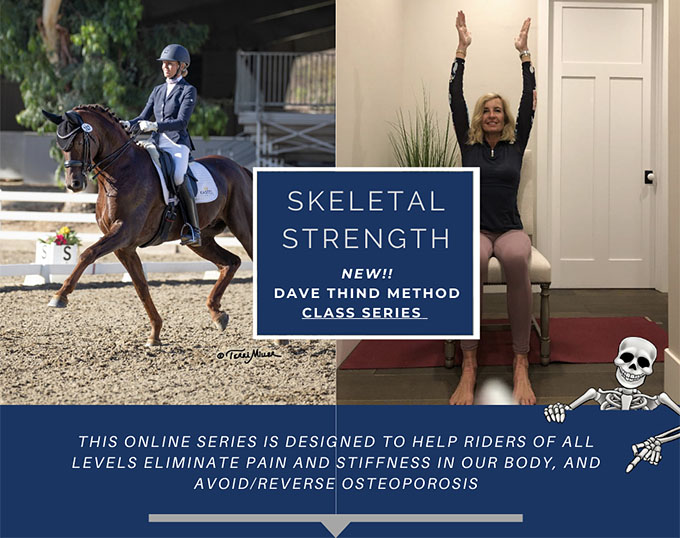 Janet M wrote a more elaborate account of her experience: 
"Your classes have helped me SO MUCH! Have done little more than easy walk trot around the arena a few times in past year due to injuries incurred from condition that caused bone disease and bone damage in vertebrae. With these classes, have found a way to discover new awareness in my body. It also integrates well with physiotherapy and chiropractic work. Discovered weak areas of neuromuscular connection in pelvis and SI joint area. Am making stronger connections with brain and muscle groups. Explains areas of my riding difficulties. If I am not giving my body the message I think I am, then my horse is not going to be able to know what I am asking! Because your classes connect the movement teachings of Feldenkrais and Dr. Alon to riding, it gives me more context and purpose to work on improving awareness and developing necessary neuromuscular communication. Thank you so very much. Enrolling in your classes was my first Zoom experience. Am a bit uncertain and self-consciousness in using Zoom, yet am so grateful because it made it possible to participate in these classes! As a result, haven't spoken up during or after class because not sure of all Zoom features. Writing this to let you know that your teaching has been very helpful and valuable! Am already signed up for Good Hands,... and looking forward to it! " - Janet M.
Related New Scientific Study
Central to DTM philosophy is that a good seat moves, especially the pelvis.
According to a research study published by MDPI and funded by the Danish Horse Levy Foundation, there is a direct relationship between Rider Pelvic Mobility and harmony during riding. The study also helps riders understand what types of unmounted mobilizing exercises can directly help improve their riding and see clearly that static balancing exercises won't positively influence riding performance (even though they might be helpful for other things or perhaps even considered "healthy").
"It appears that the ability to actively move the pelvis is more relevant to equestrian performance than static balancing skill. Horses ridden by riders with better pelvic mobility and control showed significantly fewer conflict behaviors. On the contrary, high scores for balancing on the gymnastic ball were negatively correlated with the horses' working heart rates, suggesting a less energetic performance. Pelvic control and mobility may be predictive for equestrian skills and riding harmony."
Try a Free Dave Thind Method Class
Here is a FREE DTM class on this very subject! https://youtu.be/4n-352SJtsg
For the latest news and information, follow Dave Thind Method on Facebook and Instagram.
Related Links
New Dave Thind Method Class Series on 20 January 2021: Maximise Bone Health, Improve Stability and Strength for Riders
Improve Your Seat and Be Pain Free - Dave Thind Method: "Each Week Has The Potential For New Beginnings"
Christoph Hess: "The Most Important Part of Training a Horse is Training the Rider's Position"
Two Spines Together: Biomechanics Specialist Dave Thind to Host Online Talk with Suzan Oakley, DVM