Sportpferde Scholz Auction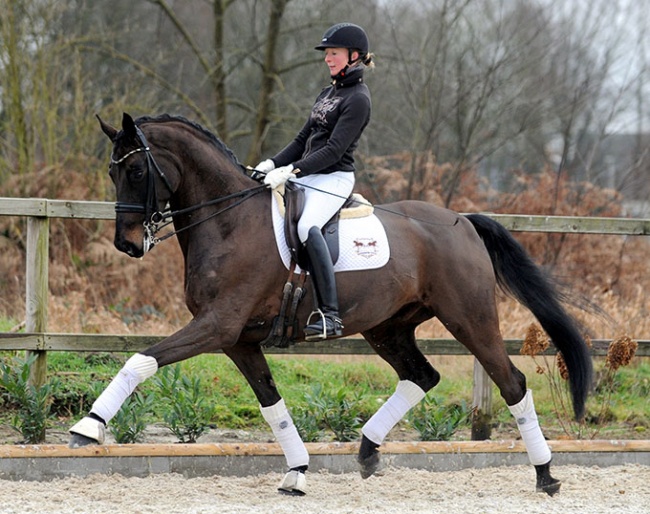 First Choice became the top selling horse in the 2021 Sportpferde Scholz Auction No 1, which was held in Warendorf, Germany, on 28 February 2021.
Organized by German horse dealer Fabian Scholz, this auction was a hybrid event with live bidding on the scene as well as online. 
A collection of 24 horses was on offer ranging from youngsters to Bundeschampionate participants as well as confirmed S-level horses. Twenty-one horses sold.
The 9-year old First Choice (by Furstenball x De Niro) was the top seller, switching owners for 240,000 euro. He will be ridden by a German young rider from Munster. 
The second most expensive horse was the 10-year old Holsteiner bred Die Lütte (by Casall x Calido I). The Baumgurtel family bought  the horse for 185,000 euro. He is intended for Lana-Pinou Baumgurtel.
Thomas Stuhldreier of Haus Möllenbeck acquired the 6-year old German Sport Horse bred First Touch (by Rock for You x Samba Hit I) for 125,000 euro. 
Scholz' first auction of the year 2021 produced a turnover of over 1 million euro. 
"I am absolutely happy with the result of the auction," said organizer Fabian Scholz. "I'm really thankful for the trust and support from the buyers. It was a really nice auction with a wonderful atmosphere. We had a live piano player and singer who played when the horses were presented."
The other horses fetched the following prices: Christ Junior (by Christ x Wesley) went for 92,000 euro, Fiorano (by Feiner Bedo x Insterburg) and Zumstein (by Zack x Florencio I) both sold for 44,000, La Valencia (by Le Vivaldi I x Swarovski) for 42,000 euro, Furstenwelt (by Fürst Nymphenburg I x White Star) for 36,000,  Quadratur des Kreises (by Quantensprung x Totilas) for 29,000 euro, Feinschliff (by Fürsten Time x Belissimo M) for 27,000, Bernsteyn (by Borsalino x Fidertanz) for 20,000 euro, Lemon 19,000 euro, pony Glitzerstern (by Golden Atreju x Lucky Strike) went for 18,000 euro, Zazou (by Zack x Catoo) 17,000 euro. 
Formidable (by Feuertanz x Sandro Hit), Fraulein and Feine Zaubermaus (by Fürst Romancier x San Amour) all went for 15,000 euro;  Firlefanz (by Fürstenball x San Amour) for 10,000 euro and La Vita (by De Niro x Jazz) for 9,000 euro. 
Related Links
Countdown is on for Auction No. 1 by Sportpferde Scholz. Horses for Everyone's Wishes
Collection Online for 2021 Sportpferde Scholz Auction No.1
Sportpferde Scholz Auction: Exceptional First Lot for Auction No.1