2021 CDI-W Wellington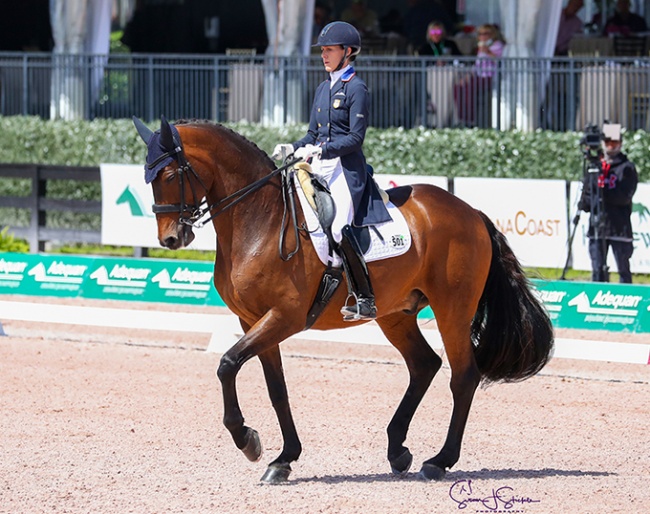 The Palm Beach Dressage derby week at the 2021 Global Dressage Festival (AGDF) concluded on Sunday, March 7, with the World Cup qualification season wrapping up for the 2021 World Cup Finals in Gothenburg on 31 March - 4 April 2021.
The CDI-W Grand Prix kur to music was won by USA's Olivia LaGoy-Weltz and Rassing's Lonoir. 
Second place in the Grand Prix Freestyle CDI-W, presented by Wellington Agricultural Services went to Canada's Jill Irving on Arthur, Windhaven Farm's 2005 KWPN gelding by Jazz, with 76.095%. Mette Rosencrantz and the Oldenbrug bred Dzeko (by Dimaggio) finished third with 72.11%. 
Ticket to Gothenburg for Lagoy-Weltz
LaGoy-Weltz had her sights set on the 2021 Dressage World Cup™ Final in Gothenburg, Sweden, and the ride today secured her ticket for the North American League after earning another personal best, 83.570%.
"I think there was relief when we came down that final centerline," admitted LaGoy-Weltz. "There was a small fear that since this was the last World Cup qualifier, something would go wrong, and you really just hope you make it to the end of the test."
Though the pair was just on the cusp of 90% for their artistic marks, LaGoy-Weltz noted that she wasn't sure how it went until the pair left the arena and she got feedback from her team.
"I don't always know how it went," she said. "I'll come out like, 'Was it good?' and everyone's like, 'It was amazing!' I think we are all such perfectionists, and we are always finding things here and there that could be better. He's quite extravagant so I don't always know what his legs are doing under me. When you come out and everyone is excited, there is relief. He's such a special horse, and though he is getting older, it just seems like we are just getting better, and I feel very lucky that it's going that way."
Same Pattern
LaGoy-Weltz didn't alter her freestyle since the last time she rode it in the International Stadium, and explained her reasoning on keeping it the same, though she and the 2004 Danish Warmblood gelding by de Noir owned Mary Anne McPhail and LaGoy-Weltz do have other variations of it.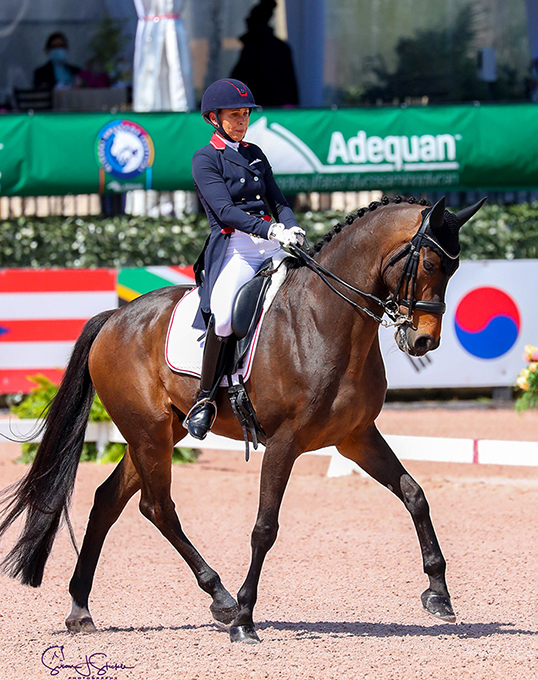 "It's still the same pattern and the same music," she commented. "Marlene Whitaker made it for us and it's really still the first draft, but I feel like she got it quite good, and I like familiarity. We have versions with small tweaks, but I feel like I know this one well, and it works, so why change it? It's quite a challenging pattern. There's a lot in it, and it takes a lot of focus to ride, on his part and mine, but I like it a lot and I think Marlene did a fantastic job with all of it."
She continued, "I don't think I will change it at all for World Cup Finals. I'll probably keep it the same. It is the maximum degree of difficulty, so if I do anything more difficult. I don't get rewarded. I think this seems to be working. That would be more risk without reward. It's just about getting it a little more polished and better. He's quite capable of doing the pattern, so it's just about honing it in a little more."
Judge Jane Weatherwax also applauded LaGoy-Weltz's freestyle, stating, "The thing that I really appreciate about Olivia and her horse is the harmony that we get from them and the nice self-carriage. The risks that were taken, and there was a great deal of difficulty in that freestyle, it all paid off. They were very calculated. I never worried about her getting it done, and the music was fantastic. Today they were right on it together. When something goes so well, and as a judge you aren't worried about anything, it makes it very enjoyable to watch."
Lagoy-Weltz' win in the CDI-W Kur secured her a ticket to Gothenburg. She will be joined by Charlotte Jorst on her Dutch warmblood stallion Nintendo.
GDF press release, edited by Eurodressage
Photo © Sue Stickle
Related Links
Scores: 2021 CDI-W Wellington
Tears of Joy for Winner Nick Wagman at the 2021 CDI-W Wellington
Wagman and Don John Kick Off 2021 Palm Beach Derby Week with Win
USEF Postpones Decision on European or U.S. Observation Events for Olympic Team Selection
Lagoy-Weltz and Lonoir Have Eyes on 2021 World Cup Finals, Not Yet on U.S. Olympic Ranking
Koschel Wins 2021 Palm Beach Dressage Derby, Fifth Consecutive Title