2021 CDI Wellington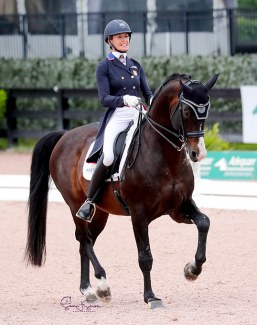 The 2021 Global Dressage Festival (GDF) in Wellington, FL, concluded on Sunday, April 4 with a victory and a personal best score for Charlotte Jorst (USA) and Nintendo in the Grand Prix Freestyle 3*. 
Pirates of the Caribbean Kur
Jorst and Kastel Denmark's 2003 KWPN stallion by Negro rode to a "Pirates of the Caribbean"-themed freestyle, highlighting the horse's big movement and showcasing his talent for the piaffe and passage. The test ultimately won them a 77.400%. "It feels great to hit a personal best," began Jorst "but to be honest, now it has me wanting more!"
She continued, "I've had lessons with Debbie [McDonald] this week, and that has really seemed to help me finesse those little things that needed to be finessed. He was great in the Grand Prix, so yesterday I just walked him out. Today, I just warmed up a little beforehand to keep him fresh. He loves it, and he really loves his job."
"Pray I'll Have Another Season with Him"
The pair, based on the West Coast for the remainder of the year, have enjoyed Florida this season and Jorst admitted that each season she likes it more and more. "This season I've been here longer than I ever have in the past," she explained. "There's just so much kindness here. I feel like in this community in Florida is one family. For me, this has been an incredible season full of personal growth and friendships. It's really been an incredible season for me on all fronts, and it never ceases to amaze me how incredibly supportive this community is."
Jorst also has several talented up-and-coming horses in her string, but said that Nintendo will always have a special place in her heart. "He's 18," she pointed out, "and I literally pray every day that I'll have another season with him. I've been so fortunate. I was racking my brain all night what I was going to do when I get home and what would be the best rest period for him and all of that, so I spend a lot of my mental energy on making sure that he is okay because he is so dear to me. I just want him to continue to feel good. I feel very fortunate and happy about my upcoming horses, but Nintendo still has a very special place in my heart."
Second place in the Grand Prix Freestyle was presented to Dong Seon Kim (KOR) on DSK Belstaff, his own 2007 Hanoverian stallion by Brentano II, who rode to a 73.665%. Third went to Mikala Munter (USA) on Salsa Hit, Cara Broderick and Mikala Munter's 2009 Oldenburg gelding by Samba Hit III, with 72.530%.
More Small Tour Trophies for Kim
The Intermediaire I Freestyle CDI3* was topped by Dongseon Kim (KOR) and his own Lord Nunes, a 2012 Rheinlander stallion by Lord Loxley I, who earned a 72.850%.  Second place went to Elaine Cordia Van Reesema (USA) on her own 2010 KWPN gelding, Fellow, (by Amazing Star), earning a score of 70.075%. Third was rounded out by Spain's Paula Matute Guimon on Deborah Ann Berger's 2005 Hanoverian gelding by White Star, Legacy's Walentino, with 69.150%.
The Intermediaire II 3* awarded victory to the USA's Chase Shipka on Gladstone Zee T, her own 2011 KWPN gelding by Apache, with 68.412%.
GDF press release, edited by Eurodressage
Photos © Sue Stickle
Related Links
Scores: 2021 CDI Wellington
Kim and Lord Nunes Score Fifth Trophy in Final Week of 2021 Global Dressage Festival
Lyle and Salvino Return after 13-Month Hiatus to Score 80% at 2021 CDI 4* Wellington
Personal Best Instead of World Cup Final for Yvonne Losos de Muniz at 2021 CDI Wellington
Losos and Lyle Ride More Personal Bests at Final Wellington Competition of the 2021 Season