Germany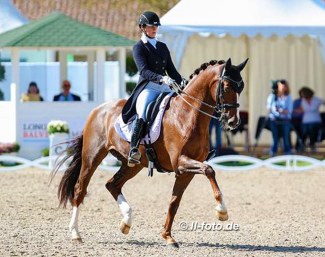 Dressursport Deutschland disclosed today the process for German team selection for the 2021 European Under 25 Championships, which will take place in Hagen, on 7 - 12 September 2021.
Due to the changing competition conditions with the corona pandemic and recent EHV-1 outbreak, some rescheduling had to be done by the German Equestrian Federation. 
A planned squad training seminar in March has been pushed to April. German senior team trainer Monica Theodorescu will give a training seminar to the riders in the Deutsche Bank Riding Academy, while German U25 team trainer Sebastian Heinze will hold a training seminar with the Piaff Forderpreis U25 riders. 
The Riders
Jil-Mariele Becks, Hannah Erbe, Ann-Kathrin Lindner and Raphael Netz are part of the Deutsche Bank Academy.
U25 squad riders Evelyn Eger, Ellen Richter and Alexa Westendarp are grouped with the Piaff Forderpreis candidates alongside the 2021 Piaff nominees (Kirsten Biermann, Lisa Breimann, Niklas Brokamp, Joana Peterka, Henriette Hachmeister, Felicitas Hendricks, Paulina Holzknecht, Rebecca Horstmann, Semmieke Rothenberger, Anna Schessl, Alina Schrader ,Susanna Schmaus, Sophie Stilgenbauer, and Lisa Welschof). 
Selection Process
On 29 April - 2 May 2021 the first Piaff Forderpreis qualifier will take place in Mannheim, where all riders are asked to bring their top horses for observation. 
The selection trials will be at the German Under 25 Championships in Balve (3 - 6 June) and the Piaff Forderpreis qualifier at the CDN Elmlohe (29 July  - 1 August).
A short list will be drafted after Elmlohe. 
Open Door
A door is left open for late comers this season who might not be ready yet at Mannheim, but could shine in Balve. Five extra spots are kept available for Balve
"We have often had couples who 'blossomed' during the season. This year I have one or two ideas, new riders with new horses, for whom Mannheim is still too early, but who may be ready in Balve," Heinze told Dressursport Deutschland.
Photo © LL-foto
Related Links
Hagen Allocated 2021 European Under 25 Championships
Alina Schrader Surprises and Wins 2021 Piaff Forderpreis Selection Trial, Thirteen Qualified for 2021 Show Circuit
Ann-Kathrin Lindner Wins 2020 Piaff Förderpreis Finals for German U25 Riders