Oldenburg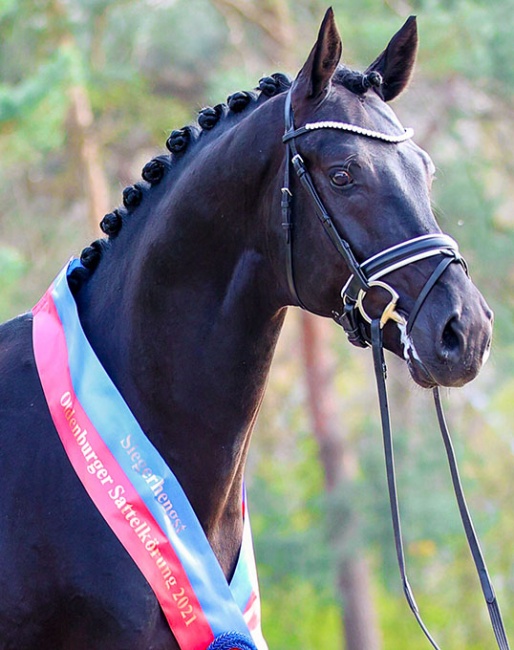 The stunning Champion Stallion of the 2021 Oldenburg Saddle Licensing in Vechta is the strong moving Splendid.
Splendid is a 2017 born stallion by San Amour I out of N-Infinity (by Dream Boy - Friedensfürst/T) and is bred and owned by the Dutchman Rob Zandvoort, who is based in Belgium.
Splendid Champion
"A majestic appearance when he enters the ring: black, very swinging and long-legged with a lot of shoulder freedom and good mechanics. We expect a lot from this stallion for the upper dressage sport, who is equipped with the necessary sensitivity and the right attitude," said Oldenburg's licensing commissioner Bernhard Thoben when describing the winner.
The test rider Charlott-Maria Schürmann enthused: "The feeling is mega, I have never ridden such a great stallion before". The exceptional talent with his noble bloodlines comes from a successful dressage dam line: Dam N-Infinity was already successful at advanced level at the age of seven. Grand dam Fatinitza was a Grand Prix winner under Tatyana Makarova, RUS. Out of the dam line: European Champion Rendezvous under Michael Klimke. The stallion is for sale in the Online Auction.
Foundation x Wynton Reserve Champion
The Reserve Champion title went to a son by Foundation out of Gwendolyn by Wynton - Ferro - De Niro, bred by M.C. van't Hoff from the Netherlands, and presented by Gestüt Bonhomme from Berlin.
Dam Gwendolyn is the sister of the licensed stallion Le Formidable by Bordeuax. His second dam Vienna is the sister of the star sire Bretton Woods by Johnson under Matthias Alexander Rath.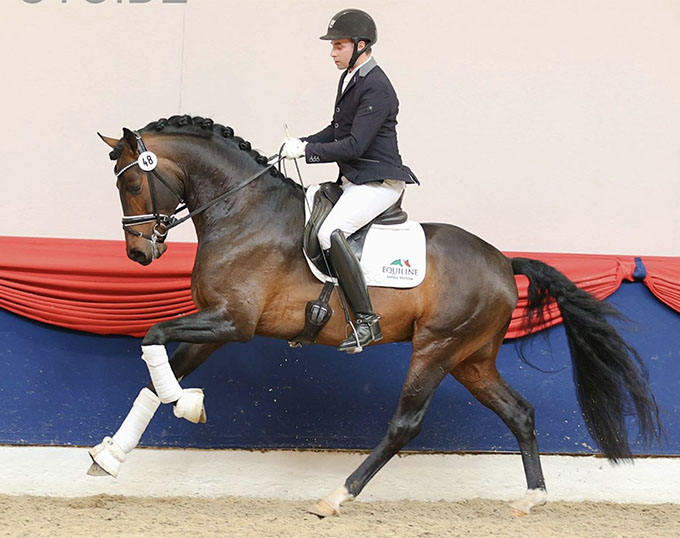 The third ranked premium was awarded to a stallion by Frascino out of Fahra-Diva by Lauries Crusador xx - Dormello - Placido, bred by Frank & Christine Lange, Porta Westfalica, and exhibited by Peter Aringer from Herford.
His great grand dam Farena is the sister of the World Cup winner Delaunay OLD by Dr. Doolittle under the Swedish rider Patrik Kittel. A highlight of this performance was a very ground covering, tactful walk. The stallion is for sale.
All in all, the licensing committee of the Verband der Züchter des Oldenburger Pferdes licensed nine out of 14 stallions.
Online Auction
Today, 19 April, from 9:00 p.m. you have the opportunity to bid for the Champion Stallion as well as some licensed and non-licensed stallions of the Oldenburg Saddle Licensing.
The Online Auction ends on Wednesday, 21 April. Trying out of the stallions will take place on Tuesday, 20 April, and on Wednesday. Trying out by appointment only.
Licensing Results
The licensed colts are:
1. Splendid (by San Amour I - Dream Boy - Friedensfürst) - Breeder & Owner: Rob Zandvoort, BEL
2. nn (by Foundation - Wynton - Ferro) - Breeder: M.C. van't Hoff, NL - Owner: Gestüt Bonhomme
3. nn (by Frascino - Laur.Crusador xx - Dormello) - Breeder: Frank & Christine Lange - Owner: Peter Aringer
nn (by Bonds - Stoiber SN - Rubioso N) - Breeder: Matthias Acker, Biedenkopf - Owner: Sandra Grede
nn (by Da Costa - Dankeschön - Hochadel) - Breeder & Owner: Arndt Schwierking
nn (by Desperado - Jazz - Flemmingh) - Breeder: Bemi Hoeve, NL - Owner: Reesink Horses, NL
First Rockstar (by For Romance I - Rock Forever I - Florestan) - Breeder & Owner: Maria-Antonia Burczyk 
nn (by Henkie - Jazz - Uniform) - Breeder: Gebr.Lemmen, NL - Owner: Aris van Manen & Adelinde Cornelissen, NL
So Athletic (by Sezuan - Belissimo M - Donnerhall) - Breeder: Gestüt Greim - Owner: Helgstrand Dressage 
Related Links
Colts Accepted for the 2021 Oldenburg Saddle Licensing
2021 Oldenburg Saddle Licensing: Top Stallions up for Licensing and Auction
2021 Oldenburg Saddle Licensing: Quality Counts
Previous Saddle Licensings
Fynch Hatton, Champion of the 2019 Oldenburg Saddle Licensing
Zac Efron, Champion of the 2018 Oldenburg Saddle Licensing
Texas Tokio, Champion of the 2017 Oldenburg Saddle Licensing
Zodiakus, Champion of the 2016 Oldenburg Saddle Licensing
Boreas, Champion of the 2015 Oldenburg Saddle Licensing
Fursten-Look, Champion of the 2014 Oldenburg Saddle Licensing
Best of Gold, Champion of the 2013 Oldenburg Spring Stallion Licensing
Furstenstein, Champion of the 2012 Oldenburg Spring Stallion Licensing