2021 CDI-W Wellington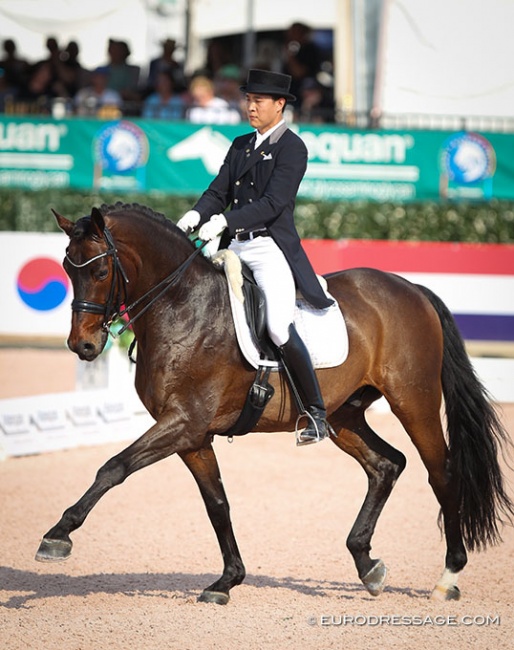 For Korean Olympian Dong Seon Kim his return to Wellington, Florida, was a major success. On his campaign to secure an Olympic individual slot for Tokyo, he ended up claiming no less than eight victories in two months time at the 2021 Global Dressage Festival. 
Supported by a brand new sponsorship with Korean Air, Kim brought four horses to Florida, of which he competed two at Grand Prix level and two in the small tour. 
The 31-year old Kim is Korea's third Olympic dressage rider and he has his mind set on a second Olympic participation in Tokyo.
Bringing Dressage to Korea
Kim began his international dressage career in 2006 a a 17-year old young rider, representing his country at the 2006 Asian Games in Doha, Qatar, on the Dutch warmblood Pleasure (by Pilot Pur x Bustron). Four years later he competed the same horse at the 2010 Asian Games in Guangzhou, China. 
His first Grand Prix mileage he earned aboard Holsteiner Layout (by Linaro x Fernando) and Romario (by Rouletto x Ganymed). His drive to ride at the highest level of dressage sport took him to Wellington, Florida the first time in 2008 when he was just 19 years old. 
The Korean rider, who is amicably known as "Peter", combined his riding with an academic career in the U.S.A., studying political science of Dartmouth College in New Hampshire. 
Kim's Grand Prix career shifted into a higher gear when he purchased the Swedish warmblood gelding Bukowski (by Briar x Junius xx) in Germany from Fiona Bigwood and Anders Dahl. He made his debut on the bay gelding at the CDI West Palm beach in 2012 and campaigned the horse in America through 2013. 
Kim's most successful competition year, so far, was in 2014 when he rode Bukowski  to a 17th place in the 2014 World Cup Finals in Lyon, France, and represented his country at the 2014 World Equestrian Games in Caen, France. One month later, he finished second at the 2014 Asian Games in Incheon, Korea, with small tour horse Finally (by De Niro x Caprimond).
A life-long dream was fulfilled in 2016 when he steered Bukowski down the centerline at the Olympic Games in Rio de Janeiro, Brazil, as third Korean Olympian in dressage, following in the footsteps of Jung Kwun Suh (1988 on Klimke's Pascal) and Joon Sang Choi (2004).
In 2018 they pair concluded their partnership with a last start at the World Equestrian Games in Tryon after which Bukowski was retired from international competition sport.
Olympic Fire Burning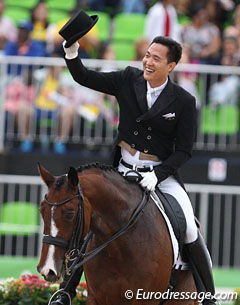 Although Kim has recently been oscillating between a professional career in business and finance or and one as a professional dressage rider and trainer based in Korea, the Olympic fire is still burning deep inside. 
In 2019 an individual Olympic slot was secured for Korea by Young Shik Hwang. Unfortunately this German based Korean rider no longer has top horse Despino to compete and only recently purchased a new Grand Prix horse with which he has yet to make his international show debut.
For routinier Kim the road is wide open as he already fulfilled the Minimum Eligibility Requirement (2x 66% in a CDI) in Wellington.
Korean Air Sponsorship
Korea is a proud country that stimulates and supports its athletes to shine on the Olympic stage. Korean Air, the largest airline and flag carrier of South Korea, decided to shoulder Dong-Seon Kim's efforts to make it to Tokyo. 
"Korean Air and the new chairman, Mr Won-Tae Cho, have so generously sponsored the flight of my two horses from Korea and the flight for me and my grooms," Kim told Eurodressage. "It started when I sent them a proposal detailing my plans to compete in Wellington and hopefully the Tokyo Olympics. Korean Air generously accepted the sponsorship."
Korean Air brought Peter's two top competition horses to Florida at the beginning of February and will pick them back up at the end of April. 
Eight Trophies in Wellington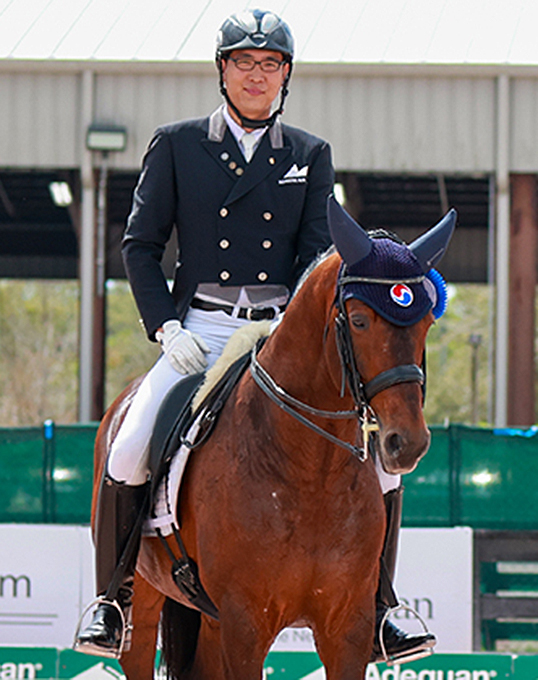 At the 2021 Global Dressage Festival in Wellington, Kim has consistently been in the ribbons with his two top horses: Grand Prix horse DSK Belstaff (by Brentano II x De Niro) and small tour horse Lord Nunes (by Lord Loxley x Jazz). 
Aboard his Tokyo hopeful DSK Belstaff, Kim won the Grand Prix Kur to Music with 72.910% on 19 March 2021, placing second three times and third twice. His Grand Prix high score was 68.500%
"I do hope for Tokyo with Belstaff," he explained. "There is one other contender who is also vying for a spot, but hopefully I get a shot to go. Even if that doesn't happen, it's still been a great season, and Tokyo isn't my end goal – that is to do well within the sport.I really enjoy the process in itself."
Kim also competed the 9-year old Rhinelander Lord Nunes is 12 small tour classes and won no less than 7 trophies, He never placed outside the top three with this horse and produced a high score of 73.930% in the Intermediaire I Kur to Music. 
"I've had Lord Nunes since he was five and I developed him a lot by myself," said Dong Seon. "It's really meaningful that a horse can come from Korea all the way here to the USA and still perform well and be as successful as he's been."
Training and Development
In Wellington, Dong Seon was coached by German A-squad rider Frederic Wandres. 
"Freddy has been helping me here. I'm very happy to train with a top german A-team rider," said Kim.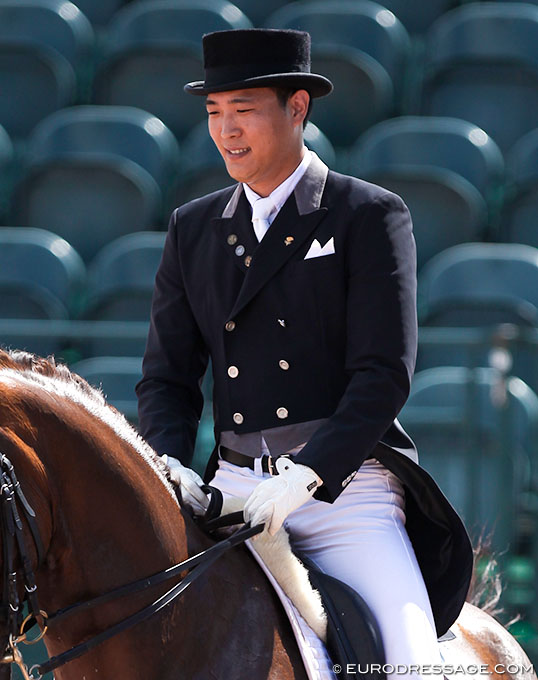 Dong-Seon brought his most advanced level horses to Florida in order not to interrupt their training with him being away from home. The Wellington show scene is excellent exposure for these rising stars, who can gain mileage and experience at the venue. 
The rider flew in the 14-year old Oldenburg mare Diamond Royale (by Diamond Hit x Sandro Song) and the 9-year old licensed stallion Cap Amour (by Christ x De Niro), which he bought at Gestut Sprehe last year.
"Diamond Royale I bought as a 2-year old and trained to Grand Prix myself. It is our first season doing Grand Prix, because she had some injuries, but I am satisfied that we are finally doing international GP with a horse i trained myself in Korea," said Kim.
When the Wellington season having come to an end, Dong-Seon returned to Korea in preparation of a coveted Olympic nomination.
"I have returned home to Seoul and will continue riding and training as well as help grow equestrian sport in Korea," Kim explained. "The Korean Equestrian Federation will decide on who goes to Tokyo based on the highest average of the MER."
Photos © Astrid Appels - Sue Stickle
Related Links
Peters and Schut-Kery In the Blue in 5* Grand Prix Classes at 2021 CDI Wellington
Gestut Sprehe's Cap Amour Sold to Korea
Dong Seon Kim Moves Back to Korea
Dong Seon Kim, Top Earning Rider at 2020 Global Dressage Festival
Gestut St. Ludwig Sold to Dong Seon Kim
Danish 2018 WEG Team Horse Belstaff Sold to Korea
Anders Dahl's Bukowski Sold to Korea