U.S.A.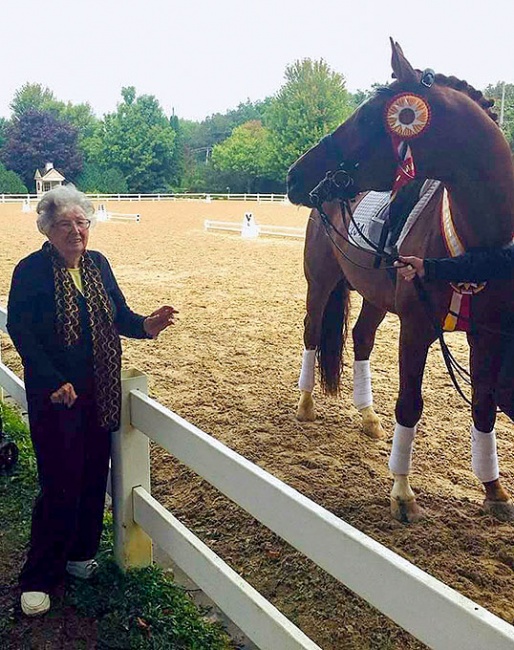 American dressage horse owner Anne L. Barlow Ramsay passed away peacefully in Fernandina Beach, Florida on 7 May 2021. She was 96 years old.
Dr. Ramsay waas a Renaissance woman: she was a wife, mother, medical doctor, business executive, volunteer, world-traveler and equestrienne.
Renaissance Woman
She was born in Yorkshire, England on 28 January 1925 to Scottish parents, both doctors. Anne studied in London during WWII, where she washed a great many dishes for the British Red Cross, the YMCA and the American Red Cross. She was also an Air Raid Warden for the Paddington District. 
After graduation, she went to Toronto as a Rotary Foundation Scholar. She later moved to the United States, and in 1963 joined Abbott Laboratories as a Medical Writer. Over the next years, while climbing up the corporate ladder to Vice-President of Medical Affairs for the Hospital Products Division.
In 1983 she became president of the American Medical Women's Association. She moved to Pennsylvania in 1984, where she started her own consulting company. She undertook a host of activities. She ran the Well Baby Clinics for Lake County, Illinois, served on the High School and Special Education Boards, was President of the Tuberculosis Board, was a village Health Officer, President of the County Board of Health and raised two children.
She spent her retirement in Florida
Annie B Farm
Together with her daughter Barbara Cadwell, she operated a breeding farm "Annie B Farm" in Fernandina Beach, Florida, for the past 25 years.
Mother and daughter shared the passion for dressage and breeding. They stood at stud the Rhinelander licensed stallions Feuri (by Fidermark x World Champ x Fruhlingsball), who was the full brother to international Grand Prix horse Favourit (Tinne Vilhelmson, Sönke Rothenberger). Feuri was originally named Frank Sinatra. 
Anne bred the Oldenburg stallion Freedom, by Feuri out of Windjammer (by Walk on Top). Under Patricia Becker, the chestnut stallion won bronze at the 2012 U.S. Young Horse Championships, became the reserve champion at the 2017 U.S. Developing Grand Prix Horse Championships and finished fifth at the 2020 U.S. Grand Prix Championships. 
Anne's husband, Dr. Alastair Ramsey, passed in 2019. Anne is survived by her daughter Barbara.
Anne L. Barlow Ramsay Grant
Dr. Anne Barlow Ramsay established a Charitable Remainder Unitrust with The Dressage Foundation in 1999, funded with $254,000 of highly appreciated Abbott Laboratory stock. 
The purpose of the grant is to showcase talented American-bred horses ridden by United States citizens, by providing money to train and compete in Europe.
The remainder funds were designated to come to The Dressage Foundation ten years later and those funds were used to start the Anne L. Barlow Ramsay Grant.  In 2009, Dr. Ramsay established a second Charitable Remainder Unitrust, with the remainder funds coming to The Dressage Foundation in 2019, to continue her schedule of $25,000 annual grants into the future years.
The first recipient was Rhett (Jim Koford) and HS Wistar (Jennifer Williams), followed by Olivier (Elizabeth Austin), Pikko del Cerro HU (Lisa Wilcox), WakeUp (Emily Miles-Wagner), Harmony's Duval (Adrienne Lyle), Rosalut NHF (Carly Taylor-Smith) and Quantum Jazz (Emily Smith).
Related Links
Ravenna and Fashion Designer OLD Win Titles at 2017 U.S. Young & Developing Horse Championships
Emily Smith Awarded $25,000 Anne L. Barlow Ramsay Grant for U.S. -Bred Horses
Emily Wagner Receives $25,000 Anne Barlow Ramsey Training Grant
Harmony's Duval Receives Anne Barlow Ramsey Grant to Compete in Europe
Lisa Wilcox Receives Grant to Train and Compete in Europe
Elizabeth Austin Gets Grant to Train with Carl Hester in Great Britain
Steinman, Cadwell, Stallings Awarded Grant from Elysium Farm Fund for U.S. Breeder Excellence