F.O.C.U.S.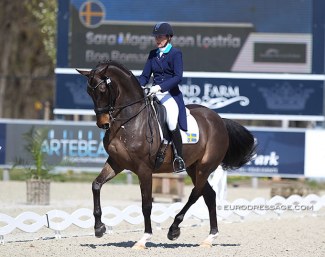 Aboard the 9-year old Oldenburg gelding Bon Romantic, Swedish Sara Magnusson-Lostria made her return to the international Grand Prix ring after a 13-year old break.  Coached and supervised by German horse dealer Jochen Arl, Sara and Bon Romantic made their first Grand Prix miles at the CDI's in Opglabbeek and Grote Brogel.
The Bordeaux x Don Romantic gelding is now ready for the big time with Spaniard Borja Carrascosa, who will produce him to international top level to be sold.
With the Lostria's in France 
Bon Romantic stole the heart of French based Sara Magnusson-Lostria after she discovered him in Germany. 
The pair made its show debut in France in 2019 and finished 6th place at the 2019 French Championships for 7-year olds in Le Mans with mid seventy percentage scores. 
After confirming him at Prix St Georges level, she handed the ride to daughter Ella for the 2020 show season. A true testament to his rideability, Bon Romantic successfully took 16-year old Ella onto the French team for the 2020 European Junior Riders Championships in Budapest (HUN) and to the 2020 French Junior Championships in Le Mans. 
Grand Prix Time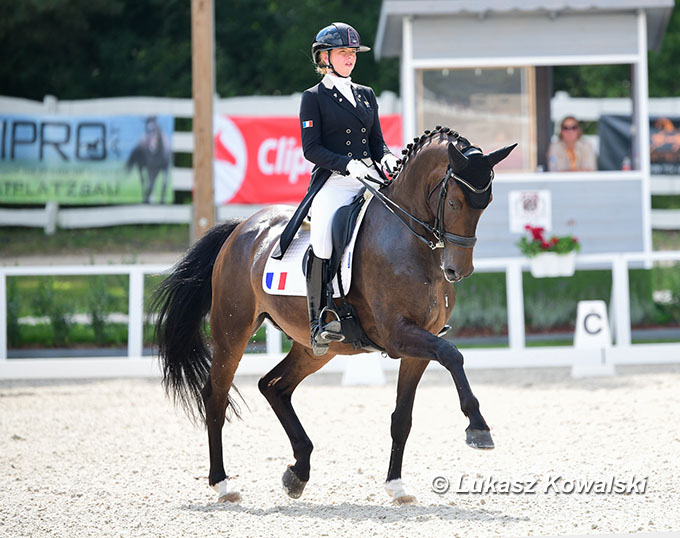 Five months ago Jochen Arl scouted Bon Romantic in France and under his supervision he coached Sara and the gelding to their mutual Grand Prix level debut. The talented gelding picked up the most difficult movements  in no time and with great talent.
After a 13-year break from international Grand Prix, Sara Magnusson-Lostria piloted Bon Romantic to his first Grand Prix at the 2021 CDI Opglabbeek in Belgium on 22 - 25 April 2021. They posted 66.304% with room for much more. 
At last weekend's CDI Grote Brogel in Belgium they earned more ring mileage at the highest level.
"He did such a good job in Opglabbeek," Sara stated. "He's only 9 years old and already competing at international Grand Prix level. I'm very grateful to the whole team around us."
To Borja Carrascosa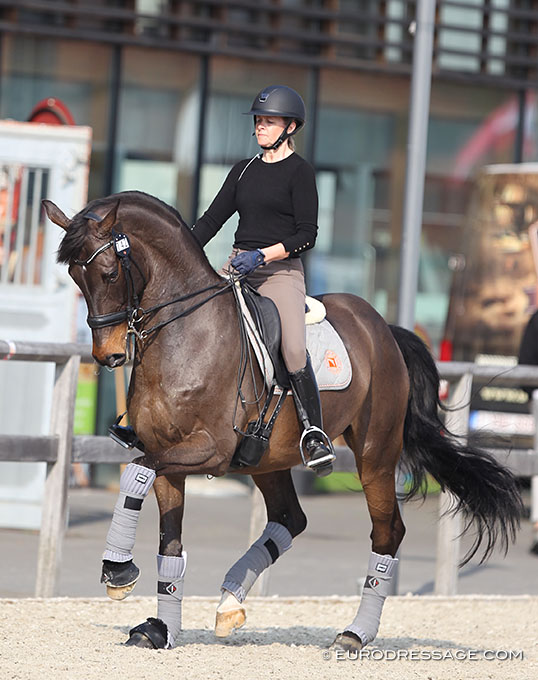 Ready to take her horse to the next level, Sara and Arl mutually agreed to reallocate the ride on Bon Romantic to German based Spanish professional Borja Carrascosa.
The 2016 Spanish Olympic team reserve rider will consolidate the Grand Prix movements and compete him in the near future in order for the horse to be sold.
"Bon Romantic is the total package. He's a big, impressive horse with three high quality basic gaits. At age 9 he's only at the beginning of his Grand Prix career and Sara and I both think there is more in his tank," said Arl. "With his many years of experience Borja will certainly be able to establish Bon Romantic for top level competition."
Photos © Astrid Appels - Lukasz Kowalski
Related Links
Horse Dealer Jochen Arl Brings His A-Game to America, Brokering Medalists, Champions and Rising Stars
Weijkamp, Juglaret, Noel, Bravard Win 2020 French Youth Riders Championships
Habana Libre A Wins 2019 French Championship for 7-year olds