2021 Dutch Dressage Championships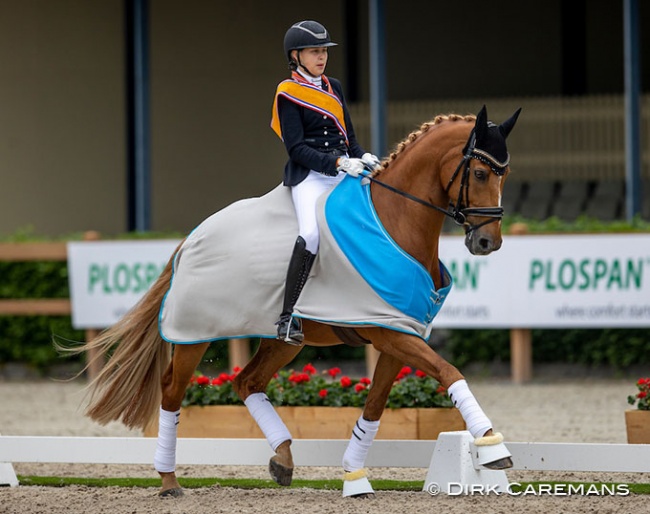 Children rider Kyra Jonkers, junior Evi van Rooij, Young Rider Marten Luiten, Under 25 rider Jasmien de Koeyer and senior Grand Prix rider Edward Gal became the grand winners of the 2021 Dutch Dressage Championships held at the KNHS headquarters in Ermelo, The Netherlands on 1 - 4 June 2021.
Taking place behind closed doors due to ongoing hygiene measures, the 2021 Dutch Championships were an important team selection event for the youth riders as well as an Olympic selection trial for the seniors. 
Children: Kyra Jonkers
Kyra Jonkers is the new comer on the Dutch children scene who has already made an impact internationally, winning both CDI's she competed at, in Opglabbeek and Exloo. aboard the KWPN gelding Eyecatcher (by Uphill x Havidoff) she also dominated the national Children Championships, winning round 1 with 78.025% and the individual test with 80.644%. Daughter of Dutch professional Engie Kwakkel-Wallace, Kyra took over the ride on Eyecatcher from her mom who competed the chestnut at Grand Prix level. Kyra gets trained by her mother as well as by Nicolette van Leeuwen. 
"This is my first Dutch Championships and also my first title," said a beaming Jonkers, who is 14 and in her first and last year as a Children rider. Although a bit nervous before the show, Jonkers was in control in the two tests. "Team trainer Imke Schellekens told me to ride a little bit more on edge because I rode too safely. It made me a bit nervous, but I was able to control in the test. I had a small mistake in the counter canter, but for the rest the score was ice."
The silver medal went to Lize van den Hevel on Hilton-S, while bronze was for Fleur Kempenaars on Armano. 
Juniors: Evi van Rooij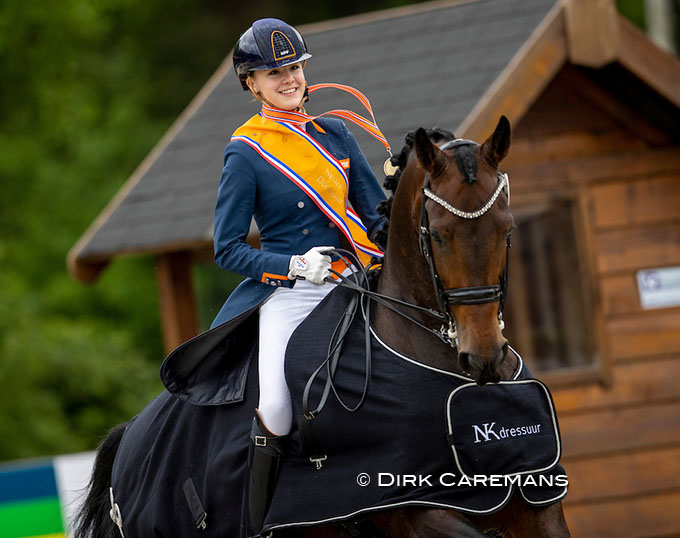 The junior championship was a neck-to-neck race between Evi van Rooij and Sanne van der Pols with the former grabbing the title and champion sash. 
Van Rooij and the KWPN stallion performance test winner Don Tango B (by Jazz x Contango were second in the team test (71.414%) but dominated the freestyle with 77.200%, creating the necessary lead to go for gold. 
"I became champion. Great. I didn't expect it, but I wanted it badly," said Van Rooij, who used to compete in the pony division with King Stayerhof's Jango. "I put too much pressure on myself. I was 0.4% behind Sanne and then you really have to do your best to overtake her, which I did." Her ride Don Tango B is a former licensed stallion and big, impressive, powerful horse. "He's becoming more stable recently. A small mistake in the test and the score goes down significantly. I have been riding Don Tango for a year and half now. He's a real character. If he doesn't feel like it, he won't do it. Than you have to be strong and tell him to get on with it." Van Rooij was already member of the Dutch junior team at last year's Europeans and still has one more year to go as a junior.  She is coached daily by her dad Arthur van Rooij but also gets advice from team trainers Imke Schellekens and Monique Peutz. 
Sanne van der Pols and not her 2020 European Championship ride Cuvanck PP, but her former Children's mount Excellentie (by Don Schufro) took her to silver. The bronze medal went to Lara van Nek on Fariska. 
Young Riders: Marten Luiten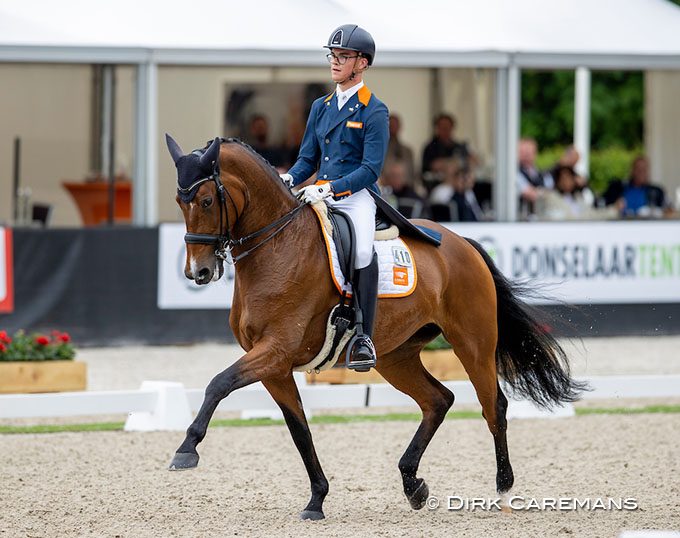 In the absence of Daphne van Peperstraten on her multiple European gold medal winning horse Cupido, Dutch YR team rider and European gold medal winner Marten Luiten freewheeled to the national title on Willeke Bos' 11-year old Fynona (by Ampere x Gribaldi). With whopping scores of 79.363% in the team test and 82.375% in the Kur, Luiten was a league of his own. 
"These scores are so bizarre," said Luiten. "Last year Fynona and I already had a very good season. This season she is even more routined and cleaner in the tests, which I can ride now with an even better plan." Marten's mare Fynona is a full sister to the KWPN bred and Westfalian licensed stallion All at Once. Although totally different in type and movement, but horses have performance genes as All at Once is selected for the Tokyo Games under Moroccan Yessin Rahmouni. Although Marten has not yet reached the age limit, he loves to move the mare up to Under 25 level in 2022. 
The silver medal went to 2020 Dutch team rider Thalia Rockx on her home bred Golden Dancer de la Fazenda (by Bretton Woods), while aspiring team new comer Milou Dees and Francesco got the bronze.
Under 25: Jasmien de Koeyer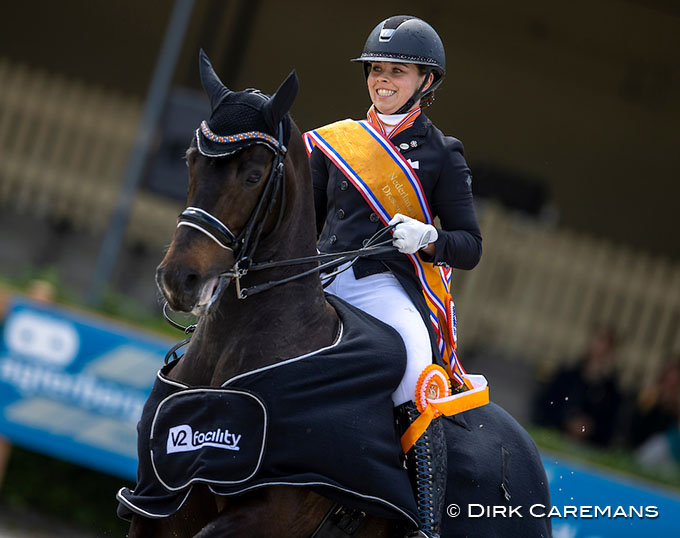 After winning silver in 2020, Jasmien de Koeyer now claimed the highest step of the podium and added the Dutch Under 25 Champion's title to her tally.  Aboard her own mare Esperanza (by Desperados) of seven years, she aced both rounds, the first with 72.231% and the freestyle with 75.930%. 
"I was very happy with my freestyle," said De Koeyer who is in her last year as an Under 25 rider. "I really enjoyed my ride. I'm super happy that I could get the title in my last U25 year. The first observation trial went well and this was the last observation, so I'm super pleased. The European Championship is the highlight of the year and there I want to give it my all. This was just a warm-up." De Koeyer is part-time rider and works part-time in the restaurant business. She also rides horses for other people and trains students. 
The silver medal went to brand new Under 25 rider Devenda Dijkstra on Hero (by Johnson), while routinier Febe van Zwambagt and Edson (by Winningmood) slotted in third overall. 
Seniors: Edward Gal
The senior division was action packed as the Dutch Championships were the first official Tokyo team selection trial of two (Rotterdam is next). There was very little surprise to the fact that Edward Gal rode to his 12th senior title, this team on his rising Grand Prix star Total U.S..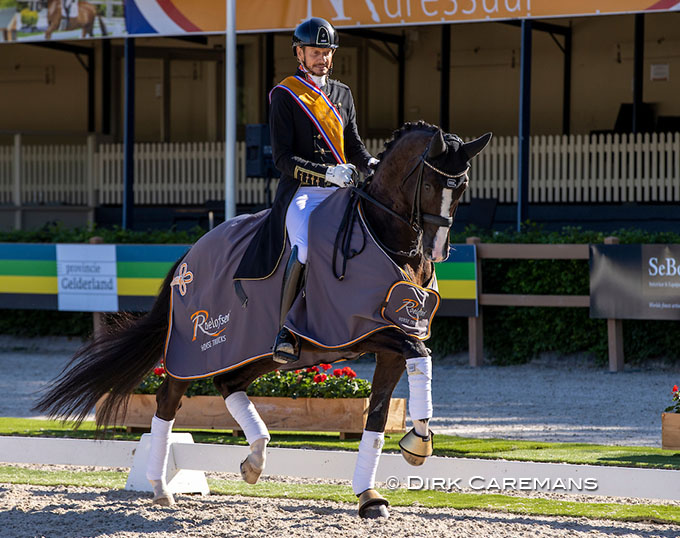 Gal and the 9-year old German bred Total U.S. (by Totilas x Sir Donnerhall) cruised to the title with the greatest ease, having the judges eating out his hand. They won the Grand Prix Special with a massive 81.128% and felt not the least bit of competition in the freestyle, posting 85.625% on the board. Gal also rode his second horse, Toto Jr (by Totilas x Desperados) with whom he finished second in the Grand Prix Special; but then withdrew him from the second test (a consolation class). Gal has the luxury of being able to choose between two horses for Tokyo. 
"I find it too difficult to say which of my two horses has my preference for Tokyo," Edward explained. "I have little show experience with these two. In Rotterdam I'll have to make a choice. Toto is more the power horse and Total US is more the elegant mover. They both give a very good feeling. Toto is more macho, Total is more sensitive."
The silver medal went to Gal's life partner, Hans Peter Minderhoud on the KWPN stallion Dream Boy (by Vivaldi x Ferro), while Holland's rising star Dinja van Liere beat other, more established Grand Prix riders to claim the bronze medal and a podium place with Hermes (by Easy Game x Flemmingh). 
Photos © Dirk Caremans
Related Links
Scores: 2021 Dutch Dressage Championships
Edward Gal and Total U.S. Take the Lead in the 2021 Dutch Dressage Championships
Previous Winners
Raaijmakers, Heiden, Van Peperstraten, Nieuwenhuis, Gal Win 2020 Dutch Dressage Championships
Gal and Toto Jr Take Comfortable Lead in 2020 Dutch Dressage Championships
Van Nek, Luiten, Rockx, Van Silfhout, Nieuwenhuis, Gal Win 2019 Dutch Dressage Championships
Buijs, Van Peperstraten, Rockx, Nieuwenhuis, Gal Win 2018 Dutch Dressage Championships
Van Peperstraten, Donkers, Maas, Meulendijks, Gal Win 2017 Dutch Dressage Championships
Oudhof, Nieuwenhuis, Gal, Meulendijks, Van Silfhout Crowned 2016 Dutch Champions 
Scores: 2015 Dutch Dressage Championships
Scores: 2014 Dutch Dressage Championships
Scores: 2013 Dutch Dressage Championships
Edward Gal and Undercover Win 2012 Dutch Dressage Championships
Minderhoud, Witte-Vrees, Krooswijk and Te Riele Proclaimed 2011 Dutch Dressage Champions
Gal Prolongs Grand Prix Champion's Title at 2010 Dutch Championships
Edward Gal and Totilas Conquer 2009 Dutch Championships
Adelinde Cornelissen, 2008 Dutch Dressage Champion
2005 Dutch Championships: Van Grunsven Star of Holland for 12th Time