Brandenburg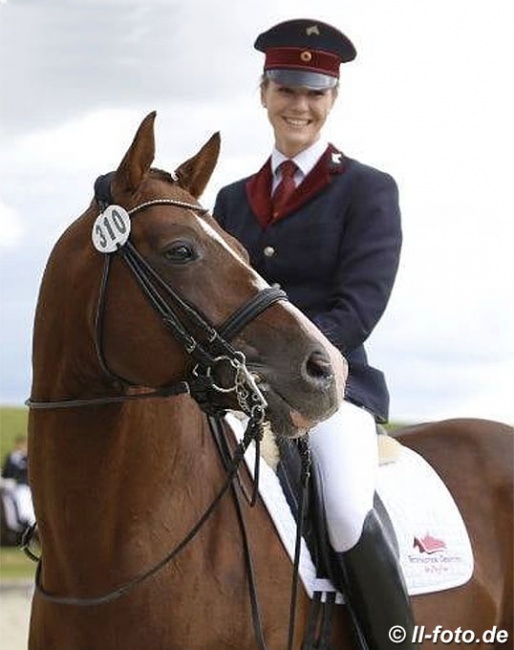 Quaterback, the flagship elite stallion of the Brandenburg state stud in Neustadt/Dosse, has passed away on 22 June 2021 following a severe colic attack. 
Quaterback was a 2003 born Brandenburg stallion by Quaterman out of Passionata (by Brandenburger x Brentano II x Gotland).
The chestnut stallion descends from the most successful mare line - the P-line - at the Brandenburg state stud with Poesie as grand dame. She produced World Young Horse Champion and Bundeschampion Poetin as well as licensed stallions Samba Hit (I to V).
Where's the R in Quaterback?
His name was a strange miss-spelling of the American football player's position "Quarterback".
Sire Quaterman, seemed to have been a miss-spelling of the fictional character Allan Quartermain of King Solomon's Mines, although a "quaterman" leather strap made out of ostrich for a Swatch watch seems to exist, yet that also seems a miss-spelling 
Foundation Stallion in Neustadt/Dosse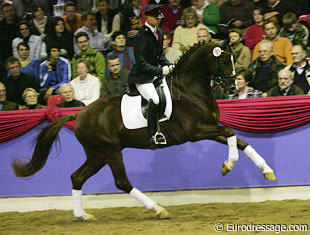 Quaterback was first licensed at home in Neustadt/Dosse in November 2005? 
He did his 30-day performance test in Neustadt/Dosse in January 2006, scoring 9.14 for dressage and 8.43 for show jumping. He achieved his permanent licensed status through sport, by qualifying for the Bundeschampionate in 2007 and 2008. 
Sport Career
Quaterback was first competed by Neustadt/Dosse resident rider Christian Flamm in July 2006 and ended up winning the 2006 Bundeschampionate as a 3-year old. 
The stallion mainly focused on breeding and only once returned to the show ring in 2008 at L-level to disappear again for another two years. 
In 2010 Malin Rinne returned to the arena with him at the local show in Tremsdorf, competing and winning an M-level dressage test. They did two shows. Two years later is was Susann Göbel's turn and she rode him in the Prix St Georges, once, in Salzwedel. In 2013 they did a few small tour show.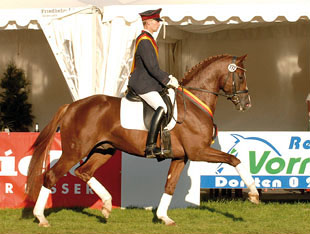 According to the German FN database, there were no shows in 2014 but in 2015 he re-appeared with Anna Weilert in Prietzen and had a very active season at small tour level through 2016 with one more break in 2017. Quaterback's last competition  was on home turf in Neustadt/dosse in July 2018, where he finished 5th in the Inter I Kur to Music under Friederike Maas.
Untimely Passing
The Brandenburg state stud announced the sad and untimely passing of Quaterback today. The horse was just 18 years old. 
"We are shocked and in deep mourning," said the Brandenburg state stud. "We are proud to have had this exceptional stallion with us. Our Quaterback was not just an athlete and producer, but he enthuses our team every day with his extraordinary character. He had a unique appearance which mesmerised everyone, no matter at shows or in a visit to his stable."
Elite Stallion
Quaterback made his mark as a breeding stallion and has been a foundation stallion for Neustadt/Dosse as well as dressage sport.  He was named Elite Stallion in 2016.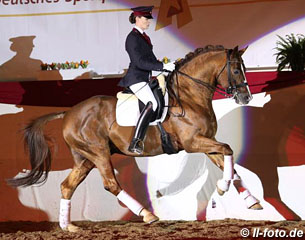 Often criticised for not passing on a proper walk, the compact Quaterback certainly gave Grand Prix genes to his offspring as they have a tremendous ability for collection (pi-pa). He leaves behind an impressive string of internationally competed Grand Prix and small tour horses horses.
Quaterback sired no less than 72 licensed sons in Germany and has 532 daughters registered as broodmares, no less than 145 of them are state premium. 
His most successful offspring are Quantaz (Isabell Werth), Quater Back Junior (Nicolas Wagner), Quatermain (Marina Mattsson), Quotenkonig (Theresa Friesdorf), Quantum Vis MW (Dorothee Schneider), Quebec and Quantum (Ulrike Prunthaller), Pathetique (Dorothee Schneider), Touchdown (Patrik Kittel), Queensland (Kristin Biermann), Quam Libet (Lisa-Marie Klossinger), Qatar (Berill Szoke Toth), Mister-C (Dorothee Schneider), Quaterboy (Estelle Wettstein), Quentano (Emile Faurie), Quadroneur, Quincy, Quintus, Quaterback I, Quater Figlio, Qredit Hilltop, Quaterbold du Payrol, and many many more.
Quaterback was ranked number 4 on the 2020 WBFSH Dressage Sire Ranking. 
Photos © Astrid Appels - LL-foto
Related Links
Quinoa, Champion of 2018 German Sport Horse Stallion Licensing
Quaterback Proclaimed Elite Sire at 2016 South German Stallion Licensing
Quaterback Son, Champion of the 2012 Brandenburg Stallion Licensing
Quaterback Extravaganza at 2010 Brandenburg Stallion Licensing
Quaterback Sires Champions at 2010 German Foal Championship
Quaterback son Becomes 2009 Brandenburger Licensing Champion
Quaterback Offspring In the Ribbons at 2009 Dressage at Devon
Quaterback In the Lead at the 2008 Dallgow Bundeschampionate Qualifier
Quaterback, Revelation of the 2006 Vechta Althengstparade