Bits 'n Pieces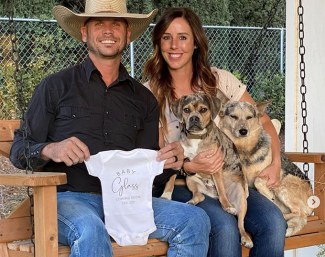 American Olympian Kasey Perry-Glass is pregnant with her first child. The 33-year old former U.S. team rider and her husband Dana Glass will welcome a new addition to their family in December 2021. "Dana & I have some exciting news! Baby Glass is coming early Dec 2021! Our family just keeps on growing," Kasey shared on social media. 
Dutch professional rider Femke Beljon (33) and her husband Erik Overkempe are expecting their first child together. Beljon, who competed briefly internationally in 2013 and 2017, shared on social media that she's due in December 2021.
Dutch professional dressage rider Marlou de Ruyter has given birth to her first child on 13 June 2021. Marlou and her partner Maarten de Bruin named their son Sylvester Skyler de Bruin. He weighed 3580 grams at birth and measured 51 centimeters. The couple announced their pregnancy on social media during their trip to Curaçao. 
British horse dealer Bret Willson and his fiancée Rosie Moreton-Deakin (38) welcomed their first child together, Michael Theodore (Teddy) Willson, on 3 June 2021. Moreton briefly competed internationally in the 2000s, but is now a British national level dressage rider trained by Carl Hester. She last competed in 2015 with the Trakehner stallion Kaiserdom, as well as with Duke De Niro, who sold to Belgium as a young riders' horse for Antonia Arl after which he moved to Florida where he became an Olympic hopeful for Colombian Maria Aponte.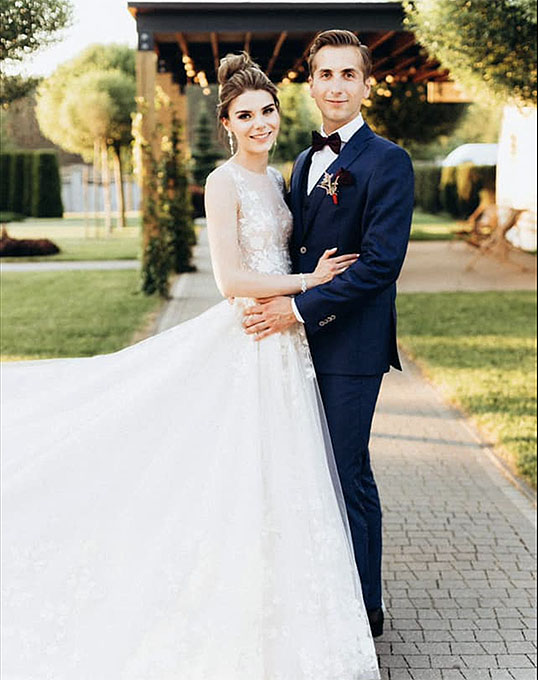 Former international Polish youth rider Jan "Jasiek" Gawecki got married to Aleksandra Prymaka on 24 June 2021. Aboard Quest (by Quando Quando x Leopard) the now 26-year old Gawecki represented Poland at the 2011, 2012 and 2013 European Junior Riders Championships and at the 2014 and 2015 European Young Riders Championships. In 2016 he moved to the Under 25 division. He last competed internationally at the 2018 World Young Horse Championships on Heiline's Zanzier. Gawecki proposed to his girlfriend of six years Aleksandra on 23 March 2019. Prymaka is a national level dressage rider and the couple shares a passion for horses. (Photo © Sulika Puszko Fotografia)
Arie van Baalen, the husband and father of Dutch Olympians Coby and Marlies van Baalen, passed away on 11 June 2021. The Van Baalen family shared the sad news that "after a life filled with love, we have had to say goodbye to Arie van Baalen senior. After a short, but very severe, illness Arie senior passed away peacefully surrounded by his loved ones. Arie senior was our tower of strength and many of you have experienced his caring. He was always there for everyone, but certainly for his family, the companies and the horses. He was proud and enjoyed it, but preferred to do so in the background. He will be missed enormously, but certainly not forgotten." Arie's funeral took place in intimate circle on Wednesday 16 June 2021. 
The 7-year old Lusitano stallion Jasmim Plus (by Escorial x Peralta) has a new rider. Portuguese long-time rider Maria Caetano began training him in the spring of 2021 but she did not take him with her to Germany when she moved back to the centre of Europe to be more closely connected to competition venues. Jasmim stayed in Portugal for breeding duty. Bred and owned by Vasco Francisco Freire, Jasmim will now move to the owner's nephew, Boaventura Freire near Hamburg, Germany, for further training.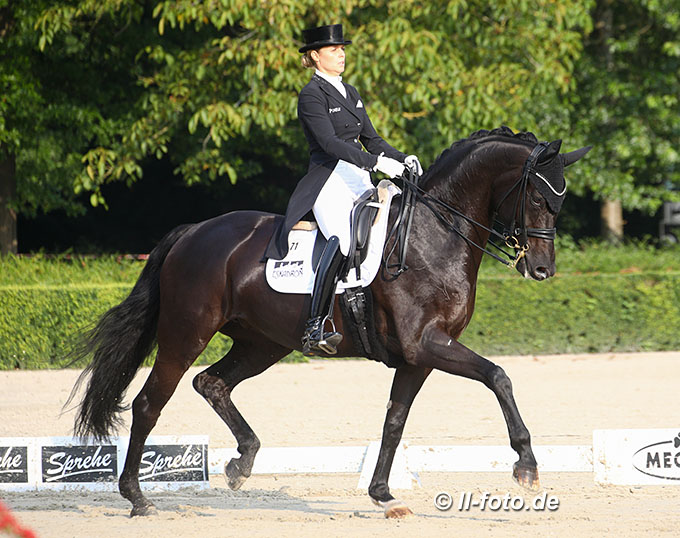 After just 6 months working as an assistant rider to Lena Waldmann at Gestut Bonhomme in Werder, former German Under 25 rider Stella Charlott Roth has bid that yard adieu and gone back to independence. "I left Bonhomme to start my self-independence at Heike Kemmer's Amselhof in Walle again," Stella told Eurodressage. "I rent a part of the stable and I'm really looking forward to the future."
Danish medal winning pony rider Sophia Obel Jorgensen has been seriously expanding her horse collection. This year she not only competes her European silver medal winning Adriano B, but she also began showing horses with junior rider's horse Brilliant. Now Obel has also bought the 5-year old Danish warmblood gelding Askari Pilekær (by Apaché x Florestan), which Priess stutteri had purchased for 16,000 euro at the 2016 Danish warmblood foal auction in Hammelev.
Horses.nl reported that the 6-year old Hanoverian stallion Kilian (by Sir Donnerhall x De Niro) has been euthanized after a 7-month long battle against laminitis. Owned by stallion keeper Theo Driessen, Kilian was bought at the 2017 Hanoverian Stallion Licensing in Verden for 175,000 euro. He was licensed with the KWPN society in 2018 after scoring 84.5 points in the performance test. He was trained by Bart Veeze.